Book Terminal Bersepadu Selatan Bus Tickets
Terminal Bersepadu Selatan, popular as TBS, is the main bus terminal in Kuala Lumpur (KL) for express buses. Express buses operating on long-distance routes serve through this bus terminal. TBS is part of the integrated transport system located at the BTS (Bandar Tasik Selatan station). It is about 10-15 km away from the city center. The TBS-BTS is more than a bus station with various city train lines connected in the same complex.
The Terminal Bersepadu Selatan bus terminal is part of the BTS station, a six-storied complex. The bus terminal occupies levels 1 and 2, where most arrivals and departures occur. The ticket counters are available on the next floor. There are shops and eateries on Level 4, while the top two floors are dedicated to parking. A passenger arriving here at the TBS bus terminal can easily find a ride to other parts of Kuala Lumpur via any of these train lines. Though the city has other bus stations operational, TBS is the main center for interstate and intercity buses. There is no direct bus connection from TBS to other bus terminals in the city. You can rely on cabs, taxis, and trains for this purpose.

redBus makes it convenient to book TBS bus online tickets on the go, without needing to stand in long queues at the station itself. While the TBS online portal allows travelers to book tickets, redBus offers additional perks including great discounts and seat selection options on online bus bookings.

Getting to Terminal Bersepadu Selatan (TBS) from within Kuala Lumpur

TBS is 14.1 kilometres away from Kuala Lumpur's city centre, via the fastest route by car. Travelers will find TBS easily accessible both from Middle Ring Road 2 and the Besraya Expressway. This is one of the best-connected bus terminals in Malaysia. Travellers going to TBS from the city centre can use the following routes:
There are no direct buses available to the TBS. Private vehicles and cars are the most comfortable option. Reaching the Terminal Bersepadu Selatan bus terminal is easy via trains and cabs.
Cabs and taxis allow more private transportation than trains. They are available from all parts of the city and the airport. They will take you faster to the terminal but can be expensive. Taxi services are available at the station for the return journey from TBS to other parts. You can choose the most comfortable ride once you have arrived at the bus station.
Train services are available from the Terminal Bersepadu Selatan complex. The transfer from the bus station to the various train stations is from Level 3. There will be signboards to direct you. Remember that there are LRT lines, KTM Komuter trains, KL Monorail, etc, for reaching other parts of the city. The airport lines are KLIA Transit and KLIA Ekspres.
Terminal Bersepadu Selatan has two levels exclusively for parking. You can easily ride here on your vehicle and park them at the complex safely. There will be a parking fee charged hourly and 24 hrs. There are parking fees for two-wheelers..


If you've booked your tickets on redBus for a bus to TBS online bus tickets, ensure that you've checked what platform you need to be at. It is always advised to arrive at the terminal, with your TBS tickets in hand, at least half an hour before your bus departs. This is especially important for first-time visitors who are unfamiliar with TBS.

Traveling by Bus To and From Kuala Lumpur

Traveling by bus to and from Kuala Lumpur is an economical option that doesn't sacrifice safety or comfort. Kuala Lumpur and Malaysia, in general, are superbly scenic, and the best way to enjoy the view is on board a bus.

The vastly-integrated road transport system in Malaysia makes every little cornet and hamlet accessible. Depending on your budget and travel needs, you'll be able to select the right bus operator, amenities, and routes– something you can't do in other modes of transport.

Many cities and towns in Kuala Lumpur are accessible only through buses, as they do not have airports or ship ports. Renting a car or a taxi doesn't allow you the freedom of traveling in a well-appointed coach at a scheduled time.
Traveller Amenities at Terminal Bersepadu Selatan (TBS)
The bus bays at the Terminal Bersepadu Selatan are on the lower two levels. It has about 60 bus bays for daily services. Level 2 has the ticket counters for the popular bus companies. Apart from these, the TBS complex has various amenities to keep the passengers comfortable and entertained. Since the complex is designed to give the same comfort as an airport, you will find amenities such as ATMs, eateries, options for shopping, etc.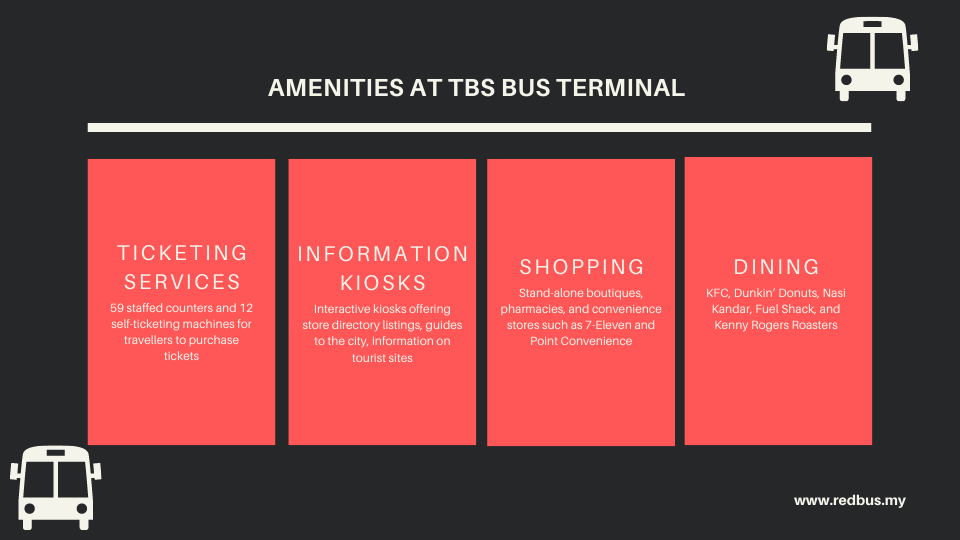 ATM booths by several banks will be available anywhere in the TBS complex.
Eateries from the primary food court to restaurants, including fast food stalls such as Dunkin' Donuts, KFC, Kenny Rogers Roasters, and Nasi Kandar, are available inside the Terminal Bersepadu Selatan. All of them are at Level 4.
Information booths for all kinds of information and queries regarding the bus operations, train services, the city, its attractions etc, will be available inside the TBS.
Luggage lockers are available at level 3 where you can keep your things. You will find comfortable trolleys to bring your luggage here.
Parking space at the top levels is vast with almost 1000 bays for public parking, with dedicated space for disabled persons and two-wheelers.
Post Office: Though old-fashioned, you can see a post office right inside the TBS complex on Level 3.
Prayer Hall is set at both levels 3 and 4.
Restrooms are installed at strategic locations, so you don't have to look for them.
Shopping: you can find boutiques, retail shops, and even pharmacies at the TBS on level 4. These will be an excellent option for those who have to wait longer than necessary.
Ticketing services:

The terminal has staffed counters and 12 self-ticketing machines for travellers to purchase tickets for all bus operators that depart from there. If you have booked a bus ticket online for TBS bus, you won't need to visit these counters.

Information kiosks:

The interactive kiosks scattered around the terminal offer store directory listings, guides to the city, information on tourist sites and a complete list of bus operators.



Popular Bus Operators at Terminal Bersepadu Selatan (TBS)

Terminal Bersepadu Selatan has emerged as a major terminal for outbound long-distance buses, as well as buses that enter Kuala Lumpur.
There are many operators providing multiple buses with high-quality services at reasonable prices. All operators focus sufficiently on ensuring the safety and comfort of their passengers.

Some of the major bus operators providing services that travel to and from TBS are:
Highly-frequented destinations that travelers can get to from TBS include Singapore, Malacca, Melaka Sentral, Kuantan, and Ipoh Amanjaya. Travelers can book TBS tickets to all these destinations and more on redBus using the handy operator filters that are available on the online bus ticketing platform.

Popular Bus Routes

TBS to Alor Setar
TBS to Ipoh
TBS to Johor Bahru
TBS to Penang
TBS to Singapore
TBS to Skudai
TBS to Sungai Petani
TBS to Terminal Bas Shahab Perdana

Things You Can Do in and around the Terminal Bersepadu Selatan

Shopping and enjoying Malay cuisine are the two best things you can do inside the Terminal Bersepadu Selatan. You can move on to the BTS complex area for a better experience. As for the places to visit near TBS, here are some of the popular options.
Batu Caves is a famous tourist spot for its ancient caves with Hindu shrines inside. The huge statue of Lord Muruga and the steep stairs up to the caves makes up this iconic place.
KL Hop-on Hop-off buses will be convenient for a tour around the city. These buses go through most of the famous tourist places in the city. Catch a bus, get down at your destination and later board another bus to the next tourist spot!
KL Tower: Visit the 7th tallest building in the world, KL Tower, a communication tower. The observation deck lets you enjoy a spectacular 360-degree view of the city. You can find a train to reach the city centre and catch a bus to reach the tower.
Petronas Towers, the most iconic building of Kuala Lumpur and the world's tallest twin towers, is a must-visit place here.
Putrajaya City: Go for a one-day tour to Putrajaya city to see the historical monuments and the largest human-made lake among other things. This planned city is just an hour away from Kuala Lumpur and is also the administrative capital of Malaysia, etc. You can easily find a direct bus route from TBS KL Sentral.
Things to Do in and Around TBS
The Terminal Bersepadu Selatan, popularly known as TBS KL, is connected to the BTS train station. It makes it easier for tourists to reach other popular destinations. The TBS Kuala Lumpur bus station is well-known to bus travellers, and the bus online ticket facility makes it easier for people to board buses from this terminal.

Disclaimer: Bus timings, routes, and fares are subject to change. Please check the redBus app or website for any last-minute changes.