Book Tbs (terminal bersepadu selatan) Bus Tickets
Terminal Bersepadu Selatan, popularly known as TBS, is one of the most frequented stations in Kuala Lumpur (KL), Malaysia. It is an extended leg of the Bandar Tasik Selatan (BTS) train station. Together, the two stations form an Integrated Transport Terminal (ITT). TBS KL was built to siphon traffic from Puduraya (Pudu Sentral Terminal) which experienced congestion and heavy footfall more often than not.
Out of the three ITTs in Kuala Lumpur, only TBS is currently operational. It was initially meant to service Southbound buses. The terminal steadily took over a massive chunk of outbound buses from Kuala Lumpur, making Puduraya an intra-city bus terminal instead. Therefore, travelers and locals in Kuala Lumpur looking to board a bus out of the city will need to go to TBS and not Puduraya.


redBus makes it convenient to book TBS bus online tickets on the go, without needing to stand in long queues at the station itself. While the TBS online portal allows travelers to book tickets, redBus offers additional perks including great discounts and seat selection options on online bus bookings.
Getting to Terminal Bersepadu Selatan (TBS) from within Kuala Lumpur
TBS is 14.1 kilometres away from Kuala Lumpur's city centre, via the fastest route by car. Travelers will find TBS easily accessible both from Middle Ring Road 2 and the Besraya Expressway. This is one of the best-connected bus terminals in Malaysia. Travellers going to TBS from the city centre can use the following routes:
By rail:

From Masjid Jamek station, take the SPL bound for Putra Heights and alight at Bandar Tasik Selatan. Walk for around a kilometre until you reach TBS.

By car or taxi:

Take the Lebuhraya Kuala Lumpur - Seremban/E37 route to reach TBS in the least possible time.

There are many intra-city buses that connect TBS to other parts of

Kuala Lumpur

, so travelers on a budget will find this a handy option. Travelers who are ready to splurge, are unfamiliar with the city, or have baggage to take onto a bus can use taxis to reach TBS.




If you've booked your tickets on redBus for a bus to TBS online, ensure that you've checked what platform you need to be at. It is always advised to arrive at the terminal, with your TBS tickets in hand, at least half an hour before your bus departs. This is especially important for first-time visitors who are unfamiliar with TBS.
Traveling by Bus To and From Kuala Lumpur
Traveling by bus to and from Kuala Lumpur is an economical option that doesn't sacrifice safety or comfort. Kuala Lumpur and Malaysia, in general, are superbly scenic, and the best way to enjoy the view is on board a bus.


The vastly-integrated road transport system in Malaysia makes every little cornet and hamlet accessible. Depending on your budget and travel needs, you'll be able to select the right bus operator, amenities, and routes– something you can't do in other modes of transport.


Many cities and towns in Kuala Lumpur are accessible only through buses, as they do not have airports or ship ports. Renting a car or a taxi doesn't allow you the freedom of traveling in a well-appointed coach at a scheduled time.
Traveller Amenities at Terminal Bersepadu Selatan (TBS)
Of all the bus terminals in Malaysia, TBS is considered by many as one of the most traveller-friendly terminals in the country. TBS has over 60 bays for buses, about 150 spaces for taxis, and around 1,000 slots for general parking. The scale of this structure makes it a major bus terminal for the city. It also makes it much more likely for travelers to feel lost, so do familiarise yourself with the terminal before arriving.


Here are some of the amenities you can expect to find: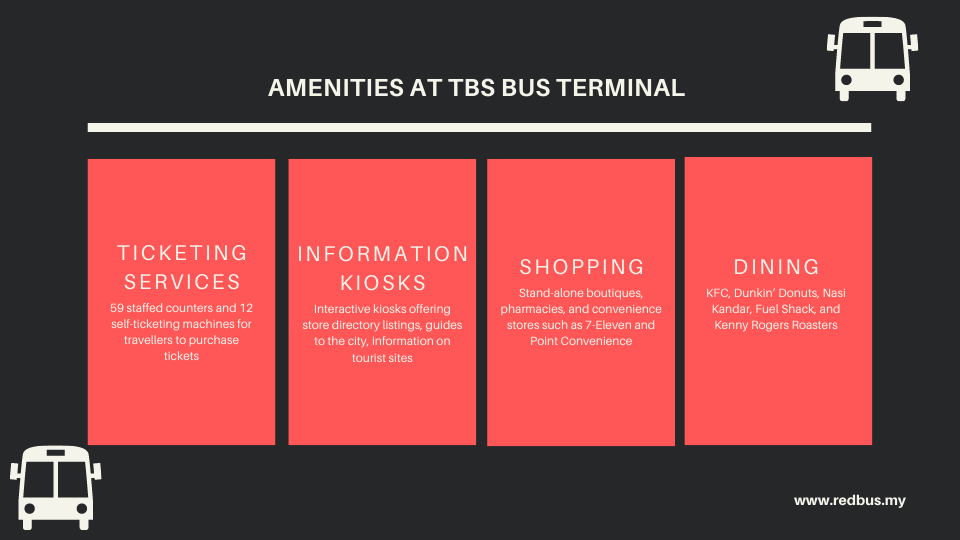 Ticketing services:

The terminal has 59 staffed counters and 12 self-ticketing machines for travellers to purchase tickets for all bus operators that depart from there. If you have booked a bus ticket online for TBS bus, you won't need to visit these counters.

Information kiosks:

The interactive kiosks scattered around the terminal offer store directory listings, guides to the city, information on tourist sites and a complete list of bus operators.

Shopping:

There are several stand-alone boutiques, pharmacies, and convenience stores such as 7-Eleven and Point Convenience for travellers to kill time.

Dining:

KFC, Dunkin' Donuts, Nasi Kandar, Fuel Shack, and Kenny Rogers Roasters are some of the fast-food chains and restaurants at the terminals for travellers to grab a bite to eat.




TBS packs a lot of traveler-friendly amenities within its complex. Travelers who haven't purchased their TBS bus tickets can use the CTS counters at the terminal, or any of the self-vending machines.


Storage rooms can be rented to store luggage, while childcare rooms provide privacy for mothers and their infants. Travelers with a lot of spare time can window-shop or splurge at the many stores and boutiques in the terminal. To grab a bite to eat before your bus journey, head to the food outlets whipping up a variety of dishes. If you need to withdraw money, you'll find many ATMs on-site, serviced by different banks.


TBS is fully air-conditioned and can comfortably seat a massive number of passengers in its lounges and VIP rooms while they wait to board their bus.
Popular Bus Operators at Terminal Bersepadu Selatan (TBS)
TBS has emerged as a major terminal for outbound long-distance buses, as well as buses that enter Kuala Lumpur. Travelers will find themselves spoilt for choice when it comes to bus operators since Kuala Lumpur itself is a tourist and economic hub.


There are many operators providing multiple buses with high-quality services at reasonable prices. All operators focus sufficiently on ensuring the safety and comfort of their passengers. They all strive to maintain high levels of hygiene and cleanliness onboard their buses.


Some of the major bus operators providing services that travel to and from TBS are:
Lapan- Lapan Travels

Alisan Golden Coach Services

Intercity Coach Services




Highly-frequented destinations that travelers can get to from TBS include Singapore, Malacca, Melaka Sentral, Kuantan, and Ipoh Amanjaya. Travelers can book TBS tickets to all these destinations and more on redBus using the handy operator filters that are available on the online bus ticketing platform.
Perks of Booking TBS Tickets with redBus
Gone are the days when travelers were expected to queue up to book tickets. In a few quick steps, you can now book a ticket for bus to TBS online on redBus.


redBus has scores of bus operators in its repository who service nearly every motorable route to and from Kuala Lumpur. Whether it's cheap TBS bus tickets you're looking for or a window seat on board your favorite bus, the redBus website and app can help.
How safe is TBS KL?
TBS KL is the Terminal Bersepadu Selatan in Kuala Lumpur, the biggest bus terminal in the city that mainly operates outbound buses to and from the city. Given its magnitude, the authorities are keen on the cleanliness and ensure sanitisation of every inch of the premises on a regular basis. There are plenty of bus bays, and numerous buses operate to and fro from this terminal daily. Even these buses are maintained well to avoid any contamination. Thus, TBS Kuala Lumpur is a secure and hygienic bus terminal to travel to.
How to travel safely to TBS KL?
You can get a ticket for bus to TBS online on the redBus website/mobile application. You can safely travel to TBS from any city. The best way to travel to TBS KL is by taking a taxi. If you are taking the train, you would still have to walk for about one kilometre to reach the terminal. You cannot travel from TBS to KL Sentral as TBS handles only the outbound buses, and local buses do not enter the station.


To travel safely, one must follow all the rules related to the prevention and spread of the coronavirus. The general guidelines say that one must wear a face mask while in public and during transit. Hand sanitisers are provided at the terminal for the passengers. Maintaining social distancing is also mandatory.

Things to Do in and Around TBS
The Terminal Bersepadu Selatan, popularly known as TBS KL, is connected to the BTS train station. It makes it easier for tourists to reach other popular destinations. The TBS Kuala Lumpur bus station is well-known to bus travellers, and the bus online ticket facility makes it easier for people to board buses from this terminal.


Here are a few things to do in and around TBS -
Visit the KL Tower: It is the 7th tallest building globally and is a communication tower. The 360-degree view of the city from the top of the tower is a popular tourist attraction. Many buses travel to this location.
KL Hop on Hop off Bus: Take a trip around the city on this bus to go to the famous spots where you can get down and later catch another bus towards the next attraction.
Go on a Trip to Putrajaya City: You can do so to see the various monuments that mark history and the largest human-made lake, etc. You can easily find a direct bus route from TBS KL Sentral.
Batu Caves is another famous tourist spot near Kuala Lumpur. You can visit this place to see the famous Hindu shrines.
Eateries in TBS: There are several popular restaurants inside the TBS complex where you can enjoy Malay cuisine. The popular ones include Nasi Kukus KLS on Level 3, I Love Yoo! for fresh snacks or lunch on Level 4, Restoran Ar Rayyan in the BTS train station complex.


Here's how you can book TBS bus tickets on the redBus website:
Visit the Malaysian offshoot of the official website

Enter the departure and arrival cities

Select the date of journey

Enter a return date if you want to book a round trip

Hit 'Search Buses'




You'll find a list of bus operators servicing buses between your selected cities on the chosen date. If you'd like to narrow the list down by timings, ratings, or bus operators, you can do so using the filters on the right. You can also make your selection based on bus amenities and available seats– these choices will influence your final ticket amount. Booking tickets for bus to TBS online on the redBus app is just as simple.


Here is a glimpse of the type of buses you can select when journeying out of TBS Kuala Lumpur:
AC buses

Sleeper buses fitted with reclining seats

Buses with WiFi

Luxury buses

Economy and budget coaches




The payment gateways on both the app and the website are secure and protected by top-notch cybersecurity software. Depending on the operator you choose, you'll get your TBS online ticket as an e-ticket to your email ID.


When you book with redBus, you're guaranteed a hassle-free journey!


Disclaimer: Bus timings, routes, and fares are subject to change. Please check the redBus app or website for any last-minute changes.