Maraliner Bus Ticket Booking
About Maraliner
Maraliner originally started its operations from and within a short period, it established itself as one of the most popular bus operators in Malaysia. The Maraliner group's bus transport venture has been successfully running in Malaysia for more than 30 years. Maraliner is a trusted name among passengers who value its punctuality and comfort. It is among one of the most reliable and trusted bus operators in Malaysia. Maraliner provides numerous bus options to choose from for accommodating travellers of every budget and needs.
It is recognised for connecting multiple cities and town across Malaysia and providing its bus travel services for all kinds of passengers. It covers the whole Malaysian Peninsular region and provides affordable bus transportation for all. The buses are equipped with all the necessary amenities required to make the travel experience comfortable and safe for passengers. Maraliner prioritizes high level of comfort and safety for all its passengers. One can easily book a Maraliner express online using the redBus mobile application or website.

History of Maraliner
Maraliner is a public transport company, part of the Maraliner Group. Initially, it was started as the Kenderaan Bas MARA (KBM) in the 1960s. Later in 1985, MARA Holdings Sdn Bhd was born. Their services were mainly focused on rural community transportation, making their intercity commutation easier. In 2012, to incorporate a better public transport system and to diversify the business of KBM, they rebranded it as MARA Liner Sdn Bhd.
MARAliner services are both long and short journeys, mainly in the Peninsular part of Malaysia. The current services include all kinds of transportation, from private to public, light to heavy vehicles, courier services, etc.
There are a total of 27 routes and more than 300 buses, including the stagecoach and express buses under operation. The operating routes have the Pendang-Jalan Duta and Kuantan-Ipoh routes, which are popular.
MARAliner head office is in Kuala Lumpur. There are 22 additional branches, 9 ticket counters, and more than 50 agent counters as well. The 9 ticket counters are 4 in Kedah, 2 in Kuala Lumpur, and one in Pahang, Johor, and Kelantan. The office working hours are 8.30 am to 5. 30 pm Monday-Friday. The online support is available 7 days a week with the timings, 8-9 on weekdays, and 9-5 on weekends. There is also an additional call line for the after-hour support.
Address
IBU PEJABAT
Lot 26-G, Lorong Medan Tuanku 1,
Jalan Tuanku Abdul Rahman,
50300 Kuala Lumpur
Tel : +603-2602 0167
Fax : +603-2602 0167
Email: info@maralinergroup.com.my
Amenities Offered by Maraliner
Maraliner is counted among those bus operators who value customer satisfaction greatly and can go to any length for improving the overall experience. Maraliner buses are equipped with all necessary amenities required to make the travel experience of its passengers a memorable one. The buses are carefully picked and designed to provide the most comfortable bus travel experience. Safety of the passengers is always prioritized and exclusively taken care of by Maraliner.
Some of the most commonly featured amenities include the following.
Charging socket

Air conditioner

Reading lights

Recliner seats

Central television

CCTV
It is important to note that the exact set of amenities offered by Maraliner might vary depending upon the type of bus and accommodation booked by you. Maraliner provides a wide range of buses to accommodate all types of passengers. You can easily check the amenities available on your bus while booking the Maraliner online ticket using redBus.

Popular Routes Covered by Maraliner
Maraliner buses connect numerous cities and towns across Malaysia and provide full coverage in the Malaysian Peninsular region. The goal is to provide a seamless travel experience for passengers from every city and town. The Maraliner buses provide their services across all major routes in Malaysia and serve multiple pickup and drop-off points. Some of the most prominent routes covered by the Maraliner buses include the following.
Putra Jaya to Kuala Nerang

Kangar to Penang

Malacca to Gua Musang

Kuala Perlis to Kajang

Putra Jaya to Sik

Temerloh to Ipoh Amanjaya

Shah Alam to Penang Sentral

Terminal Bersepadu Selatan to Setsyen Bas Machang
Please note that these were some of the most popular routes covered by the Maraliner buses. However, there are other routes covered by these buses, you can easily check the availability for a Maraliner bus for your route on the redBus online portal.

Types of Buses Offered by Maraliner
Maraliner offers a wide range of buses to accommodate the travel needs for all types of passengers. All the buses are equipped with necessary travel amenities required to make the bus travel experience memorable for the passengers. Maraliner buses do not compromise on the comfort and safety of its passengers and intended to provide the best travel experience to the passengers. Some of the most commonly offered buses by Maraliner include the following.
Double Decker SVIP

SVIP

Economy

Seater

Standard
The availability of these buses is contingent on your travel route. Also, the set of amenities offered in each type of bus might and usually the buses that feature additional amenities cost more than the regular ones. You can easily check the availability of these buses for your travel route using the redBus mobile application or website while booking your Maraliner ticket.

Popular Cities Covered by Maraliner Buses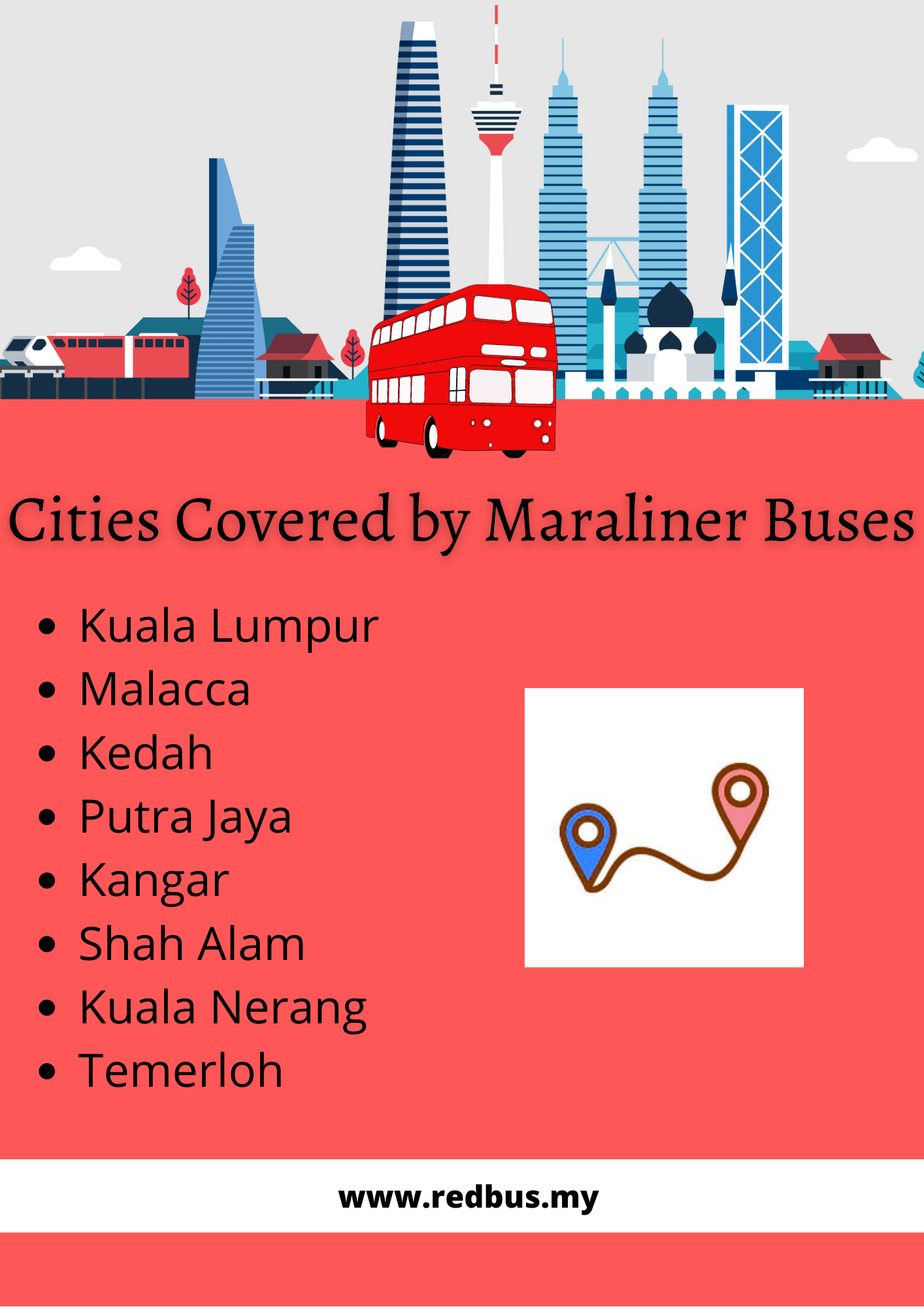 Maraliner connects numerous cities and towns across Malaysia and aims to provide a seamless bus travel experience to the people of Malaysia. It aims to accommodate travellers of every budget and location across Malaysia. Some of the most prominent cities covered by Maraliner buses include the following.
Temerloh

Putra Jaya

Kangar

Malacca

Shah Alam

Kuala Nerang

Kuala Lumpur

Kedah



How to Book a Maraliner Bus Ticket on redBus?

redBus provides a hassle-free platform for booking a Maraliner ticket online. One can easily make future bookings with the help of redBus. It is the world's largest online bus booking platform. To book your online bus ticket in a hassle-free manner you can follow the below-mentioned steps when using redBus:

Open the redBus application or you can visit the website. One can book tickets directly without signing in to the redBus.

There would be 'From' and 'To' buttons on the interface, you can enter your boarding point and dropping point according to your journey and destination.

Select the date of the journey according to your preference and check the availability of buses on that day by clicking on the 'Search' button.

Now, choose your preferred bus option among the various buses listed. You can choose various buses according to your preferences.

After choosing your bus, click on that particular option and select your preferred seat from the seat layout provided.

After selecting your seat, click on the 'proceed to book' button and enter your details and contact information on the next layout.

Apply coupon code if any and move to the payment page which is secured and trusted. Your booking will be done via redBus and you will receive an e-ticket with a confirmation email.



Make a redBus Malaysia online booking today to experience a comfortable and hassle-free journey on any of your desired buses.
redBus Safety+
redBus is launching Safety+, a new Covid-19 safety identification that helps bus operators showcase their compliance with safety measures as suggested by the government. Users can also use this sign to identify bus services that follow all guidelines and thereby ensure safer travel.
If a bus is tagged with the Safety+ sign, you can be sure that it has undergone disinfection and is run by healthy staff who wear masks and gloves throughout the journey. Hand sanitizers are installed in these buses for individual use by the passengers.
To ensure total protection, users are requested to maintain social distancing and follow all personal hygiene measures. These include using face masks, avoiding travel in case of an illness, and washing hands regularly.

Disclaimer: Bus timings, routes, and fares are subject to change. Please check locally for any last-minute changes.