Kuala Lumpur Bus tickets
Malaysia is one of the most popular countries in the Southeast Asian region. Kuala Lumpur is Malaysia's capital city and one of the busiest places in the country. You can take a bus to KL from any part of Malaysia and experience this beautiful city.


Getting in and around KL by bus
A Kuala Lumpur bus can be quickly booked using the redBus app. There are several pick-up and drop-off points across cities, and you can choose anyone while booking a bus to KL. There are several bus operators from which you can choose. While booking the online bus ticket, you can check out all the routes and know your way around the city.


Pick-up and Drop-off Points for the Bus to KL
A bus to KL can be boarded from any popular pick-up point within the city where you are stationed. Some of these popular pick-up points are: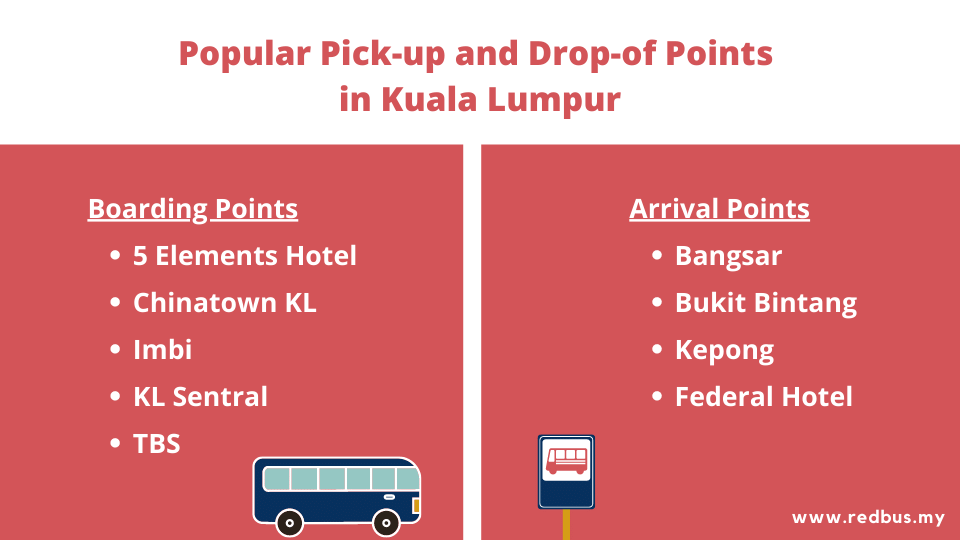 5 Elements Hotel
Imbi
KL Sentral
TBS


Some of the popular drop-off points within the city of Kuala Lumpur are:


Bangsar
Bukit Bintang
Kepong
Federal Hotel


For a complete list, you can visit the redBus platform.


How safe is KL? 
Kuala Lumpur is the capital of Malaysia. It is known for being a safe city for travel. Many people travel to Kuala Lumpur for various reasons. The bus terminals and stops in Kuala Lumpur like TBS (Terminal Bersepadu Selatan), KL Sentral, etc., are regularly sanitised as per the government orders to provide safe bus journeys to passengers. Please check the official government website for the latest updates related to the coronavirus restrictions.
How to travel safely to KL? 
You can reach Kuala Lumpur safe via different travel modes. The best mode of travel is by bus. You can find buses from various locations in Malaysia to KL via redBus like a bus from JB to KL, a bus from Penang to KL, etc.


redBus provides contactless bus online tickets (e-ticket / M-ticket) to its users, helping them avoid the physical booking counters amidst the pandemic. You cannot book buses from neighbouring countries to KL as cross-border bus services are suspended as per government orders. Please check the official government website for the latest updates related to the coronavirus restrictions.


It would help if you showed the e-ticket / M-ticket while boarding any bus to KL to avoid physical contact. Passengers should also adhere to the state guidelines while travelling to KL to protect themselves. Make sure to use a mask and maintain your hand hygiene while travelling to KL. redBus is connected with the best operators in Malaysia to provide a safe travel environment to passengers.


Things to do in Kuala Lumpur
There are several things that you can do in Kuala Lumpur. Some of them are:


Petronas Towers: You can visit these twin jewels of Kuala Lumpur. The two buildings are connected by a sky bridge which makes the towers more beautiful.
Chinatown: This place is one of the most colourful places in Kuala Lumpur. It will expose you to the oriental culture and has a lot of historical importance.
Batu Caves: These caves are about 400 million years old. Thousands of visitors come to this place during the annual Hindu festival called Thaipusam.


Disclaimer: Bus timings, routes, and fares are subject to change. Please check the redBus app or website for any last-minute changes.