StarMart Express Online Bus Ticketing
Established in 1989, StarMart Express has come a long way. They have a large fleet of buses and provide frequent services to various cities like Kuala Lumpur, Melaka, Segamat, Singapore, etc. They also have different types of buses for different sections of society. A lot of tourists prefer StarMart buses due to their punctuality and economical prices. One can also book a StarMart express bus via online medium. They also offer suitable amenities to their passengers and are widely preferred.


How to Book a StarMart Express Bus Ticket on redBus?


redBus is the biggest platform in the world for online bus booking and is trusted by many people throughout the globe. Let us see the process to book a StarMart bus ticket via redBus:

• Open the redBus application on your smartphone or visit the official website of the redBus.

• You will see 'From' & 'To' sections in the interface, enter your source and destination details in those sections.

• On the same page, enter your date of journey and press the 'Search' button.

• You will see a complete list of buses going to your selected route and date. Select a bus from the StarMart express according to your preferred time slot.

• The seat layout of your selected bus will be displayed to you on the interface. You can also see the seats which are already booked. Book a seat according to your preference and move to the next page.

• Enter details like name, contact information, etc. on the next page and click on the 'Proceed to Book' button and move to the payment section.

• You can make the payment via online wallets, debit/credit cards. The payment process is fully secured. Apply coupon code (if any). Once you have made the payment, you will receive an e-ticket, and your booking will be confirmed.


History of StarMart Express
StarMart Express & Tours was established in 1989 to provide extended route bus services in Malaysia, Singapore, and Thailand. It is now jointly managed by Starmart Express Sdn. Bhd. & Starmart Express Air Asia Liner Pte Ltd. They have many modern buses in their fleet like Scania Euro-3 with an electronic air suspension system.
Besides boasting a multinational presence, their on-time & frequent buses across different Malaysian cities are preferred by many tourists/daily commuters. They provide e-ticketing services to passengers & have immense experience in the conveyance sector of over thirty years. They are also registered in compliance with UN Regulation No. 66, the bus operators' newest safety standard.
The major cities covered by StarMart Express buses are Simpang, Kuala Lumpur, Genting Highlands, Ipoh, Teluk Intan, Taiping, Sitiawan, etc. They also provide bus services to Singapore & Hatyai (Thailand). They offer different types of buses to choose from, which are SVIP coaches, economy coaches, and executive coaches. The seats of StarMart Express buses have a 120-degree reclining ability & a 2-points safety belt. The headquarters of StarMart Express in Malaysia is in Taiping. They also have offices & inquiry centers in Singapore.
You can contact StarMart Express via telephone & fax. You can also reach out at customerservice@starmartbus.com for online booking queries & IT technical support. The office address and contact information of StarMart Express are as follows:

Office Address
No. 10, Jalan Medan Simpang
34700 Simpang, Taiping

Contact Information
+6058475055 (phone)
+6058481592 (fax)
Amenities Offered by StarMart Express


StarMart Express is a trusted bus operator and connects a lot of cities. They care about their passengers and provide a lot of amenities and comforts. They do run various types of buses so the amenities depend on the bus type and ticket price. They also provide transportation services at a low price as compared to other operators. The list of amenities offered by StarMart express buses are as follows:

• Water Bottle
• Recline-able seats
• Charging Point
• Reading light
• Air-Conditioners


Popular Routes Covered by StarMart Express Bus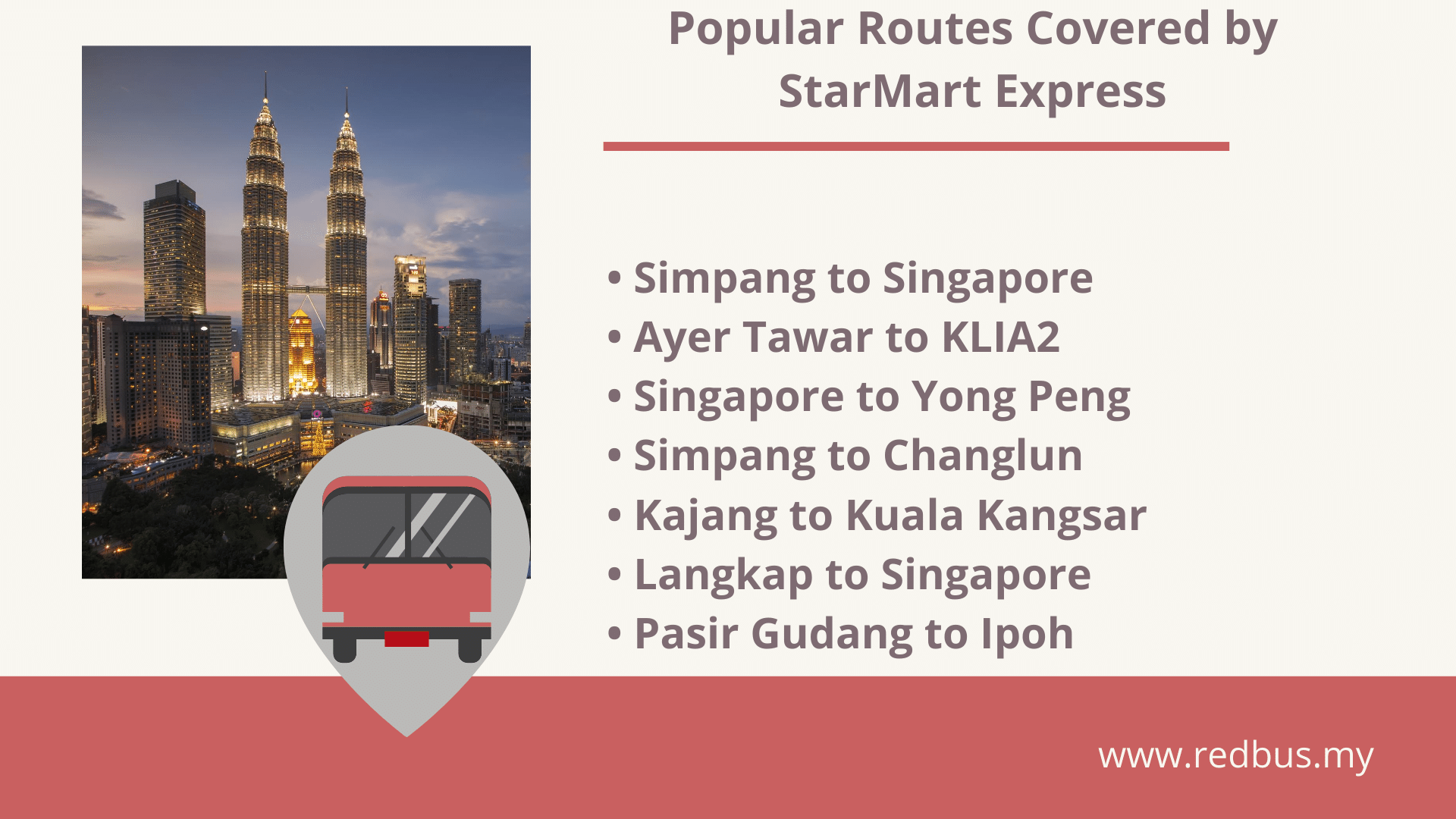 StarMart express buses go to a lot of cities in Malaysia like Kuala Lumpur, Johor, Genting Highlands. They also run buses from Malaysia to Singapore. StarMart express has a large fleet of buses, thus giving passengers buses to different cities throughout the day. One can get a ticket in StarMart express buses even at the last time due to the high frequency of buses. The top routes covered by StarMart Express buses are as follows:

• Simpang to Singapore
• Ayer Tawar to KLIA2
• Singapore to Yong Peng
• Pasir Gudang to Alor Setar
• Simpang to Changlun
• Kajang to Kuala Kangsar
• Langkap to Singapore
• Pasir Gudang to Ipoh



Types of Buses Offered by StarMart Express


StarMart Express has a diverse range of various types of buses. They offer luxury bus services as well as bus services at a very nominal price. They are concerned about each section of the society and passengers can book a bus according to their capacity and preference. Various types of buses run by StarMart express are as follows:

• Super VIP Air-Conditioned Coaches
• Economy Coaches
• Seater Coaches


Popular Cities Covered


Malaysia is a beautiful country with a lot of tourist attractions. StarMart buses go to various cities across Malaysia. The buses also go to Singapore. Let us see the popular cities covered by StarMart express buses and places to visit in those cities:

• Singapore is an island city-state in Southeast Asia. It is famous for its tourist attractions like Sentosa Island, Gardens by the Bay, Merlion Park, Singapore Botanic Gardens, Singapore Flyer, which is Asia's biggest observation wheel, SEA Aquarium, etc.

• Kuala Lumpur is the capital of Malaysia and is famous for many tourist attractions like Batu Caves, Sunway Lagoon Theme Park, Aquaria KLCC, Perdana Botanical Gardens, KLCC Park, Taman Burung, National Mosque of Malaysia, etc.

• Yong Peng is another great city famous for its tourist attractions like Fortune Dragon, Tian Pao Kong Chinese Temple, Persatuan Memperbaiki Akhlak Che Ann Khor, etc.

Besides the aforementioned popular cities, there is a lot to explore in Malaysia and Singapore. There are a lot of tourist attractions/pilgrimage centres in the rest of the cities covered by StarMart express buses.


COVID-19 Precautions to Take While Traveling by StarMart Express
StarMart Express is a leading bus operator that started its operations in 1989. The bus operator provides travel services to various parts of Malaysia and Singapore. Considering the current pandemic, StarMart Express takes all the safety precautions issued by the government. Passengers are also needed to comply with these measures for their own safety.
All the StarMart Express buses are deep cleaned and sanitized before and after each trip. The bus staff of Starmart are also regularly checked for temperature.
Mask wearing is compulsory for everyone on the bus.
There is a provision for hand sanitizers in the buses. But passengers must also carry their personal hand sanitizers to maintain optimal hygiene.
Passengers should bring all the items that they may need on their journey and avoid sharing them with others.
At least 1 meter of social distancing should be maintained with the fellow passengers.
Local Routes Served by StarMart Express
StarMart buses run on many different local routes in Malaysia that are as follows:
Ayer Tawar to KLIA2
Pasir Gudang to Ipoh
Pasir Gudang to Alor Setar
Kajang to Kuala Kangsar
Johor Bahru to Kajang
One can easily book a Starmart bus for their journey on redBus and get e-tickets on their phone.
Cross-border Routes Served by StarMart Express
StarMart Express also provides cross-border travel services. However, this travel facility is currently suspended due to COVID-19 related movement restrictions. But one can pre-register on redBus to get priority in booking the StarMart bus ticket as soon as the cross-border travel resume. Here are the top cross-border routes by StarMart Express.
Langkap to Singapore
Simpang to Changlun
Singapore to Yong Peng
Simpang to Singapore
Visit www.redbus.my to know more about how to have a hassle-free and comfortable journey by booking a bus ticket online in Malaysia.
Disclaimer: Bus timings, routes, and fares are subject to change. Please check the redBus app or website for any last-minute changes.