Singapore Bus tickets
One of the best holiday destinations and financial capitals of the world, Singapore is a great place to visit both for business and pleasure. Singapore, with its wonderful transportation system and roads can be best discovered by bus. With a diaspora populace from all over Asia and the world, Singapore is a global leader in finance, education, and tourism. It's one of the transport and port hubs in Southeast Asia and is one of the fastest-growing cities. It's also super busy and has a rich night and street life.


Rich in culture and relatively young as a nation, Singapore is the perfect place to go if you're looking to let off some steam and also visit some incredible monuments. Its island status ensures that you're always close to a beach at any given time. Surrounded by iconic skyscrapers and historical landmarks, there's so much to love about Singapore, including -

The Marina Bay Sands Resort.

Sentosa Island.

Universal Studio.

Singapore Flyer.

Night Safari and more.





Getting in and around Singapore via Bus


To enjoy the many things to do in Singapore, you could head there from Malaysia on a bus. There are plenty of options available, and buses are the most economical of all modes available. The city is large and has plenty of things for you to enjoy. There's an already established network of public transportation all around Singapore.


The city sees a flock of visitors every year, and owing to its status as a developed island country, it is an important transport and commerce hub as well. With redBus, get some of the best services for your Malaysia to Singapore bus.

The distance between Malaysia is 350 km, and a bus from KL to Singapore ideally takes around 6 to 7 hours to complete the journey. Travelers can also choose from a wide fleet of buses from some of the region's top operators. There are around 6 to 8 players who offer their services between these two locations, and with redBus' easy booking options, traveling never looked this easy.


There are a lot of Singapore buses to choose from, and your journey is worthwhile with us. An effortless travel getaway, at redBus, we ensure everyone enjoys a safe and enjoyable journey every time. With our dedicated website and app, booking buses is the easiest. Choose your travel date, your preferred operator, and soon enough, you'll be on your way to visit Singapore and its many offerings.

Pick-up and Drop-off Points for the Bus to Singapore:


There is plenty of popular drop-off and pick-up points for TBS to Singapore and the other players. The most common boarding points in Kuala Lumpur include the Terminal Bersepadu Selatan. Some of the other pick-up points in Kuala Lumpur include -


1 Utama Shopping Center.

KL Sentral.

Ansa Hotel.

Subang Parade.




The passengers on these routes can choose from convenient boarding and dropping off points and select their buses based on timings. You can opt for dropping points in Singapore as well, and some of the most popular dropping points include -


Singapore Woodlands

Plaza Beach Road

Boonlay Shopping Center

Jurong East

Tanjong Katong Complex





All the buses between KL and Singapore shuttle between the locations shown above. There are also various classes of luxury available for anyone who wants to travel. The types of buses include -

Executive

Seater

SVIP

Standard



Popular bus companies in Singapore -
Some of the most popular companies operating Malaysia to Singapore buses include the likes of


The ticket prices for these buses vary based on the company's model, but the minimum fare is generally around RM 45. With redBus, you can choose among many options for a single day. The first bus operates at 7 in the morning, and there are options that go right up to midnight, so you won't ever face a dearth of options if you're planning on catching a Singapore bus. All the buses reach at different times, so you'll always find an option that suits you.


How safe is Singapore?

Singapore is a city-state in Southeast Asia and one of the most progressive and modernized countries in Asia. Singapore is known for its work opportunities and travel attractions. Many people come to Singapore to study, work or spend quality vacation time with their family and friends. Every traveller that has come to Singapore loves this country because of its safety, cleanliness, and open culture. Singapore has a very low crime rate, and the country is also very welcoming towards immigrants.


Singapore has a mix of different ethnicities in its population, including Malay, Chinese, Eurasians, Indians, and other smaller groups.
How to travel safely to Singapore?
A bus to Singapore is the safest way to travel here. One can book a Kl to Singapore bus on redBus. The buses in Singapore all follow the necessary safety guidelines issued by the government.


All the buses on redBus are deep cleaned and sanitized before and after every ride. The bus staff are regularly screened for temperature.


All the passengers have to compulsorily wear masks during their bus journey and maintain social distancing of at least 1 meter. There is also the provision of hand sanitizers in every bus. Passengers are requested to carry their personal sanitizers as well for regular use after touching any surface. To avoid queues on bus terminals, redBus also offers online bus tickets to Singapore to passengers that can be directly shown to the bus staff for boarding the bus.


Things to do in Singapore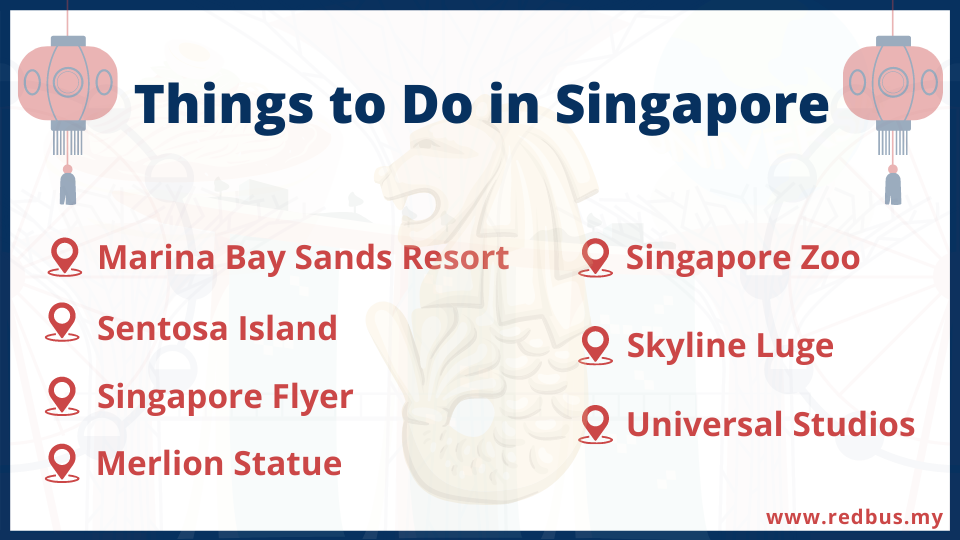 There are plenty of fun activities and places to visit in Singapore. Surrounded by the ocean, it's an excellent place to relax and enjoy the evening's calming sea breeze. Singapore's tech-advanced nature also means it has some futuristic theme parks, attractions, and much more to do.


Here are some of the fun things that you can do in Singapore -

Marina Bay Sands Resort- This is Singapore's most well-known hotel and houses the largest Infinity Pool globally on its rooftop. It is known for its award-winning restaurants, a wide range of entertainment and shopping options.

Merlion Statue - The Merlion is a mythological creature with a lion's head and fish's body and is a mascot of Singapore.

Sentosa Island - This Island has a wide range of entertainment options for tourists, including a butterfly park, Orchid garden, Amusement rides, hotels, shopping malls, beautiful beaches, and vivid green rainforests.

Universal Studios - This is located within Sentosa Island and is a theme park with 7 themed zones with 28 rides and shows.

Singapore Flyer -This is a giant Ferris wheel in downtown Singapore, and you can get the most incredible views of this island nation from atop his attraction.

Singapore Zoo - This is the world's best rainforest zoo and houses over 2000 animals in 28 hectares of land. They have amazing animal shows where spectators can volunteer to participate.

Skyline Luge- This is a thrilling, gravity ride for adults and children, and it gives the riders complete control over their descent on purpose-built tracks.




Enjoy a visit to one of the greatest cities in SouthEast Asia with redBus. Book your tickets right away to enjoy some of the best benefits and travel options for your journey! Visit the redBus website or download the app for amazing offers on bus tickets and hotel accommodations!