Mayang Sari Express Bus Ticket Booking
About Mayang Sari

Mayang Sari is among one of the oldest and most trusted bus operators in Malaysia. Mayang Sari was founded in 1993 in Muar that comes under Johor city. What started as a limited operation with just two buses has expanded beyond imagination. At present, Mayang Sari owns a fleet of more than a hundred buses serving across all major cities and towns in Malaysia. Originally the operations were limited to two main routes; between Muar to Johor and Baru to Kota Tinggi.


With the growth in demand for bus services across numerous routes, Mayang Sari gradually expanded its operations across the whole Peninsular Malaysia. Mayang Sari aims to provide one of the best bus travel experience to its customers at the most affordable price. Affordability with convenience and comfort is what Mayang Sari is all about. All Mayang Sari buses are equipped with necessary travel amenities to make the travel experience comfortable and safe for passengers. One can also easily book a Mayang Sari online using the redBus online portal.


History of Mayan Sari Express
Mayang Sari is an express bus operator owned by Aerosystem Tours and Travels. It is based in Muar in the Johor State, Malaysia. Their services started in 1993 and consisted of two buses. It has grown bigger and now an in-demand operator with more than 100 buses plying in multiple routes. With almost 30 years of experience, this prominent bus operator has come up to the leading spot with their eligible services.
Mayang Sari Express bus services offer both single deck and double deck buses. The single deck and the double-decker buses have 27, 30, or 45 seats. All the buses contain basic amenities and reliable staff. The current service routes are concentrating on the Peninsular region. The common routes are from Muar, JB Larkin Terminal, and Penang in Johor to the other prominent cities in this region. The major destinations are Kuala Lumpur and Melaka.
The head office of Mayang Sari Express is at Muar. There are 12 additional branches for the company. These counters for the customers' convenience are situated at Muar, Pontian, Johor Bahru, Melaka, Kuala Lumpur (TBS), Kuantan, Kota Tinggi, Merlimau, Shah Alam, Klang, Seremban, and Jasin. The office working hours are 7-9 on weekdays and 9-5 on weekends.

Amenities Offered by Mayang Sari

Mayang Sari is known for prioritizing the safety and comfort of its passengers over everything else. It doesn't just limit itself to providing a safe and comfortable travel experience but also ensures that the bus services are affordable for customers. The Mayang Sari buses feature all necessary amenities required to make the journey comfortable and convenient for the passengers. The exact set of amenities offered might vary depending upon the type of accommodation and bus booked by you.
Generally, the buses are equipped with all essential amenities mentioned below.

Charging socket

Air conditioner

Reading lights

WiFi

Recliner seats

Central television

CCTV




You can easily check the set of amenities available on your bus while booking Mayang Sari online ticket using the redBus application or website.


Popular Routes Covered by Mayang Sari Buses

Mayang Sari started its bus operations in Malaysia by covering only two major routes in 1993. It provided its bus travel services between Muar to Johor and Baru to Kota Tinggi. Over the last 30 years, it has grown and expanded its operations over the Malaysian Peninsular region covering a wide range of cities and towns including Mayang Sari TBS. It provides one of the best road transport experience to the passengers and solves the last mile connectivity challenge. Some of the most popular routes covered by the Mayang Sari buses include the following.
Pontian to Muar

Kuala Lumpur to Batu Pahat

Penang to Kuala Lumpur

Muar to Johor Bahru

Malacca to Klang

Terminal Bersepadu Selatan to Malacca

Kuala Perlis to JB Larkin Bus Terminal




These were some of the most popular travel routes covered by Mayang Sari buses. However, the services are not just limited to these travel routes and expand to numerous other cities and towns across Malaysia. You can easily check the availability of Mayang Sari buses for your particular travel route using the redBus online portal.


Types of Buses Offered by Mayang Sari

When it comes to finding the most affordable and cost-effective bus travel services, there is no better option than the Mayang Sari bus services. Mayang Sari aims to accommodate passengers of every budget and needs. It helps to provide its bus travel services to a wide range of passengers by providing multiple bus options to choose from. Each type of bus has its own set of amenities and pricing. Generally, those that feature a higher range of amenities are priced higher. The most commonly offered buses from Mayang Sari include the following.
The availability of these buses is contingent on your travel route. However, for the majority of the travel routes covered by Mayang Sari, all the three options are available for the passengers.


Popular Cities Covered by Mayang Sari Buses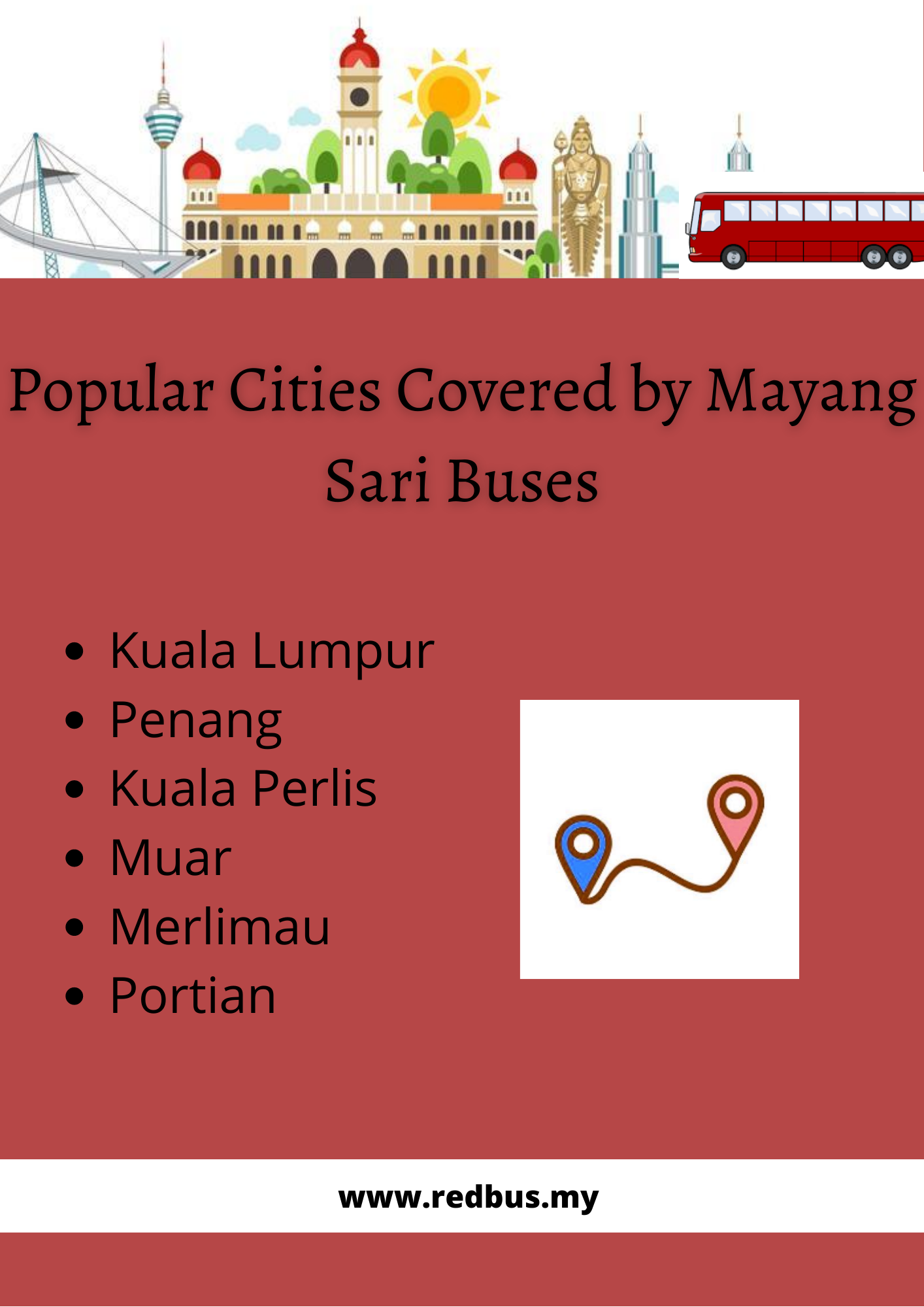 Mayang Sari owns a huge fleet of buses that covers numerous travel routes across Malaysia. It provides a convenient, comfortable and safe bus travel experience to all its passengers. Mayang Sari aims to connect even the remotest places in Malaysia and eliminate the last mile reach challenge that prevails. Some of the most popular cities covered by the Mayang Sari buses include the following.
Pontian

Kuala Lumpur

Penang

Kuala Perlis

Muar

Merlimau



How to Book a Mayang Sari Bus Ticket on redBus?

redBus provides a hassle-free platform for booking a Mayang Sari online ticket. One can easily make future bookings with the help of redBus. It is the world's largest online bus booking platform. To book your online bus ticket in a hassle-free manner you can follow the below-mentioned steps when using redBus:

Open the redBus application or you can visit the website. One can book tickets directly without signing in to the redBus.

There would be 'From' and 'To' buttons on the interface, you can enter your boarding point and dropping point according to your journey and destination.

Chose the travel date as per your suitability and check the availability of buses on that day by clicking on the 'Search' button.

Now, choose your preferred bus option among the various buses listed. You can choose various buses according to your preferences.

After choosing your bus, click on that particular option and select your preferred seat form seat layout provided.

After selecting your seat, click on the 'proceed to book' button and enter your details and contact information on the next layout.

Apply coupon code if any and move to the payment page which is secured and trusted. Your booking will be done via redBus and you will receive an e-ticket with a confirmation email.
Covid-19 precautions to take while travelling by Mayang Sari Express
The Covid-19 pandemic has pushed everyone's sense of safety and precautions to a new high. Mayang Sari Express bus services have also upped their efforts to ensure the safety of the travellers who use their services. Apart from the provision of Mayang Sari Express online tickets in the form of e-tickets to allow contact-free travel, they have also implemented strict rules for their staff to wear face masks while on duty.
As for the travellers, they also need to follow certain guidelines while travelling by Mayang Sari Express. Here are what they need to be aware of regarding their travel safety requirements -
All the passengers must wear a face mask to get entry into the coach and while travelling.
If your fellow passenger is not your companion, maintain a clear distance of at least one meter to avoid any contact.
Carrying hand sanitizers may be necessary to sanitize your hands from time to time.
Water bottles or other travel amenities are not provided inside the buses so carry all your necessities with you for the travel duration.
At the moment, you may also have to pre-register your travel and get the necessary permit to travel due to the MCO in Malaysia.
Local routes served by Mayang Sari Express
Mayang Sari Express ensures connectivity to local and remote areas, and the famous city areas such as Pontian, Merlimau, Kuala Perlis, etc. You can book Mayang Sari online ticket to these popular local routes -
Muar to Johor Bahru
Penang to Seremban
Johor Bahru to Changlun
Kuala Lumpur to Batu Pahat
Pontian to Muar
To book Mayang Sari Express bus tickets online, visit the redBus website/mobile application.
Cross-border routes served by Mayang Sari Express
There are no cross-border services offered by Mayang Sari as they mainly focus on Malaysia's Peninsular region.
Visit www.redbus.my to know more about how to have a hassle-free and comfortable journey by booking a bus ticket online in Malaysia.
Disclaimer: Bus timings, routes, and fares are subject to change. Please check the redBus app or website for any last-minute changes.