Bus Asia Biaramas Bus Ticket Booking
Bus Asia Biaramas started its operations in the year 1992, and since then, it has been able to maintain high degrees of customer satisfaction through the services they provide. All the buses run by Bus Asia are designed as per the diverse needs of the passengers. Be it a short route or a long route; Bus Asia has its buses ready to provide unmatchable experiences to the passengers.



In its 25 years of service, Bus Asia Biaramas has earned a name of quality service providers with very fewer customer grievances on its way. Passengers can very easily look for the buses by Bus Asia on the redBus application. All the buses by this company are listed in the app and tickets can be booked for the same.


History of Bus Asia
Bus Asia Biaramas is a bus brand that has been doing public transport services under Biaramas Express since 1992. This prominent bus operator has its fleet of buses and operated in a joint venture with two other operators as well. The joint venture is with Bandar Seri Begawan and Kuala Belait to open up a maximum number of bus routes for the public. Bus Asia has the biggest fleet of buses with more number of daily services between the Borneo Island cities.
Bus Asia buses' daily services cover multiple routes in Kuching, Serian, Sarikei, Sibu, Mukah, Bintulu, Miri, Brunei, Limbang, Lawas, Kota Samarahan, Sungai Tujuh, and Pontianak. Their subsidiary Tebakang Express Sdn Bhd, operates in the Kuching, Miri, Sibu, and Pontianak routes. Bus Asia categorizes the buses into SVIP, Economy, and seater buses according to the amenities available inside.
Bus Asia Biaramas head office is in Kuching. In addition to this, there are 11 other offices in Sibu, Serian, Bintulu, Sarikei, Miri, Mukah, and Pontianak that handle ticketing, cargo, or both of these. The working time range is from 5.30 am to 11. 45 pm, depending upon the office location and the services provided. The address of their office and headquarters are,
Address:
Sublot D, Ground Floor,
Lot 29 & 30, Jalan Chin Ann,
Kuching, 93100,
Kuching, Sarawak, 93100
Phone: 082-411 111
Headquarters
No 37, Lot 1122,
Lot 465, 8th Mile, Jalan Kota Samarahan,
94300 Kuching Sarawak
Tel No: +6 082 610 111
Fax No: +6 082 610 222

Amenities on Bus Asia


Bus Asia is known for its cleanliness and hygiene inside its buses. It has the most humble and helpful staff members, which will make you feel like home. Bus Asia has experienced drivers to ensure maximum safety to the passengers. Apart from this, Bus Asia provides various amenities in the ticket price. Passengers can make use of these amenities to make their journeys smoother. Some of the amenities available in Bus Asia buses are:
Spacious Leg Room

Separate Space for Luggage

Air- Conditioned Coaches

Recliner Seats

Wi-Fi

Charging Sockets



Some of the amenities may differ as per the type of bus chosen to travel. Passengers can look for these details on the redBus application while booking their tickets online. Bus Asia cares a lot for all its passengers, and their safety is its utmost priority.


Popular Travel Routes


In the last 25 years, Bus Asia has conquered almost the whole of Malaysia. Its buses run across the country connecting all big and small cities and towns with one another. Passengers can check all the routes and Book Bus Asia tickets through redBus app. Some of the most served routes by Bus Asia are listed below:

Kuching to Sibu Wharf

Sri Aman to Sarikei

Kuching to Simpang Bekenu

Tatau to Betong

Tebedu to Batu Lintang

Mukah to Lachung




Passengers can check the details of these routes directly on the redBus application for making a Bus Asia Online Booking. Bus Asia provides the passengers' liberty to select the boarding and dropping points for all these locations as per their convenience and suitability.


Types of Bus Asia Buses

Bus Asia has a huge fleet of buses running on the roads of Malaysia. These buses are designed to fulfil the needs of different people travelling for different purposes. For different routes, Bus Asia has broadly categorized its set of buses in three types, namely:

The major difference in all these three types is the routes to be covered, amenities included in the ticket and the fares charged. Out of these three, SVIP can be considered as the most luxurious range of buses by Bus Asia. All the buses by Bus Asia are properly Sanitized, and the company takes all the precautionary measures against the Global Pandemic Covid-19.


Popular Cities Covered

Bus Asia always focuses on creating a positive impact on the minds of its passengers by providing them with what they aspire for. By reaching out to more and more people through a network covering the whole country, Bus Asia has been able to achieve the target of wide coverage for its market. Currently, it covers almost all small and big cities in Malaysia to one another. Some of the most widely travelled cities through Bus Asia are:
Kuching

Sri Aman

Tatau

Tebedu

Mukah

Sarikei

Miri

Betong

Serian

Batu Lintang

Selangau

Sibu




Popular Pilgrimage Destinations with Bus Asia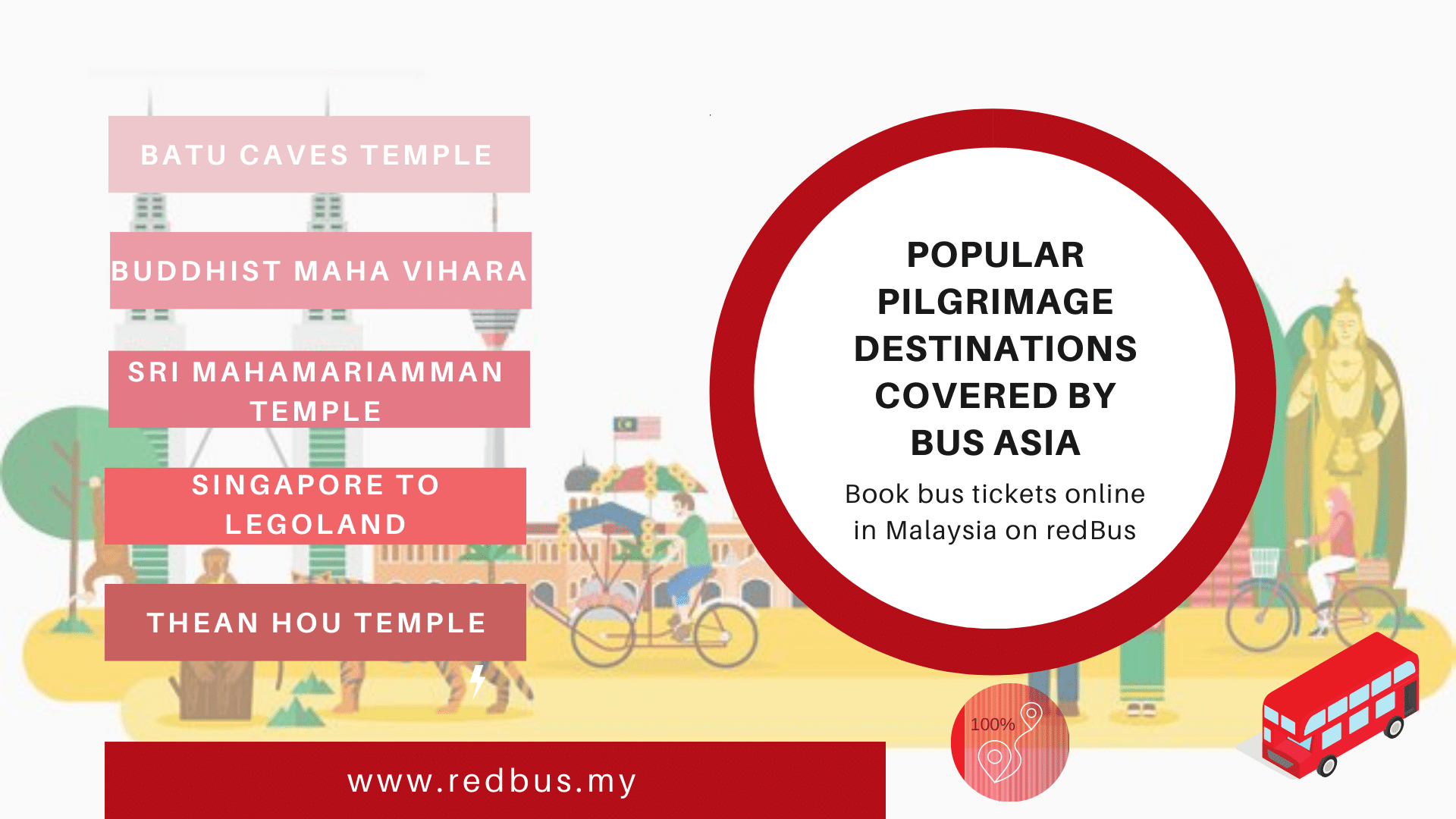 Bus Asia ensures that its passengers get what they want while travelling. For this Bus Asia includes many famous Pilgrimages on its route. These locations can be checked on the redBus application. Some of the major Pilgrimages covered by Bus Asia are:
Batu Caves Temple

Buddhist Maha Vihara

Sri Mahamariamman Temple

Thean Hou Temple




How to book a Bus Asia bus on redBus?

Unlike the older times where the ticket used to get booked on the ticket window standing in long queues, Bus Asia Online Ticket can now be booked from the comfort of one's home sitting on a couch. This has been made possible because of the single hub for all the travel information that is redBus application. The users can follow these easy and simple steps to book a ticket online:
Firstly, open your redBus account on the redBus application.

Fill in the details of the 'Source' and 'Destination' locations in the space provided.

The Date needs to be mentioned for prospective travel.

For more specific search, search for Bus Asia Buses.

After running the search, all the buses related to the same route will be shown on the screen.

After selecting preferred seat tickets can be booked.

After booking the Bus Asia Ticket Online, payment has to be made through Debit or Credit Cards.




COVID-19 Precautions to Take While Traveling by Bus Asia
Bus Asia is a leading bus operator located in Kuching, Malaysia. It started its operations in 1992.
The Bus Asia online booking process is very simple. You can online book tickets for Bus Asia buses on the redBus website/ mobile application. However, keeping public safety in mind due to COVID-19, Bus Asia (Biaramas Express) has implemented several health protocols that passengers have to follow.
Some of them are -
Everyone travelling on Bus Asia (Biaramas Express) buses must wear a mask covering the mouth and nose. Passengers are also requested not to touch any surface unless necessary.
The social distancing of at least 1 meter between fellow passengers is encouraged. To avoid standing in queues, passengers can book their Bus Asia ticket online on redBus.
Bus Asia buses are all deep cleaned and fumigated for each trip. Hand sanitizers are also provided on the buses, and the bus staff is regularly checked for temperature.
Local Routes Served by Bus Asia
With a Bus Asia online ticket, passengers can travel to various routes within Malaysia. Some of the popular local routes are:
Kuching to Sibu Wharf
Kuching to Simpang Bekenu
Tebedu to Batu Lintang
Sri Aman to Sarikei
Currently, travel on these routes is temporarily suspended due to the MCO issued by the government. Please check the official government websites for the latest information related to restrictions.
Cross-border Routes Served by Bus Asia
Bus Asia booking is only available in Malaysia as the bus operator does not serve any cross-border route. You can check further details about the routes, bus schedule, average fare, amenities provided, etc., on the redBus app and website.


Visit www.redbus.my to know more about how to have a hassle-free and comfortable journey by booking a bus ticket online in Malaysia.
Disclaimer: Bus timings, routes, and fares are subject to change. Please check the redBus app or website for any last-minute changes.