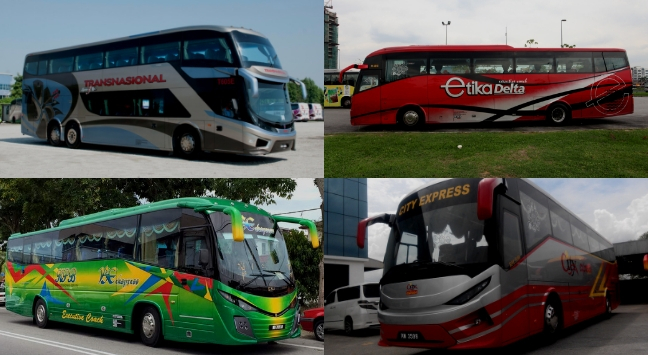 Buses are a convenient way of travel across Malaysian cities. Kuala Lumpur to Penang is recognized as one of the highest travelled routes with 147 buses plying in it. Several reputed coach operators providing travel services are Konsortium, Transnasional, Pacific Express, Plusliner, Etika Express and many more. Buses are known to be an affordable mode of transport and are quite comfortable to travel. Therefore, commuters willing to board a bus from Kuala Lumpur generally reaches Penang in a swift manner.
Kuala Lumpur being a beautiful city lures a good number of visitors around the year. The robust bus transportation connectivity enable travellers to move from one city to another in a smooth way. During the trip, most of the coaches provide direct bus services comprising of one rest stop. A bus takes around 4-5 hours to cover the road distance of 355 kms, depending on traffic conditions. Bus tickets from Kuala Lumpur to Penang can be easily booked by spending a minimum amount of MYR 34.1, depending on the bus type you choose to travel. There are about 14 bus companies providing services in this route and their buses come in different categories, one being different from the other.
Kuala Lumpur to Penang buses are categorized as VIP, Seater and Club Class. All the buses consist of air conditioning and comfortable seating arrangements. They are designed to deliver comfort during the journey.
Bus Boarding and Drop Points
There are a number of places from where you can board your preferred bus and get down at your desired drop off location. This helps you to choose the nearest bus boarding point and alight from the bus at your convenient drop point. Some of the popular boarding places in Kuala Lumpur are TBS, Hentian Duta, Tepi, Jalan Duta, etc. TBS or Terminal Bersepadu Selatan is the major location from where most of the passengers board their bus. There are a few popular drop off locations in Penang such as Butterworth, Penang Sentral, Sungai Nibong, Terminal Bas Express, etc.
Kuala Lumpur to Penang Bus Timings
There a good number of buses plying from Kuala Lumpur to Penang at different hours of the day. The first bus leaves from TBS bus terminal at around 1:00 am and Konsortium operates it. While, the last bus operated by Transnasional departs from Kuala Lumpur at around 11:59 pm and stops in Hentian Duta pick up point at 12:30 am. You can select a bus at your convenient time and travel in ease.
Places to Interests in Penang
Penang is renowned as an exotic holiday destination in Malaysia. It is not only known for its pristine beaches but also for other interesting things that could be experienced in Penang. Some of the popular places to see here are:
Butterworth
George Town
Batu Ferringhi
Penang Hill
Fort Cornwallis
Kek Lok Si