KLIA Bus tickets
One of the most popular bookings that are made to a singular place in Kuala Lumpur are for KLIA bus tickets. KLIA Bus Station offers bus services to every destination across Malaysia. Located about 50 km from KLIA, Kuala Lumpur is a hotspot for travellers who love sightseeing and food. Kuala Lumpur as a city can be covered in a day and you can cover the major attractions within the city. You can book a bus ticket from KLIA to Melaka, Kuala Lumpur Central, Genting Islands and Johor Bahru from the redBus website.


KLIA bus station is fully equipped with modern amenities like shops, restaurants, parking facilities and car rental facilities. The bus services available at KLIA Bus station provides travellers with transportation to several areas within Malaysia.


Important Locations to visit Around KLIA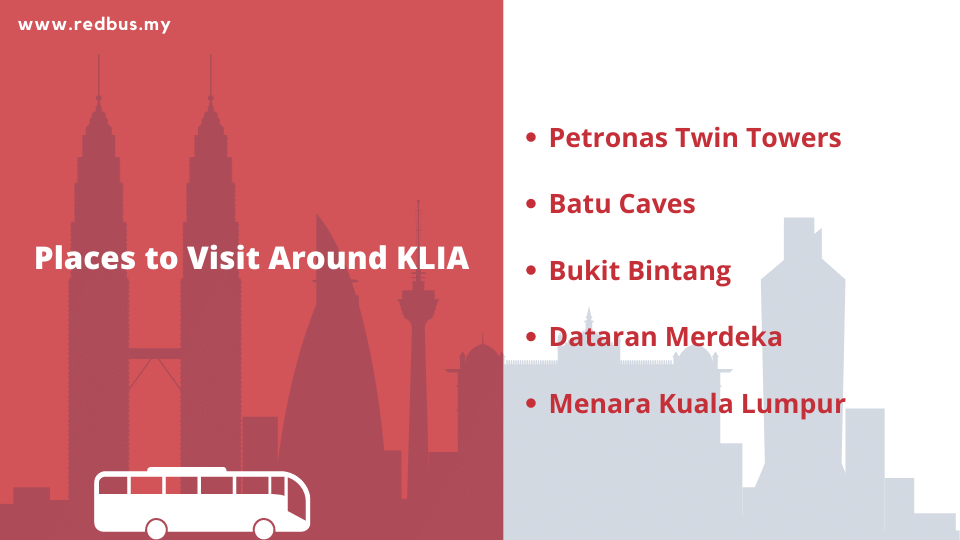 Popular tourist attractions around KLIA are an ideal tourist destination. From the Petronas twin tower to Batu caves, Kuala Lumpur has a lot to offer the discerning tourist. The fascinating city offers sites with vast expanses of greenery and colorful nightlife too. Listed here are traditional, popular and unconventional getaways Kuala Lumpur has to offer:
Petronas Twin Tower: One of the tallest building in the world, the twin structures comprises of 88 floors and are joined in the 41

st

and 42

nd

floor. The architecture of the building is inspired by Islamic architecture and houses the headquarters of several companies.

Batu Caves: One of the most frequented attractions, this is a limestone hill that comprises of three major caves and several smaller ones. It is an important religious site for Hindus and is a 100-year-old temple that has idols and statues inside the main caves.
Bukit Bintang: It is the shopping and entertainment district of Kuala Lumpur. It features the prominent retail belt and is home to shopping areas, bars, cafes, al-fresco restaurants and hawker-type street food eateries.
Dataran Merdeka: Located in the central square of Kuala Lumpur, it is also known as Independence Square. Located in front of the Sultan Abdul Samad building it is an attraction of historical importance as the Malaysian flag was hoisted there on 31 August 1957.
Menara Kuala Lumpur: This is a communications tower and the 7

th

tallest free-standing tower in the world. You can go to the top of the tower via a stairwell or an elevator that has a revolving restaurant and offer a panoramic view of the city.




Apart from the above, you can also visit Chinatown which is bustling with dozens of food stalls serving curries and noodles. The Central Market Kuala Lumpur is also a great place to spend time with its traditional arrangement of shops. The stall concept reminisces of the traditional market concept that once existed in Kuala Lumpur.


Boarding Points in KLIA
The different bus operators that ply the route offer various pickup and drop off locations that are strategically spread across the city. This is to offer maximum convenience to the passengers. Most of the popular boarding points are as below:
KLIA

klia2

KLIA1

Kuala Lumpur International Airport,64000

Sepang

, Selangor




Dropping Points in Tanjung Malim
Some of the popular drop-off points in KLIA include:
KLIA

Terminal klia2

klia2

KLIA1




Please note that these boarding and dropping points can vary according to the operators.


Important Routes to and From KLIA Bus Terminal
Some of the top bus routes to and from KLIA are mentioned below. For more details regarding the KLIA bus schedule visit the redBus website. Some of the popular bus from KLIA are:
Some of the popular bus routes to KLIA Bus Terminal include:
How safe is KLIA?
KLIA (Kuala Lumpur International Airport) is safe to go to. A thermal screening facility and quarantine facilities are provided at KLIA for passengers arriving from other countries. The airport is sanitized regularly for safety reasons. It is compulsory to wear masks at all times at the airport and maintain social distance. Please check the official websites for the latest updates.


How to travel safely to KLIA?
redBus can help you with booking a bus to KLIA easily via its mobile application or website. Booking a bus online ticket to KLIA will help you avoid the crowd at the physical ticket booking counters. redBus is connected with reliable bus operators like Aerobus KLIA and many more that take extensive safety measures against the COVID scenario.


One should make sure to have consent from the regulatory authorities to catch a flight from KLIA. You can find a bus to KLIA from various locations in Malaysia. Make sure to wear a mask and use a hand sanitiser while travelling to KLIA by bus. One should also follow social distancing norms while travelling to KLIA. redBus will provide you with contactless bus online tickets (e-ticket/M-ticket) via SMS/mail.


Buses are a great way to travel across Malaysia. They are cheap and a convenient mode of transport to explore parts of the city and the surrounding areas too. Whether it is a bus ticket- KLIA to Melaka or tbs to KLIA2 bus online booking, you can now just do it via the redBus website. All you need to do is log on to their website or download the app to conveniently book your tickets to suit your itinerary. With major bus operators like Skybus, Star Shuttle Express, Bas Malaysia and others plying across routes, traveling is now a seamless experience with redBus.my! redBus offers you easy booking facilities coupled with deals and discounts and instant confirmation for your booking.


Disclaimer: Ticket prices, bus availability, and bus timings are subject to change without prior notice. Please download the redBus app or visit the official website to know more!