Aerobus Bus Ticket Booking
About Aerobus

Aerobus was founded in the year 2007 with the mission to connect cities and towns across Malaysia by leveraging the power of road transport networks. It is among the top-notch bus travel service providers in Malaysia. Shortly after its establishment, Aerobus expanded to 20 express buses and more than 80 employees in just two years. It catered to more than 80000 passengers a month by the year 2009 and has gradually expanded on an exponential scale.

Aerobus started with serving around 42 daily trips between KL Sentral and LCCT. At present, the number of travel routes covered has increased drastically including places like Kuala Lumpur, Genting highlands, Klang, Batang Kali, Petaling Jaya, etc. Aerobus prioritises the comfort and safety of its passengers and aims to provide a memorable travel experience to all its passengers. The bus services offered are also very affordable and can be opted by budget travellers.


History of Aerobus
When it comes to traveling with comfort, Aerobus is the first name that comes into Malaysian travelers' minds. Aerobus came into existence in 2007 and has managed to be one of the most preferred bus options for travelers since then. Around 1,00,000 passengers travel via an Aerobus every month, and this number is increasing exponentially. Some of the famous places that a passenger can visit by booking an Aerobus are KL Sentral, KLIA/KLIA 2, and Genting Highlands. You can also book an Aerobus if you want to travel from Subang Jaya to Klia or from Changlun to Tanjung Malim.
Aerobus is also known for the several amenities it provides. Passengers have access to reading lights, charging sockets, etc. Also, almost all buses have recliner seats. People also prefer booking an air-conditioned Aerobus as it is incredibly comfortable. An Aerobus is also known for its speed. You can easily book an Aerobus using the redBus app. Also, if you are planning to stay in the destination city for long, you can carry any amount of luggage with you. An Aerobus has a massive space for luggage. These buses also have CCTV cameras to ensure the safety of passengers.
In case you want to know more about Aerobus and its offerings, you can reach out to them directly. You can contact them for any support related to bus services and bus schedules. To reach out to them, you can refer to the details given below.

KLIA2
LCCT Coach Bay
Tel No: +6010-2923888 (24 hours)

Genting Highlands
First World Bus Terminal

Amenities Offered by Aerobus

Aerobus does not compromise with the safety and comfort of its passengers. The buses are designed to provide the best travel experience to all its customers. Aerobus buses are equipped with all essential amenities that are required by the passengers during their journey. The range of amenities might differ depending upon the accommodation booked by you and the availability of buses for your particular travel route.

The Aerobus buses are equipped with amenities such as:
charging socket

air conditioner

recliner seats

reading lights
Some buses are also equipped with additional amenities including pillows and blankets. To ensure that there is no compromise with the safety of passengers on board, Aerobus buses also feature CCTVs. You can also check for the list of amenities available when booking your Aerobus ticket online using redBus.


Popular Routes Covered by Aerobus

Aerobus provides its seamless bus travel services for passengers across multiple cities and towns in Malaysia. Aerobus also provides its shuttle services for places such as Kuala Lumpur, Genting Highlands, Klang, Batang Kali, KLIA2, Petaling Jaya, etc. One of the interesting things to note about the travel routes covered by Aerobus is that it is one of the few bus operators that provide bus travel services between KLIA2 and Genting Highlands. Some of the most popular travel routes covered by Aerobus include the following.
Changlun to Genting Highlands

KLIA to Klang

Subang Jaya to KLIA

KLIA to Subang Skypark

Puchong to Changlun

Puchong to Awana Bus Terminal

Changlun to Tanjung Malim

Terminal Bersepadu Selatan to Sungai Rengit

Awana Bus Terminal to Pekeliling Bus Terminal





Types of Buses Offered by Aerobus

Aerobus primarily offers a Seater for a majority of the travel routes covered by it. A single-deck 44-seater is offered by Aerobus from the KLIA route. The main aim of Aerobus is to provide a convenient and affordable travel solution for common passengers. All the Aerobus buses are equipped with a wide range of travel amenities that aims to provide a comfortable and safe travel experience. You can easily check for the availability of Aerobus buses in your route by using the redBus mobile application or website. One can easily check the Aerobus schedule and book Aerobus tickets as per their travel requirements.
Popular Cities Covered by Aerobus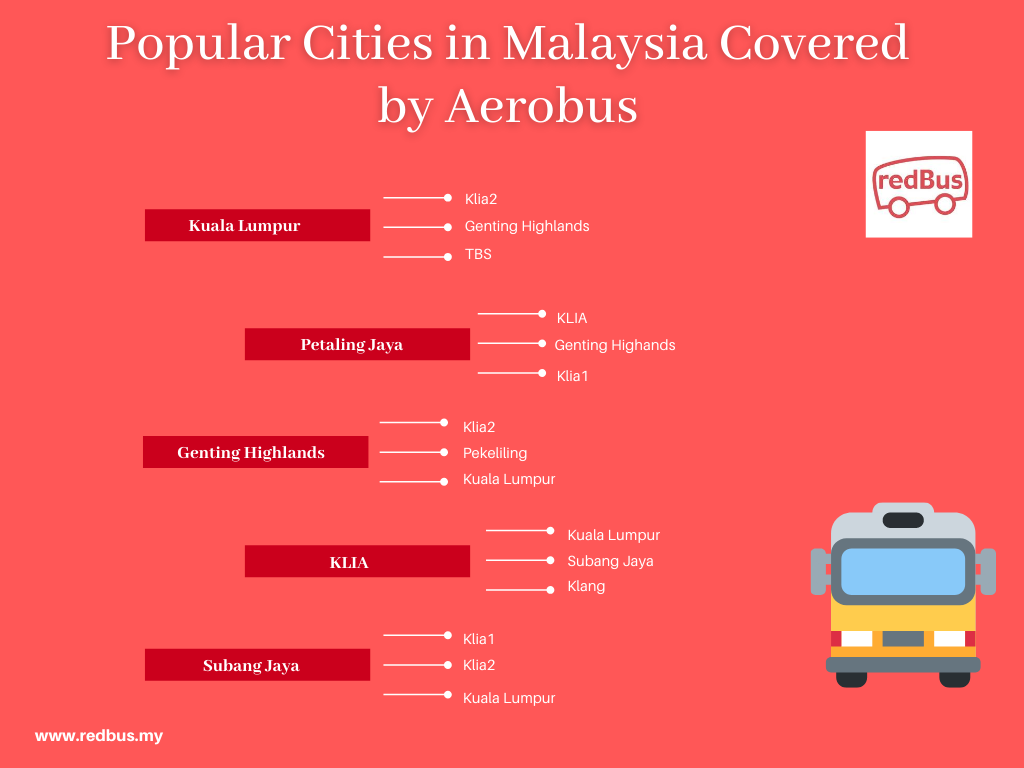 Aerobus provides its bus travel services for numerous routes to connect even the remotest of places with the major cities and towns across Malaysia. The aim is to provide one of the most affordable bus travel services for all passengers. Malaysia is one of the most popular tourist destinations in the world; it attracts a lot of visitors including budget travellers. This is where the popular bus operators like Aerobus come into the picture. One can easily book Aerobus tickets online using the redBus mobile application or website. Some of the most popular cities for which you can book an Aerobus ticket online include the following.

KLIA

Puchong

Pengerang

Petaling Jaya

Changlun

Subang Jaya

Genting Highlands

Kuala Lumpur




How to Book an Aerobus Ticket on redBus?

redBus provides a hassle-free platform for booking Aerobus tickets online. One can do future bookings with the help of redBus. It is the world's largest online bus booking platform. One can follow this link to traverse directly to the Aerobus ticket booking page provided via redBus. One can follow the below-mentioned steps for booking Aerobus tickets using redBus:

Open the redBus application or you can visit the website. One can book tickets directly without signing in to the redBus.

There would be 'From' and 'To' buttons on the interface, you can enter your boarding point and dropping point according to your journey and destination.

Select the date of the journey according to your preference and check the availability of buses on that day by clicking on the 'Search' button.

Now, choose your preferred bus option among the various buses listed. You can choose various buses according to your preferences.

After choosing your bus, click on that particular option and select your preferred seat from the seat layout provided.

After selecting your seat, click on the 'proceed to book' button and enter your details and contact information on the next layout.

Apply coupon code if any and move to the payment page which is secured and trusted. Your booking will be done via redBus and you will receive an e-ticket with a confirmation email.
Covid-19 Precautions to Take While Traveling by Aerobus
Aerobus connects the KLIA and KLIA2 to various locations within the city and other cities as well. They also have interstate buses. Even with its vast fleet of buses, Aerobus has maintained good hygiene and sanitation inside the buses. To maintain such a standard, the passengers must also be careful in following these guidelines.
All passengers must wear face masks while inside the bus and travelling.
Please cooperate with the staff while they check your temperature before boarding.
Refrain from travelling if you feel any symptoms. Those who have any coronavirus symptoms will not be allowed to board the bus.
Although there are hand sanitisers provided inside the bus and at the various terminals, it is advised to carry one bottle for your personal use.
While you enjoy the reclining seats inside the bus, make sure to keep your distance from fellow passengers.
The Aerobus tickets online facility allows the M-ticket to be valid and is sufficient proof for boarding into Aerobus buses.
Local routes served by Aerobus
Aerobus operates in cities such as Genting Highlands, Kuala Lumpur, Klang, Petaling Jaya, etc. It is one of the very few operators that offer direct service from KLIA to Genting Highlands. Their affordable ticket rates with fairly good buses have made them popular among the locals. The local routes for which you can find Aerobus online ticket are -
Awana Bus terminal to Pekeliling Bus terminal
KLIA Klang
Changlun to Tanjung Malim
TBS to Sungai Rengit
Subang Jaya to KLIA
Punjong to Awana Bus terminal
Cross-border routes served by Aerobus
If you are looking for an Aerobus ticket to other countries, you might be disappointed as they do not operate cross-border trips.
Visit www.redbus.my to know more about how to have a hassle-free and comfortable journey by booking a bus ticket online in Malaysia.
Disclaimer: Bus timings, routes, and fares are subject to change. Please check the redBus app or website for any last-minute changes.