Travel with Transnasional
Transnasional set its foot in the transport market in the year 2007. Since then, it has become one of the finest bus operators in the country. Transnasional caters to the diverse needs of its passengers and thus operates around 1500 buses all across Malaysia and Singapore. These buses have different types based on different levels of travel experiences. Transnasional covers about 250 routes with its fleet connecting different big and small cities.


Around 60 million passengers travel with Transnasional every year on different routes. With other renowned names in the Travel Industry which are comparatively old and settled, Transnasional has been able to obtain the position of one of the Top ten buses across Malaysia and Singapore. This is only possible because of the finesse and excellence of the company in its operations and services.

How to book a Transnasional bus on redBus?

Booking a ticket for Transnasional online is not a herculean task anymore. redBus has made it convenient for the users to book a ticket in just no time. The application is handy and user-friendly, and anyone can easily book a ticket on redBus app following certain instructions. Users need to follow the below-mentioned steps:

Start the redBus app or Login to your account on redBus website.

Fill in the details like 'From' and 'To' with the source location and the destination location.

Fill in the date when the booking has to be made.

After selecting the type of bus, specific seats can be selected in the seat structure layout.

After running the 'Search', all the available buses will appear on the screen.

Booking can be made by selecting a suitable bus.

After booking a Transnasional ticket online, payment has to be made online using either Debit or Credit cards.
History of Transnasional
Set up in the year 2007, Transnasioanl is a highly popular bus travel operator even to this day. This is due to their ability to cater their rides to the diverse needs and requirements of their passengers. They operate over a thousand buses across all of Malaysia and Singapore. Forming a dense network across and within these two regions, they connect places including Kuala Lumpur, Kuantan, Malacca, Klang, Ipoh, etc. Based on different levels of experience in travel, these buses are divided into different types. Covering over 200 routes with its fleet of buses connecting various small as well as big cities, Transnasional has millions of passengers travelling with it on various routes every year.
Transnasional, being relatively new compared to a large number of its competitors, ranks in the top ten list of buses across Singapore and Malaysia. This was made possible only because of the operator's ability to cater to its passenger's needs and provide them with only the most comfortable as well as an enjoyable travel experience. It provides its passengers with a wide range of amenities, including the provision of Wifi on some of its buses. Their buses are equipped with reclining and comfortable seating, along with ample leg space.
Amenities on Transnasional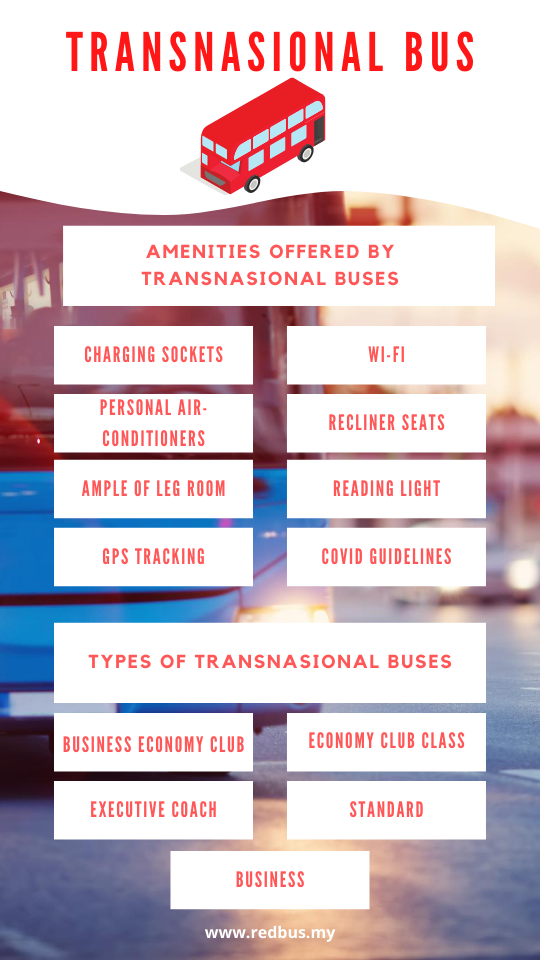 Transnasional follows a customer-oriented approach in its operations which has led to a huge passenger loyalty. Transnasional aims at providing the best services through the best staff available in the whole country. Transnasional bus has a variety of amenities onboard which can be used by the passengers depending upon the type of bus chosen by them. However, passengers may come across the following amenities in a Transnasional Bus:

Charging Sockets

Wi-Fi

Personal Air- Conditioners

Recliner Seats

Ample of Leg Room

Reading Light

GPS Tracking




Transnasional buses are GPS enabled so that passengers can track them anytime and check their live status. Almost all Transnasional buses are equipped with Hand- Sanitizers and masks as per the guidelines by the government in the times of Covid-19.


In the current scenario of Global Pandemic Covid-19, Transnasional ensures deep cleansing of all its buses after every trip. Regular availability of Hand-Sanitizers is ensured in the buses. All the passengers are required to wear masks while they travel on Transnasional buses.


Popular Travel Routes

Transnasional connects various cities of Malaysia and Singapore. This has made it convenient for the local people as well as the tourists to commute with comfort and luxury. Most of the routes covered by Transnasional are packed on weekends and holidays. Passengers can make the use of redBus application to book tickets for Transnasional buses online in advance. Some popular routes served by Transnasional are:

Kuala Terengganu to Terminal Kuantan Sentral

Gemas to Terminal Kuantan Sentral

Malacca to Ipoh

Terminal Bersepadu Selatan (TBS) to Kuala Perlis

Bahau to JB Larkin Bus Terminal

Terminal Kuantan Sentral to Kuala Lumpur




Timings and availability for all the routes as mentioned earlier, can be checked online through the redBus application. Users can choose the dropping points as well as the boarding points as per their suitability.


Types of Transnasional buses

Among the fleet of 1500 buses operated by Transnasional, a different set of buses relate to different types fulfilling the needs and requirements of a larger passenger base. Transnasional has various types of buses with different amenities and fares running on 250 routes. Passengers can book their tickets based on the following type of Transnasional buses:

Business Economy Club

Economy Club Class

Executive Coach

Standard

Business



All these buses fulfil different travelling needs of the passengers. Passengers can check the details of all these types on the redBus application while booking the tickets.


Popular Cities Covered

Since the number of Bus Companies is at a rise, Transnasional has encapsulated a wide range of cities which are served by it. From Malaysia to Singapore, almost all the cities are covered by the fleet of Transnasional. Some of the most popular cities under Transnasional are listed below:
Johor Bahru

Kangar

Mersing

Alor Setar

Baling

Kuala Terengganu

Ipoh

Gemas

Bahau

Malacca

Kuantan



These are the most frequently served cities across Malaysia and Singapore. Tickets for these cities are booked at a much faster pace. Passengers can make the use of redBus application to buy their tickets at the right time, especially on holidays and weekends.

Popular Pilgrimage Destinations with Transnasional

Along with its excellence in providing superb travel experience, Transnasional also caters to the sentiments of its passengers. Special buses and packages may be available for various Pilgrimages across the country. Transnasional covers disparate Mosques and Temples like the famous Sri Mahamariamman Temple in Kuala Lumpur.

Passengers can check the buses and routes to these specific Pilgrimages on the redBus application.


Visit www.redbus.my to know more about how to have a hassle-free and comfortable journey by booking a bus ticket online in Malaysia.
Covid-19 Precautions To Take while Travelling by Transnasional
Transnasional is a prominent multinational bus operator based in Southeast Asia. It provides approximately 1500 buses to various locations of Malaysia and Singapore. The safety measures that should be followed while travelling via Transnasional buses are as follows:
All the Transnasional buses are sanitised at proper intervals. Passengers are provided with hand sanitisers. You have to get temperature checked before boarding Transnasional buses.
You have to wear a face mask while travelling via Transnasional buses and maintain personal hygiene.
Book Transnasional online tickets with redBus to avoid getting caught amidst the crowd at physical booking centres.
Follow the state guidelines against the COVID scenario and maintain social distancing.
Local routes served by Transnasional
Transnasional buses cover around 250 routes in different parts of Malaysia. They provide bus services to approximately 60 million passengers yearly. Some of the major bus routes serviced by Transnasional are as follows:
• Malacca to Ipoh
• Kuala Terengganu to Puchong
• Putra Jaya to Teluk Intan
• Kangar to Malacca
• Johor Bahru to Kuala Rompin
• Kuantan to Kemaman
Cross-border routes served by Transnasional
The most prominent cross-border route served by Transnasional Express is from Kuantan to Singapore. You can check the number of buses available on your preferred route via the redBus mobile application/website.
Disclaimer: Bus timings, routes, and fares are subject to change. Please check the redBus app or website for any last-minute changes.