About Kesatuan Express
Kesatuan Express is a bus operator based in Kuala Lumpur, Malaysia. They are majorly known for operating in the extensive routes around the coastal regions of eastern peninsular Malaysia. These buses are convenient for those who want to travel on a low budget but with the necessary comfort. Some of the main stations of Kesatuan express are Amanjaya, Ipoh, Melaka Sentral, Alor Setar, Kangar, Lumut, and Hat Yai Kesatuan Express. Apart from these, some of the popular destinations of Kesatuan Express are Butterworth-Perlis, Ipoh-Perlis, Hat Yai- Kuala Lumpur, and Perak-Butterworth.

When availing Kesatuan Express bus, you will find single decks with 30 seaters. The reclining seats on the air-conditioned buses provide plenty of legroom, allowing you to stretch out without worrying about feeling uncomfortable the entire way.

Kesatuan Express buses have TVs installed to make long rides entertaining and luxurious. The buses are punctual, and you can enjoy timely boarding and efficient services. It allows you to reach your destination at the expected time. You should avail of bus ticket online booking for the Kesatuan Express to have a comfortable journey.

Advantages of Booking Kesatuan Express Bus
With a wide range of routes, the Kesatuan Express is one of Malaysia's best bus service operators. The bus service has a strong presence in northern and eastern peninsular Malaysia.
These buses operate at various bus terminals across Malaysia, Singapore, and Hat Yai. Kesatuan Express, to stay ahead of its competitors, runs a more extensive fleet of buses.
Often, during long journeys, people pack a large amount of luggage. The Kesatuan Express buses have ample storage space for all your luggage.
Their extensive bus fleet ensures that transportation is always available and allows rigorous cleaning and maintenance of each vehicle before you board it. Besides, the Kesatuan Express customer service is also helpful and quick and can solve any issues you face.
Amenities Offered by Kesatuan Express
According to the online Kesatuan Express bus review, it is known for its comfort and the amenities it provides to its passengers. Most buses are air-conditioned with seats that have ample room. Thus, you can take all journeys comfortably, with minimal joint pain or discomfort. You can even fall asleep on the soft cushioning and travel in peace. Some of the amenities offered by Kesatuan express are as follows.
Recliner Seats
Charging Points at every seat
Reading Lights
Extra Space for Storing the Luggage
Drinking Water Bottles
Kesatuan Express provides numerous beneficial amenities. Thus, you can avail the facilities on these buses and ensure the best experience.
Kesatuan Express Popular Routes
Kesatuan Express is famous for its on-time services among locals and tourists. They provide bus services to Northern and Eastern coastal regions of Peninsular Malaysia, covering cities such as Ipoh, Kuala Lumpur, Kangar, , , , etc. The headquarters of the bus operator is in , Malaysia. They also have cross border services from Kuala Lumpur and Ipoh to Hatyai in Thailand.
Kesatuan Express buses cover many routes every day, especially in the peninsular Malaysia region. They are preferred by foreigners/pilgrimage seekers and daily commuters due to their good reviews and frequent bus services. Some popular routes covered by the operator are: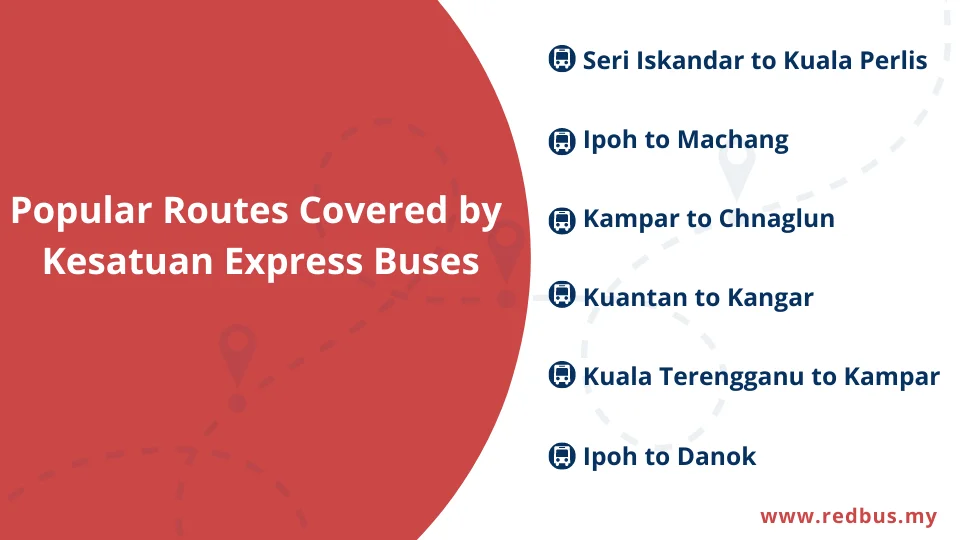 Local routes served
You can find details about all the routes and bus schedules online on the redBus mobile app and website.
Cross-border routes served
Kesatuan Express Popular Bus Terminals
Kesatuan Buses connect many important bus terminals in Malaysia, often allowing boarding and disembarking in multiple terminals across a city. It gets you the closest to your location, and you usually won't need to book another vehicle to go the other way. Below are some of the popular bus terminals for the Kesatuan Express bus.
Changloon
Tapah
Hentian Duta
Seremban Terminal 1
Lumut
Sitiawan
Kuantan
Kuala Terengganu
Bidor
Kampar
Gopeng
Tanjong Malim
Kemaman
Dungun
Paka
Gerik
Jerteh
Amanjaya
Thus, no matter your requirements, you can find the ideal bus stops for your journey.
Popular Cities Served by Kesatuan Express
As mentioned, the Kesatuan Express buses connect several major cities to facilitate smooth touring or leisure travel. Some popular cities and towns that bus Kesatuan Express services are as follows.
Negeri Sembilan
Perak
Butterworth
Kedah
Hat Yai
Terengganu

Disclaimer: Bus timings, routes, and fares are subject to change. Please check locally for any last-minute changes.