Cosmic Express Bus Ticket Booking
The whole peninsular Malaysia is covered by the buses of Cosmic Express. Cosmic Express has a great experience in serving the routes with efficiency and extreme comfort due to which it has earned a great passenger loyalty in all these years of its operations. Passengers prefer to travel with Cosmic Express because of its unmatchable luxurious coaches and highly satisfactory services. The buses of this company are famous among the Tourists traveling to Malaysia from different parts of the world.
Cosmic Ekspress has supportive and co-operative staff members who make the passengers feel like home. The cleanliness and hygiene of the buses are also worth mentioning. Passengers prefer Cosmic Express for ultimate luxury and comfort while they travel.

How to book a Cosmic Express Bus on redBus?

redBus provides a beautiful user experience to its customers through its application. The app is really easy and convenient to use. Booking a Cosmic Express bus online with redBus is so simple. The passengers just need to be sure of the following steps for booking Cosmic Bus Tickets:
Step 1: Use the redBus application or the official website of the company.
Step 2: Fill in the details of the 'Source' and 'Destination' locations in the space provided for the 'From' and 'To' columns.
Step 3: Mention the date when the travel has to be made.
Step 4: Use search filters like, 'Type of Bus', and 'Bus Fares' etc. to narrow down the search according to your requirements.
Step 4: After running the 'Search', all the buses running on the same day and the same route would appear right on the screen.
Step 5: After choosing a bus, Booking has to be confirmed, and online payment has to be made.

History of Cosmic Express
Cosmic Express buses are operated by Cosmic Angle Travel & Tours Sdn. Bhd. which is a company based in Malaysia. This company was founded on 25 September 1998 and has been providing conveyance services to passengers since then. The headquarters of Cosmic Express is in Kuala Lumpur, and they have offices in many other cities of peninsular Malaysia. With its safe bus services over the years, Cosmic Express is one of Malaysia's top bus operators. They operate various types of buses like Executive, Double Deck, Seater, Economy, etc.
Cosmic Express provides bus services in many cities across peninsular Malaysia. The prominent cities covered by them are Alor Setar, Kajang, Putra Jaya, Kuantan, Kuala Lumpur, Penang, Perak, Jitra, Kangar, Gerik, etc. They provide bus services at frequent intervals throughout the day in different cities of Malaysia. Their buses are spacious and are equipped with air-conditioners. The seats of Cosmic Express buses are comfortable & adjustable with ample leg space.
Cosmic Express offers luxurious as well as economical bus services for each section of society. Their experienced drivers & staff members will provide you a safe/good travel experience in Malaysia. You can also contact the head office in Kuala Lumpur or reach out at helpdesk@eticketing.my. The address and contact information of Cosmic Express is given below:

Head Office Address
No. 105-1, Jalan Dwitasik 1,
Dataran Dwitasik, Bandar Sri Permaisuri,
Kuala Lumpur, 56000

Telephone Numbers
+603-7728 4789, +603-7627 2951

Amenities on Cosmic Express:
Luxury is one of the key features of Cosmic Express buses. The company ensures this level of luxury by providing all the amenities inside the bus that ease the travel and provide a unique, memorable, and comfortable bus journey. The passengers are likely to find the following amenities inside the Cosmic Express Buses:
Ergonomic Seats

Overhead Compartments

Charging Sockets

Recliner Seats

Ample of Leg-room

Air-Conditioners



Cosmic Express provides 24*7 bus services all across the country, facilitating the passengers at different time slots. All the amenities can be checked at the redBus application while booking the tickets online.


Popular Travel Routes: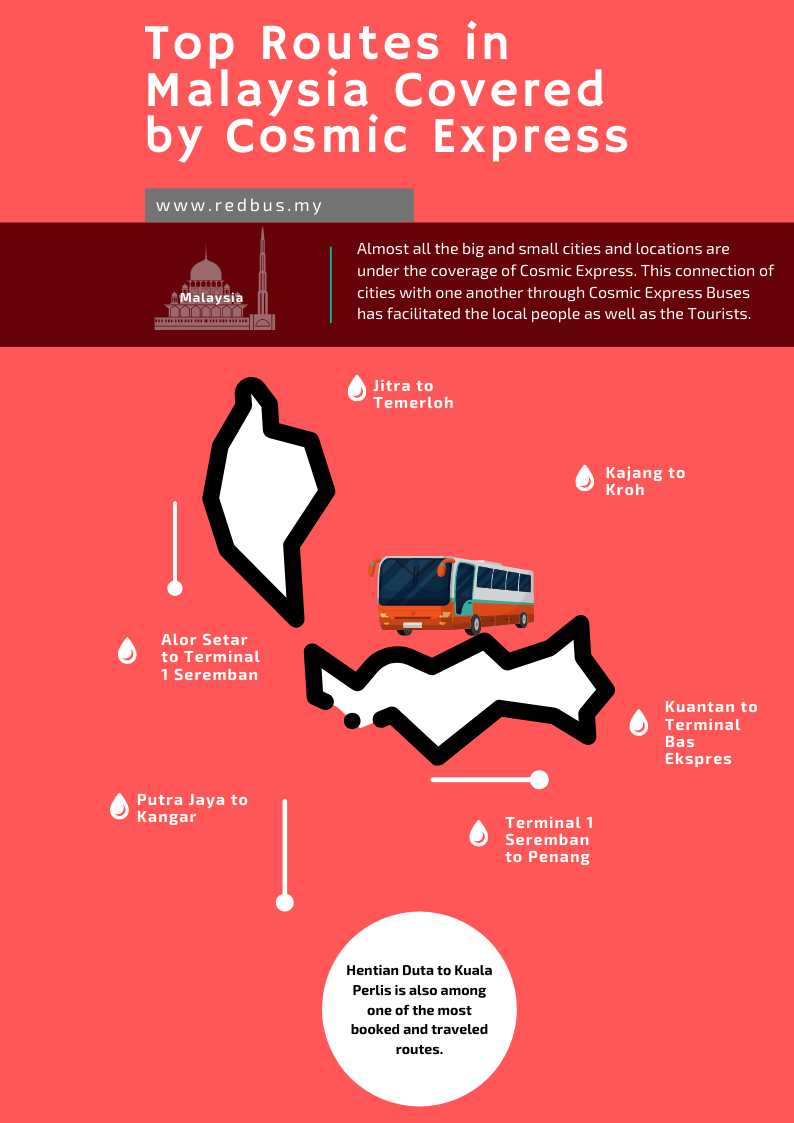 Being one of the Top 10 bus service providers of Malaysia, Cosmic Express has widened its operations by creating a web of routes through its fleet. Almost all the big and small cities and locations are under the coverage of Cosmic Express. This connection of cities with one another through Cosmic Express Buses has facilitated the local people as well as the Tourists. Some of the most booked routes of Cosmic Express are mentioned below:
Jitra to Temerloh

Alor Setar to Terminal 1 Seremban

Kuantan to Terminal Bas Ekspres

Putra Jaya to Kangar

Terminal 1 Seremban to Penang

Kajang to Kroh



Apart from these, Cosmic Express Hentian Duta to Kuala Perlis is also among one of the most booked and traveled routes. The passengers can check the details of the buses for these routes on the redBus application. Passengers can also get exclusive discount offers while booking their buses online by using the redBus app. All the buses of Cosmic Express function under the guidelines to fight Covid-19.


Types of Cosmic Express Buses:

Being the best one of its kind, Cosmic Express ensures that all the variant needs of its passengers are taken care of. Different passengers prefer a different variety of buses for different purposes. Cosmic Express has the following types of buses in its fleet:
These different types of buses run on various routes across the country. Passengers can look at all the routes and the specific type of buses on the redBus app. Cosmic Express also has 38-seater Executive class buses and Double-deck buses in its fleet.
Popular Cities Covered:

With a huge network of buses all across Malaysia, Cosmic Express encapsulates almost all the country's major cities in its list of locations where it operates. Passengers can check all the available cities and their bus routes and timings on the redBus application. Some cities are served the most by Cosmic Express. Some of the most popular cities are:
Alor Setar

Kajang

Putra Jaya

Kuantan

Kuala Lumpur

Gerik

Penang

Kangar

Jitra

Perak




All the buses serving these cities run under the directions and guidelines of the government against Coronavirus widespread.
Popular Pilgrimage Destinations with Cosmic Express:

One of the most popular Pilgrimages for Tourist attraction is the Sri Mahamariamman Temple in Kuala Lumpur. The Cosmic Express buses cater to the passengers for every route and stoppage of their choice. The passengers need to check the availability and the routes for these particular locations on the redBus application.

Cosmic Express provides the passengers with the option of selecting the boarding and the dropping points as per their convenience. They just need to check the availability of specific points located in an area through the redBus app while booking their online tickets.
COVID-19 Precautions to Take While Traveling by Cosmic Express
Cosmic Express is an experienced bus operator that provides quality travel services to passengers in the whole Peninsular Malaysia region. Cosmic Express buses are known for their efficiency and comfortability.
The bus service has implemented additional safety protocols keeping in mind the ongoing pandemic. All the Cosmic Express buses in Hentian Duta and other regions are deep cleaned and sanitized for every ride. Thermal screening of bus staff is also conducted regularly.
Some of the rules passengers have to follow are -
Everyone has to wear face masks that cover their nose and mouth completely.
Maintain social distancing of at least 1 meter from other passengers on the bus.
Carry personal hand sanitizer and sanitize your hands after touching any surface.
Avoid sharing anything with others and carry your own items.
Book a Cosmic Express online ticket and board the bus directly to avoid crowds and queues.
Local Routes Served by Cosmic Express
Cosmic Ekspress buses travel on various short and long-distance routes in Malaysia, connecting different cities. Here is the list of some popular local routes -
Kajang to Alor Setar
Kuantan to Jitra
Kuala Lumpur to Kuala Nerang
Pengkalan Hulu to Kuala Lumpur
Kuantan to Kangar
Cross-border Routes Served by Cosmic Express
Cosmic Express does not offer cross-border travel services for now. One can book a Cosmic Ekspress bus to travel within different parts of Malaysia. The bus can be easily booked online on redBus.




Visit redBus.my to know more about how to have a hassle-free and comfortable journey by booking a bus ticket online in Malaysia.

Disclaimer: Bus timings, routes, and fares are subject to change. Please check locally for any last-minute changes.