Konsortium (Malaysia) Bus Ticket Booking
About Konsortium Bus 
Konsortium has been providing ultimate travel experiences and journeys to its passengers for a very long time now. The company is counted as one of the best fleets in the whole of Malaysia. Konsortium thrives on being the best by rendering outstanding services to its passengers.  
The company's main aim is to strictly follow the time schedules and being punctual for every trip every time, as ultimately, customer satisfaction is all that a company aspires of. All the KBES Online services can be availed through the redBus application or website.

 
How to book a Konsortium Bus on redBus? 
Booking tickets offline has been a daunting task. The advent of Technology and Internet redBus has created an online platform that facilitates its customers worldwide. For booking a ticket, the following procedure needs to be noted: 
Open the redBus application or sign in to the website of redBus.

 

Fill in the 'From' and 'To' spaces with source and destination locations.

 

You need to mention the date when the travel has to be made.

 

After you run the search, buses by all the operators for the same route will appear on the screen.

 

You can manually type any specific requirements like a Super C Konsortium Bus in the 'Filters' option

 

After choosing the suitable bus, confirm the booking and make the online payment through Bank Cards.

 
After making the booking, the passengers will receive an acknowledgment of the registered e-mail id provided by them. 
History of Konsortium 
Konsortium buses are operated by Konsortium Transnasional Berhad (KTB), which was established on the 15th of June, 2007. They are among the largest public bus operators in Malaysia. They also boast a multinational presence as they provide bus services to Singapore too. They have a huge fleet of more than 1500 buses, which cover 250+ routes daily. They provide conveyance services to approximately 60 million passengers per year. KTB is surely the biggest player in the transportation sector as it runs buses under different names too, like Cityliner, Plusliner, etc.


Some of the prominent cities covered by Konsortium buses are Penang, Kuala Lumpur, Kamunting, Yong Peng, Kuala Kangsar, Simpang, Alor Setar, etc. One can book buses from popular bus terminals like KL Sentral and Penang Sentral . They were awarded the best fleet management award in 2013 by SPAD, which is a government agency accountable for managing public transportation in Malaysia. They operate SVIP buses on different routes daily with amenities like air-conditioners, adjustable seats, etc. You will get a safe travel experience by Konsortium buses, which are well maintained & spacious. An emergency exit system & first aid box can be found in each of their buses.


You can visit the operator website for more info about Konsortium. They are known for providing on-time & frequent buses to different cities in Malaysia. Many tourists also prefer their services due to their good reviews & ratings. The contact information & office address of Konsortium are given below:


Head Office 
No. 31, Jalan Bukit Angkat, 
Kawasan Perusahaan, 43000, Kajang, 
Selangor Darul Ehsan


Contact Information 
03 8733 5030 (telephone) 
03 8733 0030 (fax)


Amenities on Konsortium 
Konsortium ensures the availability of every utility that is paramount for traveling on a bus. Traveling with Konsortium, the passengers can experience a luxurious and homely atmosphere inside the bus. Following is the list of some amenities that Konsortium provides to its passengers in its buses: 
Air-Conditioners

 

Recliner Seats

 

Ample of Leg Space

 

Emergency Exit

 

First-Aid

 

Separate Space for Luggage

 

Charging Sockets

 
Apart from these, Konsortium Drivers and Staff members are well-behaved and experienced in their specific work fields. Also, the company enjoys the reputation of always being on time. Passengers can check the details about Konsortium and the amenities on the redBus application.  
Popular Travel Routes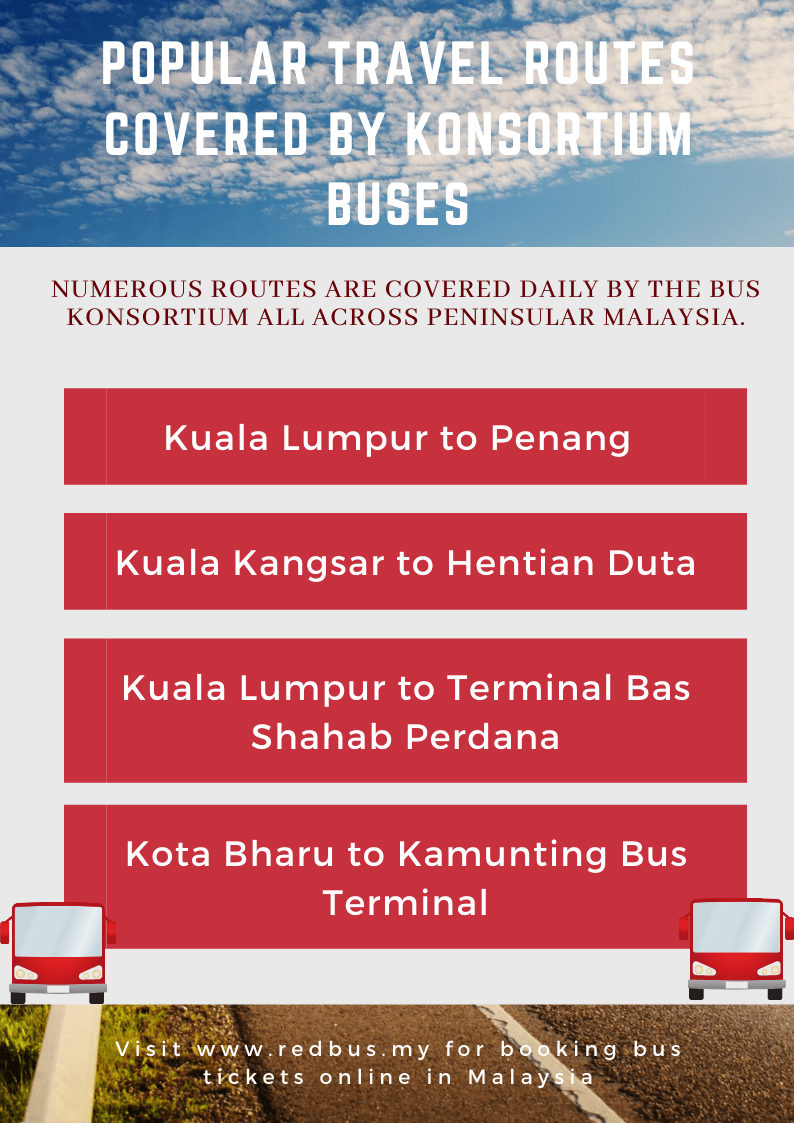 Providing a wide-ranging coverage through its buses, Konsortium covers almost all the major routes of the country. Numerous routes are covered daily by the Bus Konsortium all across Peninsular Malaysia. Passengers can go through the redBus app to know more about the detailed schedule of all the routes. Some of the most popular Travel Routes covered by Konsortium buses are: 
Types of Konsortium Buses 
Being one of the leading names in the Bus Companies of Malaysia, Konsortium runs its buses with great efficiency and utmost safety. Konsortium has the following type of bus running on the roads of Malaysia: 
This type of bus operates in Peninsular Malaysia by Konsortium. This is the best type with a reasonable price range, which can be checked at the redBus application anytime. Passengers can look through the redBus app or website to know more about the current discount offers or cashback schemes.  
Popular Cities Covered 
If you are planning on traveling to some popular cities of Malaysia with Konsortium Bas Ekspres, you may like to book your ticket through the redBus app on time as some of the popular routes are booked by passengers quickly. Here is the list of some of the most traveled cities of the country:  
Proper details about these locations are precisely available on the redBus app. Passengers must note that the Bus timings, routes, and fares are subject to change. Please check locally for any last-minute changes. 
Popular Destinations with Konsortium 
Konsortium not only provides its services 'From' or 'To' some major cities of the country, but facilitates the passengers to travel to famous Pilgrimage destinations as well. Some of the famous Pilgrimages covered by Konsortium buses are: 
Buddhist Maha Vihara

 

Batu Cave Temple

 

Then Hou

 

Lord Murugan Shrines

 

Sri Maha Mariamman Temple

 
Special schedules and routes may be available concerning these routes. Passengers can even book tickets in bulk for the same.


Konsortium is a popular bus operator in Southeast Asia that boasts an international presence. It follows various safety measures to protect its passengers from the Covid-19 virus. From providing sanitised buses to adhering to state guidelines, they offer a safe travel bubble to passengers. Some of the precautions to be followed by passengers while travelling by Konsortium buses are as follows:  
You can book tickets for a bus of Konsortium with redBus and avoid the rush at the physical ticket booking counters. redBus will provide you with a contactless Konsortium ticket online (M-ticket / e-ticket) that will work as an actual ticket. The online Konsortium bus ticket will be sent to you by redBus via SMS/mail. 
Passengers should wear masks and carry hand sanitisers while travelling by Konsortium buses. 
Carry a hand sanitiser with you to maintain your hand hygiene while travelling by a Konsortium bus. 
Adhere with the government guidelines regarding travel amidst the Covid-19 pandemic along with following social distancing norms. 
Avoid travelling if you have any Covid related symptoms, and also consult a doctor immediately.


Local routes served by Konsortium

Some of the prominent domestic routes within Malaysia served by Konsortium are as follows:  
Cross-border routes served by Konsortium

Some of the major cross-border bus routes served by Konsortium are as follows:  
The cross-border Konsortium bus services on redBus are currently suspended as per the government orders. You can contact the redBus customer support executive for any issues while Konsortium online booking or to know more about safety measures. Please visit the official government websites for the latest updates related to travel restrictions.


As one of the most reputable bus service providers in Malaysia, Konsortium (Malaysia) keeps on growing and this attracts more passengers. To travel with KBES, you need to have enough patience because the queue at the counter is always long and tickets for their available routes are always in demand. In order to avoid this hassle and to secure a seat in advance, all passengers are advised to book online through redbus.my. Log on to redbus.my and book your bus ticket to your desired destination. You don't have to go through the trouble of queuing up at the ticketing counter anymore. Check seat availability and book your bus tickets online at your convenience.

 
Disclaimer: Bus timings, routes, and fares are subject to change. Please check locally for any last-minute changes.