KPB Express Bus Tickets Online
KPB Express is a leading bus operator based in Butterworth, Penang, Malaysia. Founded in 1997, the company has expanded its network to cover all major cities in Malaysia and other countries. KPB Express boasts a modern fleet of buses equipped with the latest technology to ensure passengers' maximum comfort and safety. They primarily operate from the Butterworth bus terminal, but services between other cities are also available. The company covers over 10 cities in Malaysia, Thailand, and Singapore, including Kuala Lumpur, Penang, Malacca, Ipoh, and Johor Bahru, as well as terminals like KL Sentral, Melaka Sentral, and Penang Sentral.

Why Choose KPB Express?

KPB Express is a reliable and punctual bus operator, ensuring passengers reach their destination on time.
Safety is a top priority, with experienced drivers trained to handle any situation, and regular bus maintenance.
Passengers can enjoy a comfortable journey with amenities such as air conditioning and comfortable seating.
Affordable fares make KPB Express accessible for everyone, and discounts can be availed on bus ticket online booking through redBus.
The fleet includes buses with 30 to 44 seats, with executive buses featuring a 2+1 seating arrangement, including buses to Singapore.

Amenities on KPB Express Buses

KPB Express offers a range of amenities to make the journey comfortable and enjoyable for passengers. The company's buses are equipped with -

Adjustable seats
Air Conditioning
Charging points
Television
Ample legroom
Headrests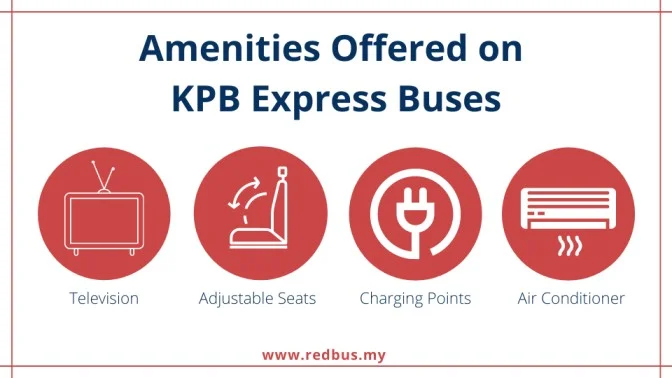 Popular Routes Covered by KPB Express
Cross Border Routes
Local Routes
Popular Bus Terminals
Kluang Bus Terminal
Shah Alam Terminal 17
KPB Express has partnered with redBus, Malaysia to offer an easy and convenient online bus booking platform for passengers. Passengers can check bus schedule, choose their preferred seats, select their destination, and pay for their bus ticket securely online.
Disclaimer: Bus timings, routes, and fares are subject to change. Please check the redBus app or website for any last-minute changes.