Melaka Sentral Bus Tickets | Avoid the Queue with redBus
Melaka Sentral is, by far, the largest bus terminal among all the bus and public transport terminals in Melaka City, Malaysia. Spread out over a land area of 46.6 hectares, the terminal was built to resemble the design of KL International Airport and boasts of a similar high-roofed structure so as to let a good amount of natural light penetrate into the terminal area. The Melaka Sentral terminal was opened to the public on 14th May 2004. With 24 interstate and 18 domestic bus platforms, it acts as a central point for interstate passengers traveling to Singapore as well as domestic passengers who are routed towards the Malaysian Peninsula.
The Melaka Sentral terminal remains busy throughout until late in the night, mostly because of the sheer magnitude of local and interstate passengers traveling daily. Facilities at the terminal are aplenty with an information counter in the main waiting area, and an interactive board that is made to show up all the essential information any traveler might need on bus timings, routes to avail, bus numbers and the destination they are headed to. For someone who's traveling to Melaka City for the first time, there's a taxi stand right in front of the bus station to ferry them in and around the place and take them to their respective destinations. There's also a massive parking area for vehicles of people who've come to pick up or drop someone off at the terminal.
Getting to the Melaka Sentral terminal from within Melaka City
The best way to reach Melaka Sentral terminal is to take a local bus or a private taxi. Passengers cannot take a train or LRT service. However, it is really close to Melaka Airport located at only 6.4kms away. By taxi, it barely takes 15 minutes from the airport to Melaka Sentral.
Skip Long Queues and Save Time with Melaka Sentral Boarding Pass
Booking bus tickets from Melaka Sentral bus terminal has now become easier than ever with the launch of redBus' special boarding pass with a QR code. Currently, passengers who have booked bus tickets to their desired destination are required to stand in a long queue in order to collect their boarding pass even after having a confirmed reservation. The online tickets need to be exchanged into physical boarding passes. However, by opting for redBus boarding pass with a QR Code, one can totally skip the queue and hop on the bus without wasting time. All one needs to do is to show the printed boarding pass at the boarding gate of Melaka Sentral and scan the QR code sent via mail to hop on the bus.


Booking Steps for Melaka Sentral Boarding Pass
redBus users can opt for Melaka Sentral boarding pass with a QR Code by following simple booking steps as given below:
Passengers can select Melaka Sentral as their 'source' and choose any desired destinations. A QR boarding pass widget would then appear on the search result page along with the list of buses available.
The nominal fee for opting for the boarding pass would be provided below. Passengers can keep the opt-in button on to choose the special boarding pass.
Passengers are then required to head to the payment section and complete the payment formalities. Once the payment is made, they will receive an email with their boarding pass and QR Code attached.

In the case of multiple users, the QR codes sent would be with respect to the number of tickets booked. In case of canceling and rescheduling the tickets, passengers need to remember the following points:
If the user cancels the tickets, the boarding pass and QR code would also be canceled, and the users will receive an email confirmation about the cancellation.
In the case of rescheduling the tickets, a new boarding pass and QR code will be generated, and users will receive the same via email.


At the time of boarding the bus, passengers can find the QR code scanner at the boarding gate of their respective bus company. Also, note that platform details will not be available on the boarding pass. Passengers would need to check the same from the turnstile screen sometime before the departure.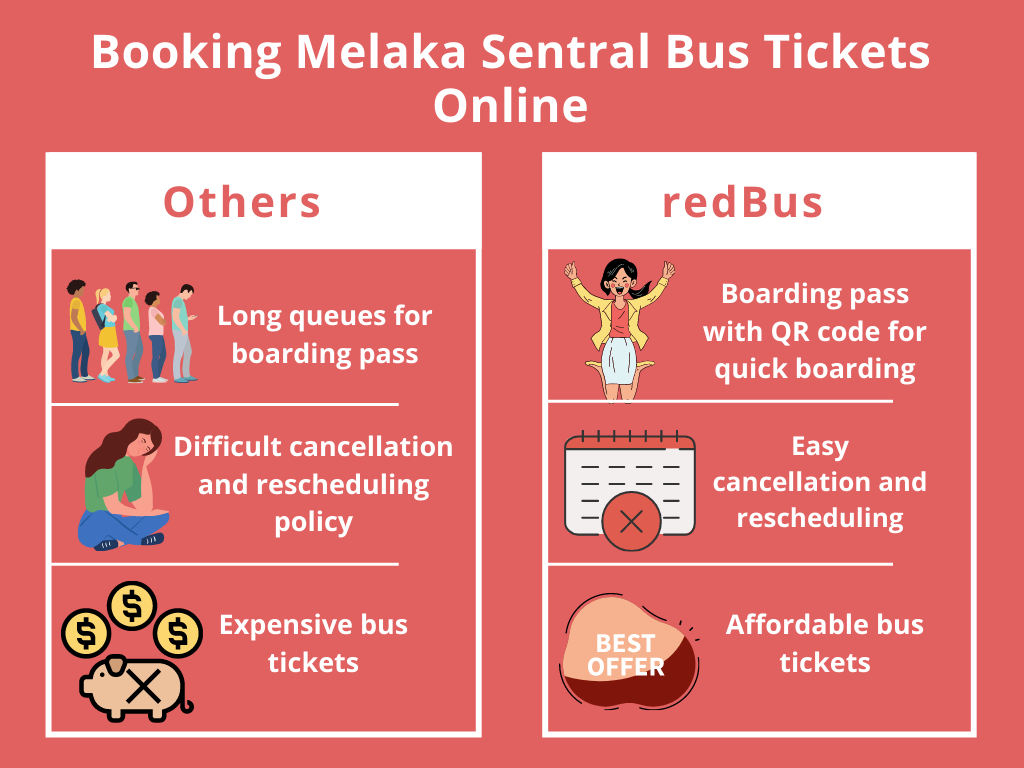 Passenger Facilities Available at Melaka Sentral Bus Terminal
Be it quickly grabbing a bite before boarding a bus or spending a good amount of free time before a journey, Melaka Sentral is a great place for travelers. You can head to the mini stalls that sell quirky handicrafts, basic utility items, and even clothes, go to the Tesco supermarket chain nearby if you have time to spare or head to the upmarket boutiques and shops inside the terminal.


Being a widely-used bus terminal, Melaka Sentral has several traveller-friendly amenities to make your time there more comfortable: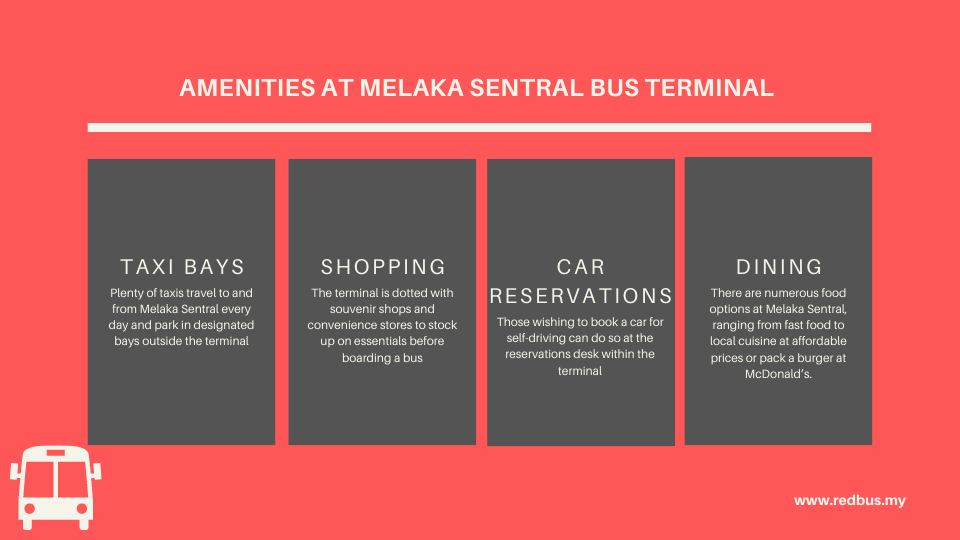 Taxi bays:

Plenty of taxis travel to and from the bus terminal every day and park in designated bays outside the terminal.

Shopping:

The terminal is dotted with souvenir shops and convenience stores to stock up on essentials before boarding a bus

Car reservations:

Those wishing to book a car for self-driving can do so at the reservations desk within the terminal

Dining:

There are numerous food options at this bus station, ranging from fast food to local cuisine at affordable prices

or pack a burger at McDonald's. There are, in fact, multiple outlets that serve various kinds of food and beverages so there's no way passengers will run out of choices.


Also, it has great resting spots for travelers and is also completely air-conditioned. You can rest at any of the numerous VIP lounges, freshen up at one of the restrooms, head to the ATM counters located inside to refill your cash, and so much more. Mobile charging points at multiple spots only sweeten the deal further.

Most Popular Bus Operators at Melaka Sentral
Melaka Sentral is a hubspot for buses plying through both domestic and interstate routes. Passengers can make the most of daily bus services to travel to Kuala Lumpur, JB Larkin bus terminal, Terminal Bersepadu Selatan (TBS), Singapore or Johor Bahru to name a few. The terminal also connects cities like Paka, Penang, Johor, Ipoh, Terengganu, Kuala Lumpur, and many others by road.
The most popular bus operators operating at Melaka Sentral along these routes are:
707- Inc

Mega Star Transportation also known as Kejora Express

S&S International Express
Travelers can choose from buses that offer SVIP, Executive, or Club Class seating arrangements depending on the operator of their choice on a route. The coaches of these buses are really top-notch in terms of maintenance, seating arrangement, cleanliness, and other services. Passenger safety and security is of utmost importance with bus operators at Melaka Sentral.


Advantages of Booking Bus Tickets with redBus
redBus does not require any passenger to actually go to the terminal and buy or cancel a ticket. Imagine the hassle of planning a last-minute journey to a place and then actually having to travel to Melaka Sentral and stand in a queue to get it! Or what if you decide in the middle of the night that you want to go somewhere the next day? This is where redBus steps in. Not only do you have the convenience of sitting in the comfort of your home and browse through multiple options before zeroing in on one, but you also get to compare services provided by bus operators, fares, and routes. Also, redBus offers lucrative discounts all through the year so it's a win-win for you cause that way, you might end up saving some extra money on your travel.


How safe is Melaka Sentral?
Melaka Sentral bus terminal is completely safe as sanitization processes are conducted regularly here. It is a busy hub in the heart of Melaka City. There are plenty of buses from various parts of Malaysia that arrive at this terminal. Even buses from Singapore arrive at this bus stop.


It has waiting areas for passengers and provisions for shopping and refreshments. The information counter and the display boards set at strategic locations help the passengers be aware of their buses, timings, and exact arrival location. People must wear masks and maintain social distance during the pandemic.


How to travel safely to Melaka Sentral?
One can safely reach Melaka Sentral from cities such as Ipoh, Kuala Lumpur, Penang, etc., by a local bus. There is an airport 15 minutes away, and you can opt for a cab to reach the bus terminal. To get to the bus station, you can book online bus tickets on the redBus mobile application/ website.


One of the most popular routes is the TBS to Melaka Sentral. The buses for this route are available till late at night. The online ticket and Melaka boarding pass allows you to skip the waiting line and board the bus contact-free. In fact, this boarding pass is the unique feature of this bus terminal where you just have to scan the QR code and board the bus.


While on a bus to Melaka Sentral, ensure you are wearing a face mask, maintaining social distancing, using hand sanitizers, etc. You will not be allowed to board the bus if you have any covid-19 symptoms.


Things to Do in Melaka and Melaka Sentral
Melaka is a historically important place in Malaysia. The place has been influenced by the Dutch, English, and Portuguese. You can find many things to do and see in Melaka. Upon reaching Melaka Sentral, one can easily find many places of interest. Some of them are -
Stadthuys: This is a city centre square with red-coloured buildings. The Christ Church, situated in this square, is an iconic monument painted in red and the oldest structure made by the Dutch. The clock tower makes the place an excellent spot for photography.
Jonker Street: The weekend night market is famous on this street. At the market, you can find handicrafts and other clothing items on sale. The street remains lively even during weekdays with plenty of shops and restaurants.
St. Paul's Church and Famosa Fort: Both of these were built by the Portuguese. They are located behind the Stadthuys museum complex.
The Sultanate Palace Museum houses the history and local legends of Malacca. It is located towards the east of the Famosa Fort.
Melaka River: A walk along this river in the evening with plenty of lights is a memorable experience. Visit here in the evening to see the sunset and then enjoy dinner right on the river banks.
Melaka Straits Mosque is a place to visit during the sunset. It brightens up against the calm sea in the background. Visit here either in the morning or in the evening to avoid the scorching sun.


You can book your bus online ticket from all major cities in Malaysia to reach the Melaka Sentral Bus terminal. From this terminal, walk to the local bus station to get buses that connect you to these places.

Booking a Ticket on redBus
Booking a ticket on redBus is really simple. All you have to do is follow the steps below:
You can either log on to the official redBus website or download their app on your phone

Once you're all set with your travel plans, you enter the pick-up point and the destination of your choice

Next, you enter the date on which you've planned your journey

You click on the search button and a number of bus options appear on the screen before you

You can use filters available on the left side of the screen to help narrow down your choices

You compare fares, select seats, hit the book option and its done

Next, you're redirected to a payment window where you have to complete the payment using debit card, credit card, or net banking

The payment gateways are really secure and encrypted so there's no reason to worry here

Your tickets are sent to the email id you have provided earlier along with a text message bearing confirmation of the same
That's it! You're all set for your journey with redBus now.

Disclaimer: Bus timings, routes, and fares are subject to change. Please check the redBus app or website for any last-minute changes.