Melaka Sentral Bus Ticket Booking
Melaka Sentral bus terminal, commonly called Melaka Sentral, is the main bus station in Malacca. It is located in the Plaza Melaka Sentral, which has been operational for almost 20 years. Melaka bus terminal is just a few km from the city center and some famous tourist sites. The bus terminal is just 2 km away from the AEON Mall Bandaraya Melaka, a popular hangout place, in between Jalan Tun Abdul Razak and Jalan Panglima Awang. 
This proximity and easy access make it a popular tourist destination, especially during the holidays.Melaka Sentral is the central hub for all types of bus services, including express buses, local buses, and shuttle buses. It also serves as the starting point for passengers traveling to other parts of Malaysia and Singapore.
Booking Melaka Sentral bus tickets is easy and convenient. Passengers can book their tickets online through the redBus.my website or through the ticket counters at the terminal.

How to go to Melaka Sentral Bus Station? 
The Melaka Sentral bus terminal was designed based on the Kuala Lumpur International Airport for a comfortable bus station. Since Malacca doesn't have direct train services, buses are the main public transportation option. The Melaka Sentral serves as the central transport hub, with buses and taxi services operating from here. In addition, local city buses, intercity, and interstate buses operate from this terminal. Direct bus routes are operational to Melaka bus terminal from Kuala Lumpur, Ipoh, etc., and from Kuala Lumpur International Airport.The Melaka Sentral terminal acts as a central point for interstate passengers traveling to Singapore as well as domestic passengers who are routed towards the Malaysian Peninsula.

How to reach Melaka Sentral Bus Station by Trains

Melaka Sentral is accessible by public transportation, including LRT, KTM Komuter, and KLIA Transit.
How to go to Melaka Sentral Bus Station by LRT? Passengers can take the LRT train to Bandar Tasik Selatan station and transfer to a bus or taxi to Melaka Sentral.
How to go to Melaka Sentral by KTM Komuter? Passengers can take the KTM Komuter train to Tampin station and transfer to a bus or taxi to Melaka Sentral.
How to go to Melaka Sentral by KLIA Transit? Passengers can take the KLIA Transit train to Bandar Tasik Selatan station and transfer to a bus or taxi to Melaka Sentral.

How to reach Melaka Sentral by Bus
Buses are the primary option for traveling in Malacca. Local city buses are available at the Melaka Sentral bus terminal. But they will be arriving at the domestic terminal. It is easier to hop from one terminal to the other to reach here from any part of the city. If you are bound for interstate travel, you must cross to the terminal's other section. You can either book your bus ticket online or purchase them at the terminal.
How to reach Melaka Sentral by Cab
Taxis and cabs are the more comfortable option for reaching the bus terminal. However, cabs can be expensive and not a popular choice, since buses are cheaper and available more frequently.
How to reach Melaka Sentral by Personal Vehicle
Arriving at the Melaka bus terminal by private vehicle is another option. There is ample parking space, but it is not covered parking. A parking fee is also applied.


Melaka Sentral Parking Fee 
The parking fee at Melaka Sentral Bus Terminal varies depending on the duration of parking. The parking rates are as follows:
RM 0.40 for half an hour 
RM 0.60 for 1 hour 
RM5.00 for 24 hours
It is important to note that the parking fee is subject to change, and passengers are advised to confirm the parking rates with the terminal management before parking their vehicles. The parking area at Melaka Sentral is well-lit and equipped with CCTV cameras, ensuring that parked vehicles are safe and secure.

Amenities Available at Melaka Sentral Bus Terminal
Melaka Sentral has separate sections for the domestic and interstate buses. The terminal has shops and eateries that the passengers and locals enjoy equally. The entire terminal has centralized AC, comfort from the humidity outside. There are four main zones for the bus terminal. Zone A has open spaces and shops. Zone B has ticket counters and playing grounds for children. Zone C is for food, and Zone D has all the parking spaces for cabs and buses.

Being a widely-used bus terminal, Melaka Sentral has several traveller-friendly amenities to make your time there more comfortable:

The other facilities here at the bus terminal include,
ATMs by several banks to refill your cash 
Safe parking space that is functional 24 hr. Locals can arrive at the terminal in their vehicles and park them without issues.
Money exchange outlets are another facility that is useful for foreign tourists.
A prayer hall is also set inside the terminal for Muslims to do their prayers.
Taxi services are available right at the terminal for those who need a private ride to their destinations.
Washrooms
Eateries, including McDonald's, inside the Melaka Sentral bus terminal.
The terminal has air-conditioned waiting rooms so you can rest comfortably while waiting for your ride.
Convenience stores in the terminal will be available for buying some necessities.

The terminal is dotted with souvenir shops and convenience stores to stock up on essentials before boarding a bus



Popular Bus Routes From Melaka Sentral
Travelers can choose from buses that offer SVIP, Executive, or Club Class seating arrangements depending on the operator of their choice on a route. The coaches of these buses are really top-notch in terms of maintenance, seating arrangement, cleanliness, and other services. Passenger safety and security is of utmost importance with bus operators at Melaka Sentral.


Things to Do in Melaka and Melaka Sentral
Melaka is a historically important place in Malaysia. The place has been influenced by the Dutch, English, and Portuguese. You can find many things to do and see in Melaka. Upon reaching Melaka Sentral, one can easily find many places of interest. Some of them are -
The night market at Jonker Street, a weekend affair, is famous in Malacca. Handicrafts, clothing items, etc., are available when the street comes alive on the weekend nights, but it is still lively on the other days with restaurants and stalls.
Walk along the Melaka River to see the wonderful place under the stars and lights. This will be a wonderful experience for couples where they can also enjoy dinner on the banks.
Melaka Straits Mosque is a beautiful place to visit in the morning and during the sunset. The mosque gives a picturesque view of the calm sea.
Stadthuys is the city center square with the iconic red-colored buildings, which makes it a UNESCO World Heritage Site. The Christ Church near the square is also painted in red and is one of the oldest structures created by the Dutch. The clock tower makes the place an excellent spot for photography.
The Sultanate Palace Museum tells you the history of Malacca. You will also see several local legends. It is located on the eastern side of the Famosa Fort.


Booking Steps for Melaka Sentral Boarding Pass
redBus users can opt for Melaka Sentral boarding pass with a QR Code by following simple booking steps as given below:
Passengers can select Melaka Sentral as their 'source' and choose any desired destinations. A QR boarding pass widget would then appear on the search result page along with the list of buses available. 
The nominal fee for opting for the boarding pass would be provided below. Passengers can keep the opt-in button on to choose the special boarding pass. 
Passengers are then required to head to the payment section and complete the payment formalities. Once the payment is made, they will receive an email with their boarding pass and QR Code attached.

In the case of multiple users, the QR codes sent would be with respect to the number of tickets booked. In case of canceling and rescheduling the tickets, passengers need to remember the following points:
If the user cancels the tickets, the boarding pass and QR code would also be canceled, and the users will receive an email confirmation about the cancellation. 
In the case of rescheduling the tickets, a new boarding pass and QR code will be generated, and users will receive the same via email.


At the time of boarding the bus, passengers can find the QR code scanner at the boarding gate of their respective bus company. Also, note that platform details will not be available on the boarding pass. Passengers would need to check the same from the turnstile screen sometime before the departure.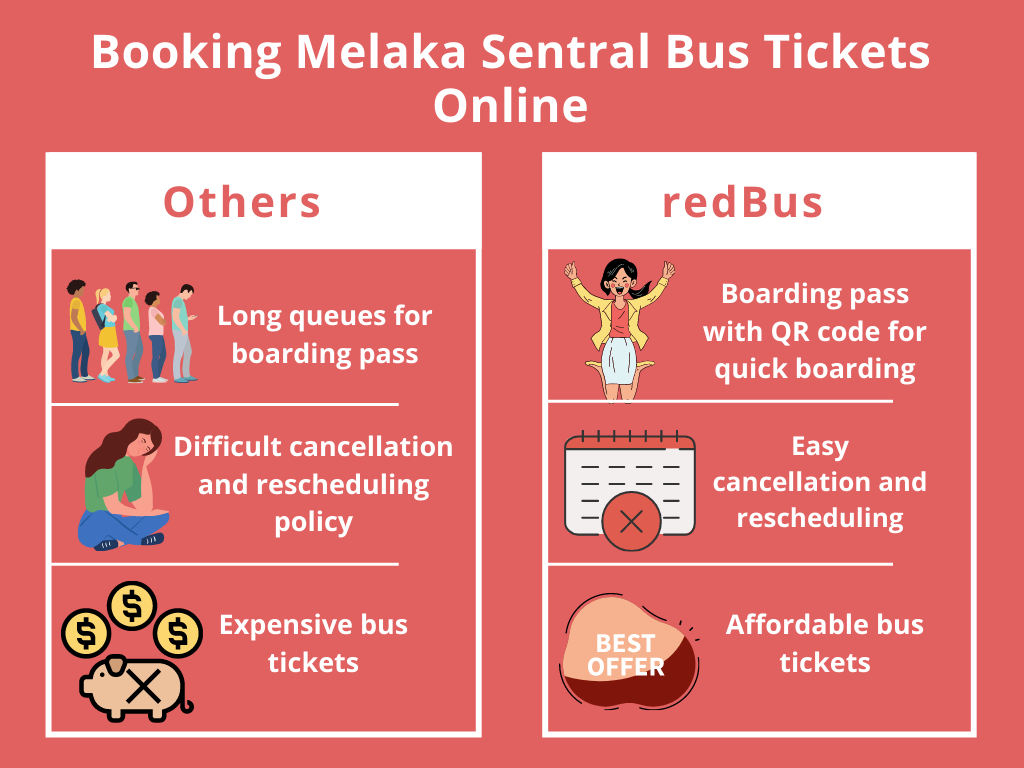 Booking bus tickets online at redBus.my is easy and convenient. You can book your bus ticket online online from all major cities in Malaysia to reach the Melaka Sentral Bus terminal. Passengers can choose their preferred travel date, time, and seat, and make payment securely through the website. The online booking system also allows passengers to compare prices and schedules from different bus operators, making it easier to find the best option for their travel needs.
From this terminal, walk to the local bus station to get buses that connect you to these places. Also, save upto 50% with code MYNEW when you opt for online bus ticketing services with us. Check our offers page for more info on redBus promos !
 
Disclaimer: Bus timings, routes, and fares are subject to change. Please check the redBus app or website for any last-minute changes.