Book Ipoh Amanjaya Bus Tickets
Ipoh Amanjaya is the bus terminal located in Ipoh, Perak. Situated by the Kinta River, Ipoh is one of the popular tourist destinations in the region. The Amanjaya bus terminal is huge with plenty of buses plying to and fro everyday.
The bus terminal is well-connected and was built recently to cater to the different people visiting the city. There are many ways to get to the terminal and you can book your bus tickets online in advance from different parts of the country.
How do you get to Ipoh Amanjaya?
Terminal Amanjaya can be easily accessed by bus and other modes of transport. There are buses that go to the city and pick up and drop customers all day. The cost to travel on these buses is very cheap and does not exceed more than RM 3 at any time.
You can check the departure schedule to ensure you get a bus that travels to your region at a time of your preference. The city center has many modes of transport with which you can get to the Terminal. This includes local buses as well as taxi options such as Grab where you can book in advance to be on the safer side.
You could also catch a train to the town from Kuala Lumpur. The prices of these tickets range from RM 24 to RM 37. These trains reach the town anywhere from 2.5 to 3 hours and are a great option for those looking to reach sooner. You can enjoy the views on the train route as well.
Amenities at Ipoh Amanjaya Bus Station
Ipoh Amanjaya has a host of amenities to ensure travellers have a comfortable transit there. Apart from shops selling local snacks and other trinkets for you to collect on your trip, the terminal also has plenty of basic amenities including toilets and waiting centers so you're necessities are taken care of.
Waiting areas:

There are numerous seated waiting areas around the terminal where you can wait for your bus or pick someone up.

Air conditioning:

The entire terminal is air-conditioned throughout the year so you needn't worry about travelling by bus during hot summers.

Parking:

There are convenient parking slots around the terminal where you can safely park your vehicle.

ATMs and WiFi:

Some areas within the terminal have ATMs and WiFi hotspots so you can rest there to surf the net or contact loved ones.
Popular Bus Operators at Ipoh Amanjaya
There are a few popular bus operators who operate to and from the Ipoh Terminal. These are some of the biggest operators in the country and you're sure to find a bus that operates towards some of the major cities in the country as well as some of the smaller towns.
These buses are always neat and are well-maintained and ensure every passenger is safe during the course of their journey. Some of the most popular bus services that board to and from Ipoh include the likes of Lapan Lapan Travel, Eltabina Jaya, Transnasional, Jasmine Express, StarMart Express, Unititi Express, and many more.
The different cities and regions from where these buses board from include the likes of Kuala Lumpur, Malacca, Johor, Kedah, Pahang, Penang and many more of the bigger cities and towns in the region.

How safe is Terminal Amanjaya?
Terminal Amanjaya is a major bus terminal situated in Ipoh (Perak). It is safe to travel to this bus stop. The local government has ensured that the bus terminal is sanitized at proper intervals to provide a safe travel environment to passengers.


All the buses at this terminal are well maintained and sanitized regularly for the safety of passengers. All travellers at this bus station have to follow the rules related to the prevention of covid-19.



How to travel safely to Terminal Amanjaya?
You can travel safely to Amanjaya Bus Terminal by booking bus tickets online with redBus. Booking online tickets will help in avoiding the rush at physical ticket booking counters. redBus is connected with reliable bus operators that take extensive safety measures against the coronavirus pandemic. You can book bus tickets online to Amanjaya Terminal from various locations in Malaysia like Kuala Lumpur, Penang, Johor Bahru, etc., on redBus.


Passengers have to wear a mask and adhere to the state guidelines while travelling by buses. Wherever possible, passengers should follow social distancing norms. One should also carry hand sanitizers to maintain hand hygiene while travelling to Terminal Amanjaya. If you have any covid-19 symptoms, it would be best to consult a doctor and avoid travelling.


Things to Do in Ipoh and Ipoh Amanjaya
Terminal Amanjaya is the bus station in Ipoh, the most multicultural city in Malaysia. Even on the way to Amanjaya Terminal, you can see architectural monuments, street art, hawker markets, etc. Ipoh is known to project some retro vibe to make you feel nostalgic and at the same time comfortable.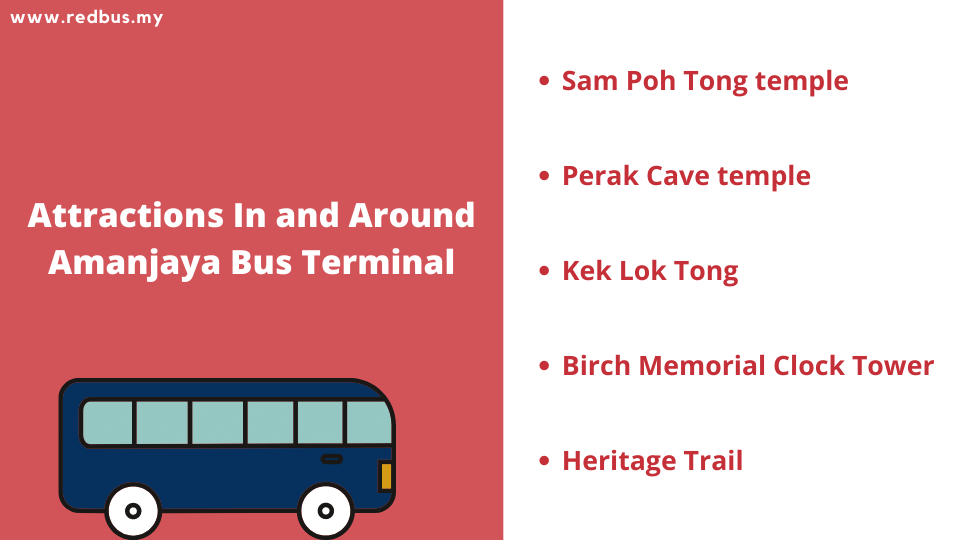 Some of the main attractions in and around Amanjaya bus terminal and Ipoh city to where you can book an online bus ticket are -
Sam Poh Tong temple: This oldest cave temple is 25 km away from the Amanjaya bus station. Dragons carved in white marble adorn the archway entrance of this temple. A tunnel through the temple takes you to the tortoise sanctuary.
Perak Cave temple is at the top of a hill. The climb up the steps here is worth seeing as it offers a spectacular view of the city. It takes about an hour to complete the tour, but you may not stay longer than 4 pm.
Kek Lok Tong is a Buddhist and Taoist temple inside a large cave. The huge garden behind the temple serves as a jogging park for the public in the morning and evening.
Birch Memorial Clock Tower is part of British Colonial architecture. This historical monument has been part of every wedding photoshoot for the locals. Surrounding this white tower are the four pillars representing loyalty, justice, patience, and fortitude. This tower is situated right in front of the Ipoh State Mosque.
Heritage Trail: A walk along this trail, starting from the Railway station passing through several monuments on the way, is really worth it. Taking a private tour guide will help you go through the most important sites and increase your knowledge.


Benefits of Booking a Bus Ticket Online with redBus
If you're planning on booking a ticket to Ipoh, redBus provides the perfect opportunity to do so. With a range of buses around all the regions in the country, you will be able to easily do so:
Open the redBus app or visit the official website

Choose your pick-up and destination locations

Choose your bus operator according to ratings/suitable timings

Pay via the debit/credit cards or net banking and you'll receive a ticket of purchase on your registered email ID as well as on the mobile number that you have entered
redBus also offers a plethora of cashback options and discount offers when you book a bus ticket online. Make sure you visit the website or download the official app today.


Disclaimer: Bus timings, routes, and fares are subject to change. Please check the redBus app or website for any last-minute changes.