Yoyo Express Bus Ticket Booking
Yoyo Bus is an Ipoh based Travel Company serving various cities of Malaysia and Singapore for over ten years now. It has been able to win the hearts of its customers by the quality of service and comfort it provides. Yoyo Bus is a Shuttle bus service that commutes from and to the Kuala Lumpur International Airport.

For such a kind of service, strictly following the schedules is a must and Yoyo Bus excels in that area. Yoyo Bus connects various important cities of Peninsular Malaysia and Singapore to the Kuala Lumpur International Airport to facilitate the passengers.
History of YoYo Bus
A-Bus Express Sdn Bhd is a travel company based in Malaysia that operates the YoYo Express bus. It was previously known as Yoyo Worldwide Sdn. Bhd. The company was founded in the mid of 2004 at Ipoh, the capital of Perak in Malaysia. The founder of the company is Mr. Kindy Huang Chien Chih. A-Bus Express provides excellent service to enhance the prospects of the country's tourism industry. Now, the company operates airport bus services, local tour buses, rental vehicles, local and international hotel bookings, and air ticket and visa services.
A-Bus Express is specialized in express bus service that connects the Kuala Lumpur International Airport to the major cities. The buses ply from the airport KLIA1 and KLIA2 terminals to the major cities Ipoh, Johor Bahru, and Yong Peng. Altogether, there are 16 trips per day between these destinations. These services provide cheaper and convenient travel to and from the airport for the passengers at a much cheaper rate.
The headquarters of the A-Bus Express is at Ipoh, and there is another branch at Tun Aminah as well. Both these offices are open for walk-in booking services. Otherwise, bus booking facilities are always open online to all. For booking and inquiries, there are telephone and fax services.
Tel: 605-545 7669
Fax: 605545 8669
Email: info@yoyo.my
Head Office
330, Jalan Bercham,
Taman Medan Bercham,
31400 Ipoh, Perak
Tun Aminah JB Branch
L1-03, Terminal Bas And Teksi,
Jalan Perwira 16,
Taman Ungku Tun Aminah,
81300 Johor Bahru
Amenities on Yoyo Bus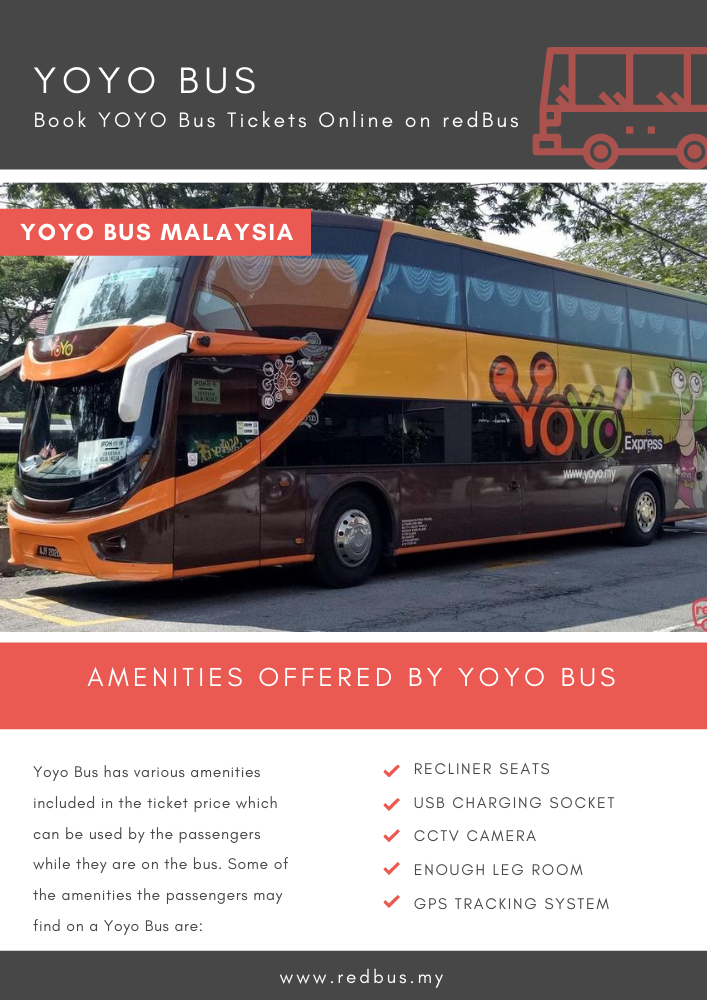 Yoyo Bus Service not only provides on-time travel to its passengers but also ensure that all the passengers are travelling with proper comfort. To ensure this, Yoyo Bus has various amenities included in the ticket price which can be used by the passengers while they are on the bus. Some of the amenities the passengers may find on a Yoyo Bus are:

Recliner Seats

USB Charging Socket

CCTV Camera

Air-Conditioners

Enough Leg Room

Fire Extinguishers

First- Aid Kit

GPS Tracking System

Safety Belts



Apart from this, Yoyo bus has efficient and cordial staff members who maintain the quality standards of Yoyo as it is. The cleanliness and the maintenance of the shuttles are just perfect.

In the times where the whole world is fighting Covid-19, Yoyo has equipped all its shuttle coaches against the deadly virus. Proper cleaning of the buses is done inside out after every trip. Passengers are required to wear masks while travelling on Yoyo Bus. Seating is done accordingly so that a minimum distance is maintained between the passengers sitting in the shuttle.

Popular Travel Routes

Connecting all the major cities of Malaysia and Singapore to the International Airport of Kuala Lumpur, Yoyo Bus KLIA creates a network through its buses across the country. Passengers can check the details of all the routes covered by Yoyo Bus on the redBus application. Tickets for the same routes can be booked easily in no time through the app itself. Some of the most popular routes served by Yoyo Bus are as follows:

Ipoh Amanjaya to KLIA

KLIA to Yong Peng Lucky Garden

KLIA to Yong Peng

KLIA 1 to JB Larkin Bus Terminal

Johor Bahru to KLIA 1

Johor Bahru to KLIA
This to and fro movement through Kuala Lumpur International Airport helps minimize the possibility of late arrival or departure as almost the same routes are to be followed time and again. Details of all these routes can be checked online on the redBus application.

Types of Yoyo buses

Yoyo Bus deals with a single segment of passengers which is the people who are travelling from or to the Kuala Lumpur International Airport. Due to this, the need to diversify the various types of buses may not have been felt.

Yoyo has only a single type of bus running all over the country, which is known as the Executive Coach. The Executive coach of Yoyo Bus is equipped with all the necessary amenities like Wi-Fi, CCTV Camera, ACs, Recliner Seats, Space for luggage, GPS Tracking etc. All these amenities, along with the efficient working staff, make the coach so special. Details about the timings and amenities can be checked online on the redBus application.


Popular Cities Covered

The buses of Yoyo keep on travelling on the same routes throughout the day covering different cities of Malaysia. Some of the major cities that these buses cover are namely:

Johor Bahru

Yong Peng

Kuala Lumpur

Ipoh

Taiping
Passengers can make use of redBus app to select the boarding and dropping locations in these particular cities.

Popular Pilgrimage Destinations with Yoyo Bus

Yoyo bus makes sure that the passengers have the liberty to choose any dropping or boarding locations while they are on a Yoyo Bus. Passengers can make their boarding and dropping points suit their convenience, which can be any Mosques or Temples as well. On-route Pilgrimage locations are covered by Yoyo Bus. Passengers may need to check the Yoyo Bus Schedule for these locations before the travel while booking the ticket online.

How to book a Yoyo bus on redBus?

Yoyo Bus tickets can be booked online through redBus app without any chaos. Yoyo Bus is famous for its strict adherence to the timings and schedules to facilitate the passengers. All the timings are specifically mentioned on the app for a better understanding of the passengers. For booking an online Yoyo Bus ticket, passengers need to keep a few steps in mind, which are:
To book an online ticket one may use redBus application or directly book through the official website of the company.

Fill in necessary details like the source and destination locations along with the date of the prospective travel.

Yoyo Bus has a single type of bus, so press the Search button, and all the available shuttle coaches could be seen on the screen.

Passengers need to select a favourable bus and buy the ticket.

After making the booking and selecting a preferred seat, online payment has to be made.

Users can make use of their Bank Cards for making the online payment.
redBus Safety+
redBus is launching Safety+, a new Covid-19 safety identification that helps bus operators showcase their compliance with safety measures as suggested by the government. Users can also use this sign to identify bus services that follow all guidelines and thereby ensure safer travel.
If a bus is tagged with the Safety+ sign, you can be sure that it has undergone disinfection and is run by healthy staff who wear masks and gloves throughout the journey. Hand sanitizers are installed in these buses for individual use by the passengers.
To ensure total protection, users are requested to maintain social distancing and follow all personal hygiene measures. These include using face masks, avoiding travel in case of an illness, and washing hands regularly.

Visit www.redbus.my to know more about how to have a hassle-free and comfortable journey by booking a bus ticket online in Malaysia.
Disclaimer: Bus timings, routes, and fares are subject to change. Please check the redBus app or website for any last-minute changes.