Plusliner Bus Tickets Online
A road journey across cities can be indeed an exciting experience. If you wish to know some of the best bus operators travelling across countries like India, Singapore, Malaysia, or Thailand, you are at the right place! Plusliner bus operator is one such reputed bus service provider in the industry. The bus provider is known for its punctuality and efficiency. Not only that but they are also known for offering comfort and travel convenience to their passengers. All of Plusliner's buses aid in connecting cities. The bus service provider guarantees comfort and ease for travellers, which is why you can also opt for online bus ticket booking.
If we talk a little about the history of the bus operator, then we should begin with the official registered name of the company. The official name of the Plusliner bus operator is Plusliner SDN BHD. It is considered a member of KTB (Konsortium Transnasional Berhad Group). The group's chairperson is YBHG TAN SRI DR. Mohd Nadzmi Mohd Salleh.
KTB has gained popularity in the industry since 2007. In its 41-seat single-decker highway economy express buses, Plusliner was the first to introduce a novel 14 solo-seater paired with 12 couple-seat configurations. It was also the first to offer big-screen LCDs with digital-grade entertainment so passengers could participate in onboard SMS competitions while viewing movies.
It covers many areas like Selangor, Johor, Kedah, Kuala Lumpur, Negeri Sembilan, Pahang, Penang, Perak, Perlis, etc. It operates at various bus terminals, including , , , , , etc.

Plusliner Bus Services
To enhance your comfort, the Plusliner Bus Service has lavish single-decker and double-decker express buses. Plusliner is a comprehensive package with contemporary interior designs and all necessary travel amenities, including complete air conditioning, reclining seats, and roomy legroom.
Additionally, the buses are well-maintained and driven by qualified drivers with extensive experience, so you can take pleasure in a hassle-free journey. You may also choose to book bus tickets online for added convenience, saving you time and money by allowing you to go to your selected location quickly.
Amenities Offered by Plusliner Buses
Apart from being fully-furnished buses, Plusliner buses offer impeccable facilities and amenities to travellers. You need not worry about safety and comfort when travelling on a Plusliner bus. The amenities depend on the type of bus you book for your journey. If you are looking forward to a road journey with ultimate comfort, look no further. Plusliner offers the following amenities –
A charging socket for your gadgets
Free Wi-Fi to luxuriously pass your time
Reclining seats for ultimate comfort
A Central TV
A Reading Light for all book lovers
Air-conditioner so you can have a peaceful journey
CCTV for your and your belongings' safety
To make the journey as convenient and cosy as possible, every amenity has been thoughtfully installed. When making a bus ticket booking online, customers can select a single or double seat. To ensure a comfortable travel experience, the interiors have also been thoughtfully designed. Everything is carefully put together, keeping in mind the luxury of travellers.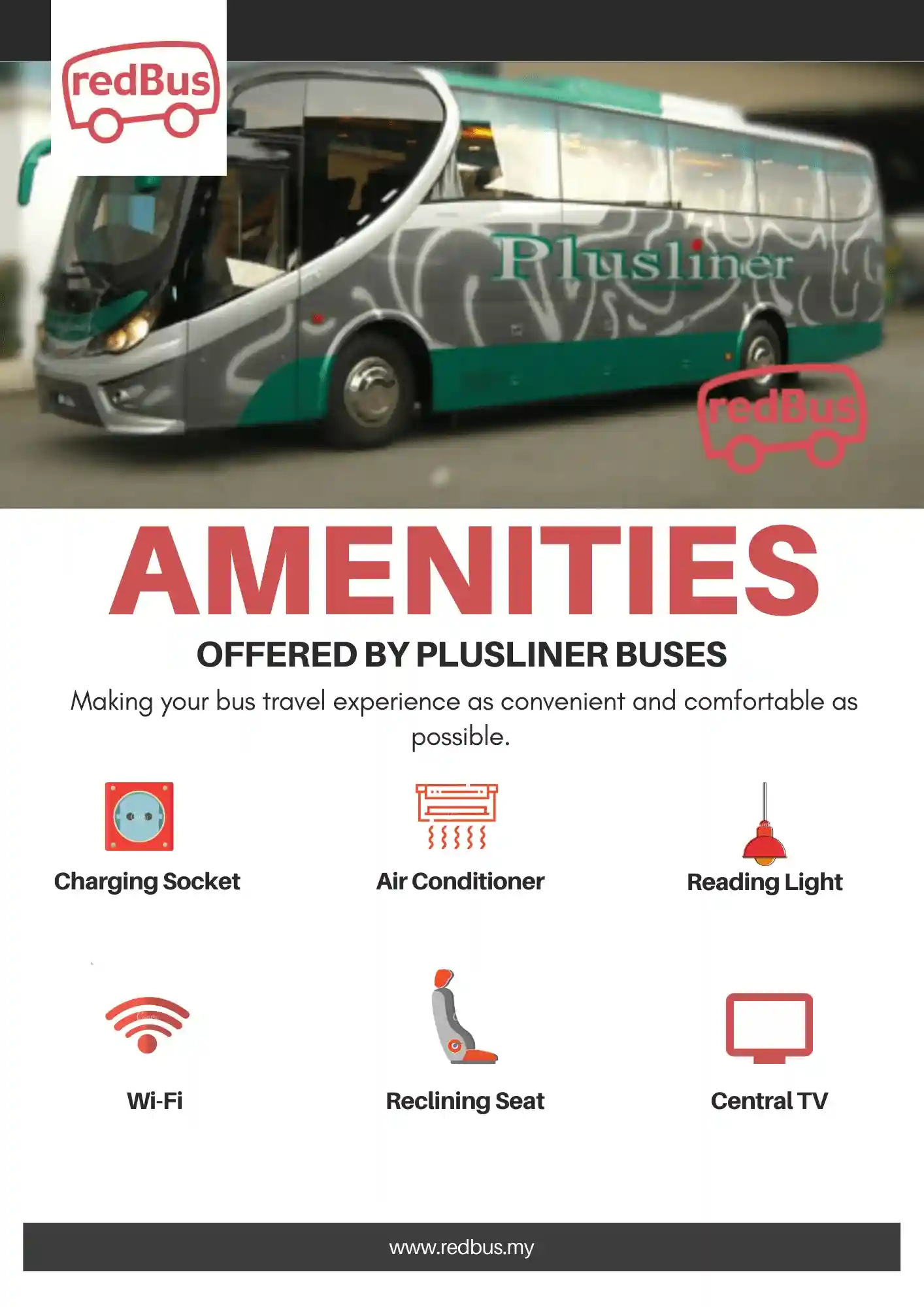 All the amenities are thoughtfully put in place to make the travel experience as convenient and comfortable as possible. Passengers can also choose from the solo and double seat option while booking their online bus ticket. The interiors are also carefully designed to provide a smooth travel experience.

Popular Routes Covered by Plusliner Buses
Plusliner provides its bus travel services across various routes, covering an huge area of Peninsular Malaysia. The buses operate from multiple bus terminals including Seri Iskandar, Puchong, Alor Setar, Kuala Lumpur, Kangar, etc. Some of the most popular travel routes covered by the bus company are -
Local Routes Served
Cross-border Routes Served
Currently, Plusliner does not serve any cross-border route.
Popular Cities Covered
Plusliner buses connect various cities and towns via its buses. You can easily book bus tickets using the redBus website or mobile application. Some of the popular cities covered by these buses are -
Popular Bus Terminals
Plusliner buses operate from several terminals. Some of them include –
Seri Iskander
Puchong
Alor Setar
Kangar
Kuala Lumpur
For a hassle-free and comfortable journey, opt for bus ticket online booking in Malaysia.
Disclaimer: Bus timings, routes, and fares are subject to change. Please check the redBus app or website for any last-minute changes.