Plusliner Bus Ticket Booking
About Plusliner
Plusliner is among the most trusted and respected names in the bus travel service domain in Malaysia. It is popularly known as the "King of Highway" Express for providing the best bus travel experience to the passengers. Plusliner buses connect multiple cities and towns across Malaysia intending to provide seamless bus transport services. It operates at various bus terminals including Seri Iskandar, Kuala Lumpur, Alor Setar, Kuala Perlis, Kangar, etc.
Plusliner buses are known for providing one of the most punctual bus travel experiences and accommodating passengers of all budgets. The frequency of buses is fairly high and one can easily find a bus between 30 minutes intervals. You can trust Plusliner for delivering the most comfortable and safe bus travel experience across Malaysia. You can easily book a Plusliner bus online using the redBus portal.

Amenities Offered by Plusliner Buses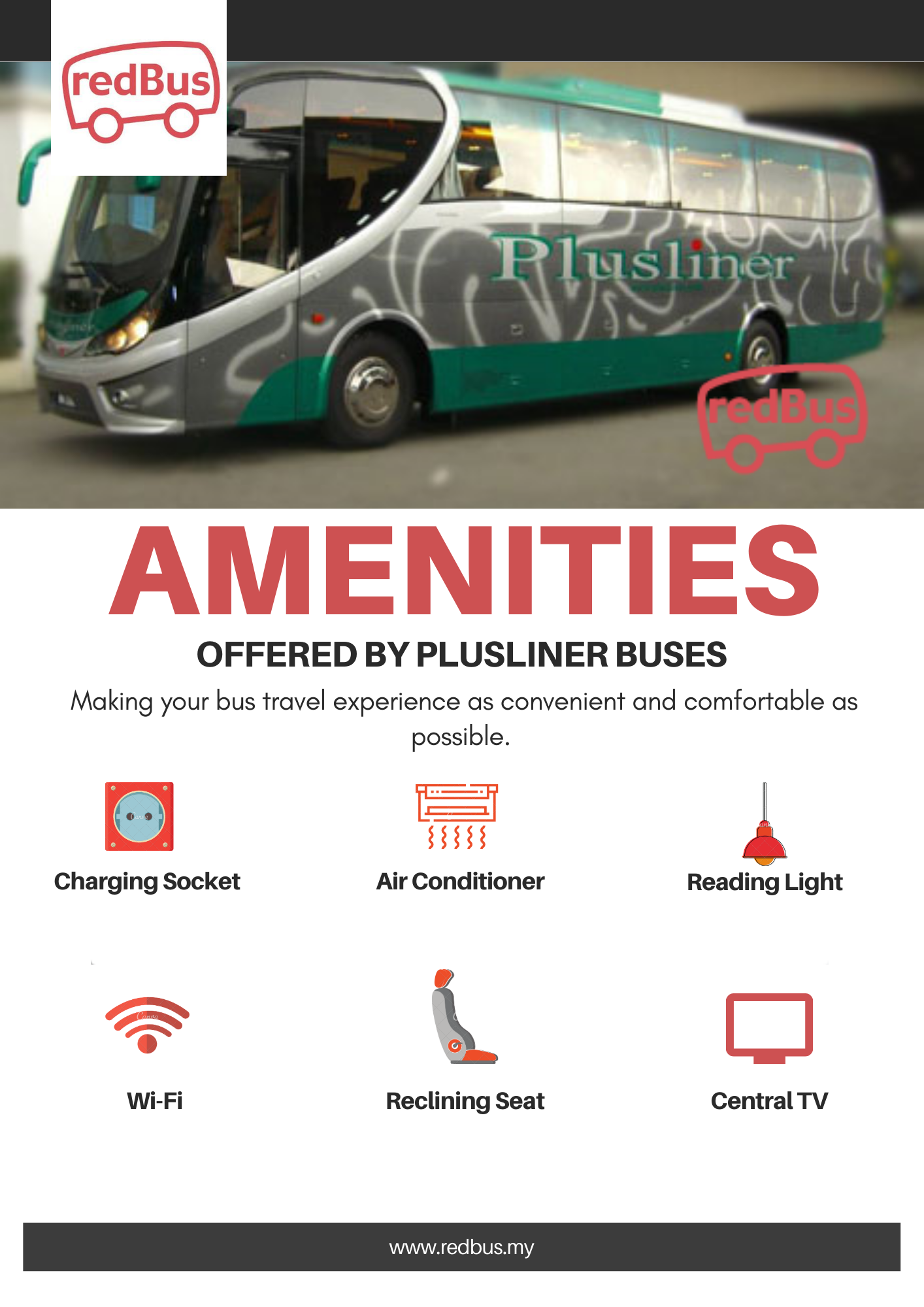 Being among one of the best bus operators across Malaysia, the Plusliner buses are designed to provide the most comfortable and safe travel experience to its passengers across various routes. All necessary amenities are available for a Plusliner bus for a memorable travel experience. One does not have to worry about comfort and safety when travelling by a Plusliner bus. The exact set of amenities might vary depending upon the type of bus chosen by you. Generally, the buses are equipped with all essential amenities mentioned below.
Charging socket

Air conditioner

Reading lights

WiFi

Recliner seats

Central television

CCTV
All the amenities are thoughtfully put in place to make the travel experience as convenient and comfortable as possible. Passengers can also choose from the solo and double seat option while booking their Plusliner bus ticket. The interiors are also carefully designed to provide a smooth travel experience and add to your memories.

Popular Routes Covered by Plusliner Buses
Plusliner provides its bus travel services across a wide range of cities and covers an enormous area of the Malaysian peninsular region. Plusliner buses operate from multiple bus terminals including Seri Iskandar, Puchong, Alor Setar, Kuala Lumpur, Kangar, etc. Some of the most popular travel routes covered by the Plusliner Buses include the following.
Kuala Perlis to Putrajaya

Kuantan to Mersing

Baling to Kuala Lumpur

Ayer Tawar to Terminal Klang Sentral

Klang to Batu Gajah

Putra Jaya Penang

Kuala Lumpur to Stesen

Putrajaya to JB Larkin Bus Terminal



Types of Buses Offered by Plusliner
When it comes to travelling with Plusliner, passengers have multiple bus types to choose from. One can choose from the various types of buses available as per their travel needs and budget. The frequency of buses offered by Plusliner is also high and passengers usually don't have to wait more than an hour for their bus ride. The four mainstream buses offered by Plusliner include the following.
Xtreme

Standard

Seater

Economy
All these buses are equipped with the necessary travel amenities required to make the travel experience safe and comfortable for the passengers. The availability of these buses might differ depending upon your travel routes and timings. You can easily check the availability of these buses online using the redBus application or website.

Popular Cities Covered
Malaysia is known for its tourist spot across the globe; it's one of the most prominent travel destinations worldwide and invites tourists from all over the world. Bus travel services are among the most preferred travel options for tourists because of the comfort and safety provided by bus operators like Plusliner. Another important factor that adds to this is the affordability and availability of buses for some of the most popular cities in Malaysia.
Plusliner buses aim to cover a majority of the Malaysian peninsular region and connect various cities and towns. You can easily book Plusliner tickets online using the redBus website or mobile application. Some of the most prominent cities that are also highly popular among the tourists include the following.
Kuala Perlis

Putra Jaya

Ipoh

Kuantan

Ayer Tawar

Kuala Lumpur



How to Book a Plusliner Bus Ticket on redBus?

redBus provides a hassle-free platform for booking Plusliner tickets online. One can do future bookings with the help of redBus. It is the world's largest online bus booking platform. One can follow this link to traverse directly to the Plusliner bus ticket booking page provided via redBus. One can follow the below-mentioned steps for booking a Plusliner online bus ticket via redBus:

Open the redBus application or you can visit the website. One can book tickets directly without signing in to the redBus.

There would be 'From' and 'To' buttons on the interface, you can enter your boarding point and dropping point according to your journey and destination.

Select the date of the journey according to your preference and check the availability of buses on that day by clicking on the 'Search' button.

Select your preferred bus among the various buses listed. You can choose various buses according to your preferences.

After choosing your bus, click on that particular option and select your preferred seat from the seat layout provided.

After selecting your seat, click on the 'proceed to book' button and enter your details and contact information on the next layout.

Apply coupon code if any and move to the payment page which is secured and trusted. Your booking will be done via redBus and you will receive an e-ticket with a confirmation email.
redBus Safety+
redBus is launching Safety+, a new Covid-19 safety identification that helps bus operators showcase their compliance with safety measures as suggested by the government. Users can also use this sign to identify bus services that follow all guidelines and thereby ensure safer travel.
If a bus is tagged with the Safety+ sign, you can be sure that it has undergone disinfection and is run by healthy staff who wear masks and gloves throughout the journey. Hand sanitizers are installed in these buses for individual use by the passengers.
To ensure total protection, users are requested to maintain social distancing and follow all personal hygiene measures. These include using face masks, avoiding travel in case of an illness, and washing hands regularly.

Visit www.redbus.my to know more about how to have a hassle-free and comfortable journey by booking a bus ticket online in Malaysia.
Disclaimer: Bus timings, routes, and fares are subject to change. Please check the redBus app or website for any last-minute changes.