Perdana Express Bus Ticket Booking
Perdana Express bus service connects various areas of Malaysia. The official headquarters of Perdana Express is located in Kelantan, Malaysia. Perdana, through its fleet, ensures that all its passengers travel with extreme comfort all across Malaysia. Passengers are given various options of the bus types to choose from, depending upon the route to be followed, amenities and the payable price of the buses.

All the buses from Perdana Express are registered with redBus and passengers can book online tickets for these buses through the application. Information related to the bus operators, date and schedules of different Perdana buses, ticket prices and discount schemes is precisely available on the redBus application.
Amenities on Perdana Express

Perdana Express stands on the top in the market, especially for the loyalty of its customers. This has been made possible because of the unmatchable experience that Perdana Express provides to its passengers. Passengers get a different type of amenities during their travel on a Perdana Express bus. Some of the amenities that the passengers may find in a Perdana bus are listed below:
USB Charging Port

Wi-Fi

Central Television

Comfortable Seating Space

GPS Tracking System

Air-Conditioners

Adjustable Seats.
In the current situation of Global Pandemic Covid-19, Perdana Express ensures the utmost safety of its passengers. All kinds of precautions are taken in the buses against Covid-19.

The main aim of Perdana Express is to ensure the safety of its passengers while they are travelling. All the buses by Perdana are regularly sanitized, and proper availability of sanitizers is maintained in the buses. Perdana follows all the norms given by the government amidst Covid-19.


Popular Travel Routes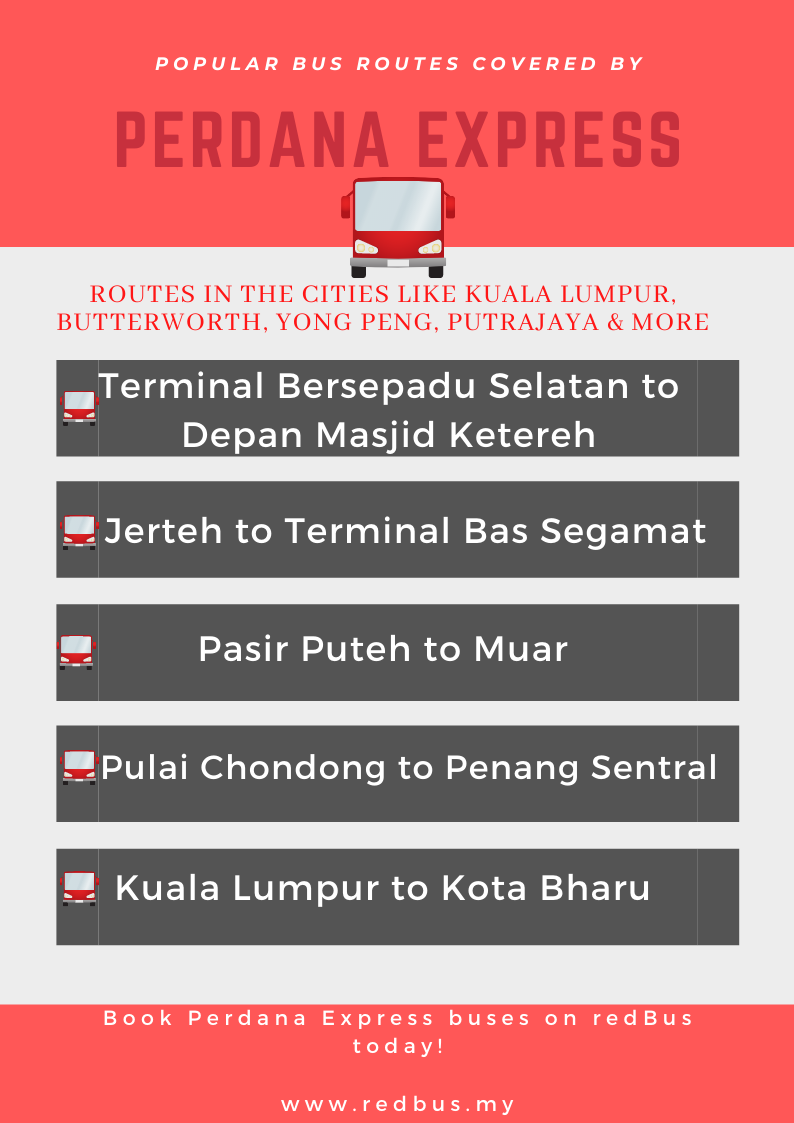 Perdana Express covers a vast area connecting different cities of Malaysia. Perdana is a Kelantan based transport company which operates in diverse cities like Kuala Lumpur, Butterworth, Yong Peng, Putrajaya etc. This connection between various cities through Perdana buses has facilitated the people, especially who travel to different places daily for their work or study. Some of the most famous travel routes covered by Perdana Express buses are:
Pasir Puteh to Muar

Unisa to Machang

Terminal Bersepadu Selatan to Depan Masjid Ketereh

Jerteh to Terminal Bas Segamat

Kulim to Kuala Besut

Pulai Chondong to Penang Sentral

Kuala Lumpur to Kota Bharu
Bus tickets for all these routes can be checked on the redBus application. Any information related to their timings and fares can also be collected on the redBus application.

Types of Perdana Express buses

Perdana Express aims at providing the best travel experience to its passengers. For satisfying the different needs and requirements of different passengers, Perdana Express has various types of buses in its fleet which cover different routes with slight changes in the amenities and fares. The different buses by Perdana can be categorized into three types:
Economy

Double Deck

Double Deck SVIP
Out of the type of buses mentioned above, Double Deck SVIP is considered to be one of the most luxurious ranges of buses by Perdana Express. All information related to these types of buses is available on the redBus application. Passengers can avail discounts by booking Perdana Bus tickets online through the redBus app.

Popular Cities Covered

Malaysia has been wholly covered by the buses of Perdana Express. A vast network has been created to facilitate people all across Malaysia. Some of the most popular cities served by Perdana Express are listed below:
Jerteh

Pulai Shandong

Unisa

Pasir Tumboh

Kulim

Pasir Puteh

Kuala Besut

Muar
Tickets for all these cities can be easily booked online through the redBus application. Passengers can select the boarding and dropping location on their own as per their convenience.
Popular Pilgrimage Destinations with Perdana Express

Providing mass coverage through its buses, Perdana Express covers various Pilgrimages on the route as well. Malaysia is not just known for being a tourist destination, but the famous pilgrimages located here are also its major centres of attraction. People can book the bus tickets for various Mosques and Temples using the redBus application. Perdana Express also covers locations like Temple of Universal Spirit. Passengers can check the details on the redBus app.

How to book a Perdana bus on redBus?

Unlike the traditional methods of booking the bus tickets by going to the agent's office, buying the tickets online through redBus application is far easier and widely preferred. Passengers can book their Perdana Express online tickets in just a few clicks from the comfort of their homes. They can get various discount coupons while booking online through redBus app. Some simple steps to book an online ticket are:
Download the redBus app or sign in to the official website of redBus.

Mention the details of your source and destination location in the space provided.

After filling the locations fill in your date of travel.

Search can be filtered narrowly by filling details like the 'type of bus'.

After pressing the search button, all the available buses would appear on the screen for the same route and date.

After selecting a suitable bus, booking can be made.

Users can use their Bank Cards for online payment of the tickets.



To ensure a safe and comfortable journey while experiencing hassle-free bookings, make a redBus Malaysia online booking now.
redBus Safety+
redBus is launching Safety+, a new Covid-19 safety identification that helps bus operators showcase their compliance with safety measures as suggested by the government. Users can also use this sign to identify bus services that follow all guidelines and thereby ensure safer travel.
If a bus is tagged with the Safety+ sign, you can be sure that it has undergone disinfection and is run by healthy staff who wear masks and gloves throughout the journey. Hand sanitizers are installed in these buses for individual use by the passengers.
To ensure total protection, users are requested to maintain social distancing and follow all personal hygiene measures. These include using face masks, avoiding travel in case of an illness, and washing hands regularly.

Disclaimer: Bus timings, routes, and fares are subject to change. Please check locally for any last-minute changes.