Cepat Express Bus Ticket Booking
Cepat Express provides bus service to various cities of Malaysia, especially in the peninsular Malaysia region. They connect multiple cities like Tanah Merah , Alor Gajah, Machang, Batu Pahat , etc. The headquarters of Cepat Express is in Segamat, Johor. Cepat Express buses cover more than 1300 routes per day. They have a large fleet and are trusted by many people living in Malaysia and people from other countries.

Cepat Express has trained and professional drivers who ensure the safety of passengers. It also has an excellent customer service system with query counters in different cities like Kelantan , Johor, Perlis, Kedah, Pulau Pinang, etc. Cepat Express provides frequent buses to many cities. They also have a variety of buses to choose from depending upon one's preference. CepatExpress buses have also tied up with redBus providing an excellent online booking platform to customers.


Amenities Offered by Cepat Express

Cepat Express runs different types of buses, including economical and luxury buses. People will find all the necessary amenities present in a Cepat Express bus. The amenities depend on the bus and ticket type. A list of all the amenities offered by Cepat Express buses are as follows:

• Charging Port
• Reading Light
• Water Bottle
• WIFI
• Air-Conditioners
• Recliner Seats


Popular Routes Covered by Cepat Express Bus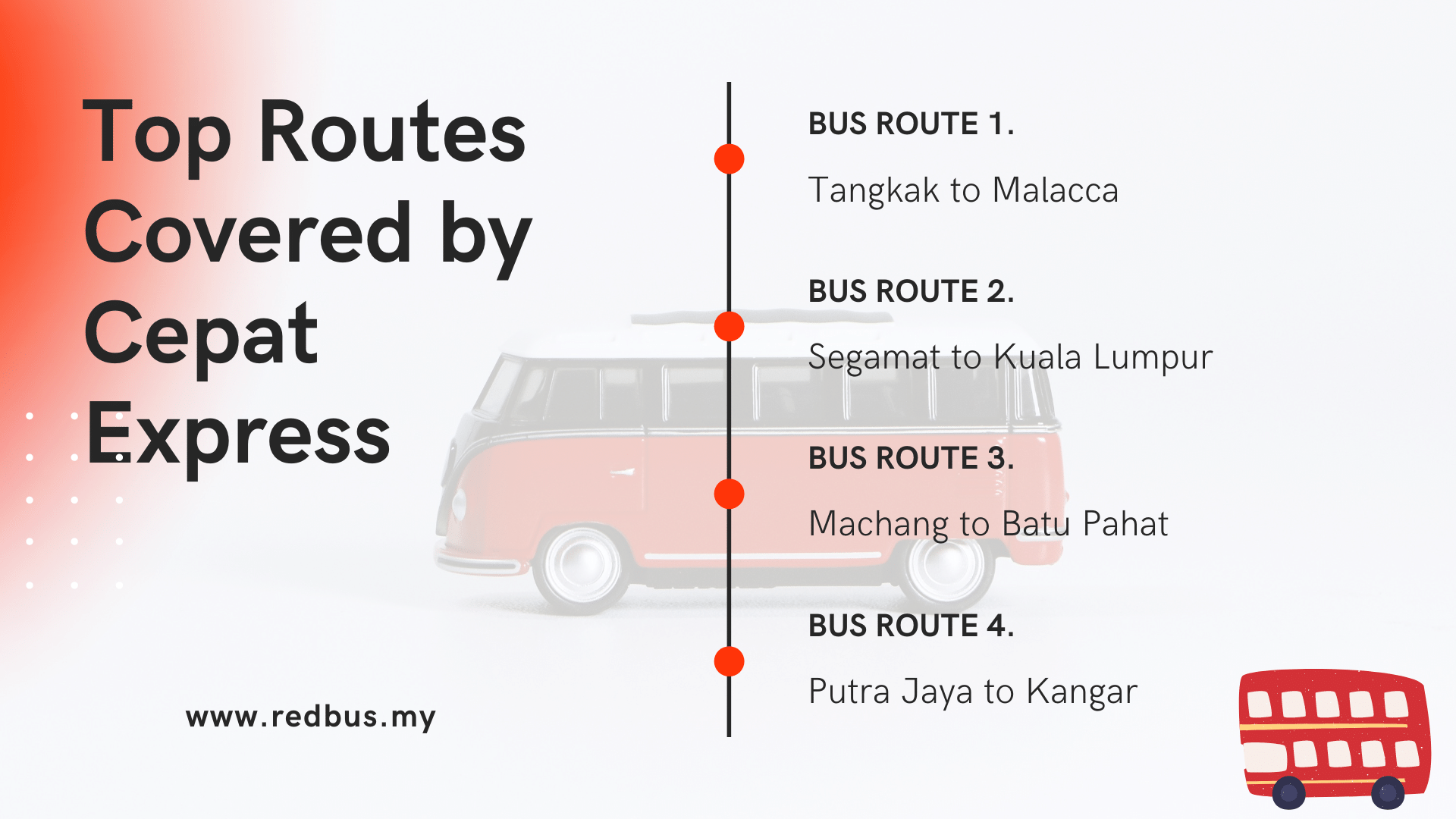 Cepat Express buses cover more than a thousand routes every day. They go across many popular cities like Malacca, Segamat, Tangkak, etc. The popular routes covered by Cepat Express buses are as follows:

• Tangkak to Malacca
• Segamat to Kuala Lumpur
• Machang to Batu Pahat
• Alor Setar to Seremban Terminal 1
• Putra Jaya to Kangar
• Tanah Merah to Alor Gajah


Types of Buses Offered by Cepat Express

Cepat Express has a large fleet of buses, and they are different in terms of luxury and services. People can choose between air-conditioned or non-air-conditioned coaches. They provide luxury services as well as economic bus services. They have buses running around Malaysia for each section of the society. The various types of buses provided by Cepat Express are:

• SVIP
• Economy
• Double Decker
• Seater


Popular Cities Covered

Many people prefer Cepat Express because of its frequent and vast service. Cepat Express buses cover a lot of cities across Malaysia. Tourists of other countries also find Cepat Express counters in almost every city. Let us see some famous cities and their tourist attractions covered by Cepat Express buses.

• Kuala Lumpur is the capital city of Malaysia and is visited by a lot of tourists. It is famous for its tourist attractions like Batu Caves, Sultan Abdul Samad Building, Sunway Lagoon Theme Park, Central Market, etc.

• Segamat district in Malaysia is also visited by many tourists. It is famous for tourist attractions like Taka Melor Amenity Forest, Labis Hot Spring, Hakka Heritage Gallery, Church of St. Philip, Rock Garden, Qing Yun Yan Temple, etc.

• Putra Jaya is another beautiful place to visit in Malaysia. It is visited by many tourists and pilgrimage seekers every year. Its major tourist attractions are Putra Mosque, Putrajaya Lake, Seri Perdana, Alamanda Putrajaya, Putrajaya Wetlands Park, Millennium Monument, etc.


How to Book a Cepat Express Bus Ticket on redBus?

redBus provides a secure platform for bus ticket booking. One can compare different buses on the mobile application/website and can choose the right one. redBus provides you with essential information on different bus operators, bus timings, etc. One can book their bus in advance with the help of redBus. It is the largest online bus booking platform in the globe. Let us see the process of booking a Cepat Express online bus ticket via redBus.

• Open the redBus application on your smartphone or visit the website.
• Enter the location of your boarding city in the 'From' section and your destination in the 'To' section.
• On the same page, enter your preferred date of travel in the 'Date of Journey' section.
• After entering the details as mentioned above, click on 'Search'.
• You will be displayed a complete list of buses available on your entered route and date.
• Select a Cepat Express bus from the list according to your preferences.
• Click on your selected bus and traverse to the seat selection page. You can select your preferred seat from the seat layout. The interface will notify you about the pre-booked seats and seats available for booking. After selecting the seat, click on 'Proceed to Book'.
• Enter details like Name, Age, Contact Information, etc. on the next page and move to the payment section.
• redBus provides various coupon codes for new and existing users which can be redeemed for a discount. Apply coupon code if you have one and complete the payment. The payment process is fully secure and trusted.
• After you have completed your booking, you will receive your e-ticket via mail and your booking will be confirmed.


redBus Safety+
redBus is launching Safety+, a new Covid-19 safety identification that helps bus operators showcase their compliance with safety measures as suggested by the government. Users can also use this sign to identify bus services that follow all guidelines and thereby ensure safer travel.
If a bus is tagged with the Safety+ sign, you can be sure that it has undergone disinfection and is run by healthy staff who wear masks and gloves throughout the journey. Hand sanitizers are installed in these buses for individual use by the passengers.
To ensure total protection, users are requested to maintain social distancing and follow all personal hygiene measures. These include using face masks, avoiding travel in case of an illness, and washing hands regularly.

Disclaimer: Bus timings, routes, and fares are subject to change. Please check locally for any last-minute changes.