Book a Bus Ticket Online with redBus in Malaysia & Singapore
Buses are an excellent option for travelling in Malaysia. The bus online ticket booking process in the country has made travelling convenient and affordable for everyone. In the old days, every bus ticket was sold was either through a travel agent or bus ticket counter. Today, thanks to the internet, book online bus tickets from the comfort of your home. Malaysia is famous for its incredible tourist destinations, and people can travel to different parts of the country by buses. The buses in Malaysia are known for their large capacities, amenities and safety records.


The process of online bus ticket booking has made it easily to travel across the country. Travellers can choose from among a vast number of bus operators. They can also use redBus to buy their bus tickets online to neighboring nations like Indonesia and Singapore. Travelers are spoiled with a plethora of options when it comes to choosing a comfortable, punctual, and affordable bus for their journey.


What makes redBus an even more viable choice is the fact that the process of booking bus online tickets has been simplified to help save time. People do not have to wait in long queues wondering if they will even get a seat on a bus. redBus has simplified this process in such a way that people can effortlessly search, select, and book their bus tickets from the comfort of their home.


The redBus, Malaysia, app and website have been designed to provide information on top bus operators, bus routes, and available schedules that could be important to a particular traveler when they're looking for booking bus tickets online.



Booking Bus Online Ticket on redBus

To book a bus ticket online on redBus, please follow the following steps.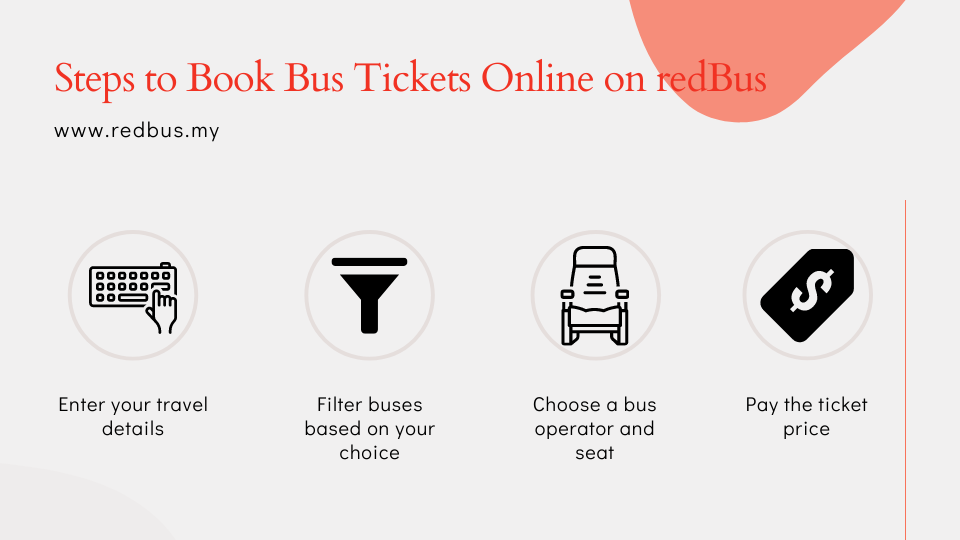 redBus will help you in booking a bus online ticket within 5 minutes. So, sit back and enjoy the bus online ticket booking services on redBus at the lowest price and get ready for the perfect vacation!


Bus Pass Facility


redBus offers a 'Bus Pass' facility for selected routes and bus operators. This pass allows redBus users to save up to 25% on travelling. If you travel on a route or via an operator often, you can apply for the bus pass and enjoy discounts on your online bus ticket.


To get the bus pass, you have to select the bus operator, route, number of trips and pay the one time discounted fare. You can redeem the pass on the date of your journey.


The popular bus operators for whom you can get a bus pass include , , , , , etc.


The top routes for which you can find a bus pass for are , , , , . Apart from these, there are many other routes that offer a bus pass.


You can find more information on the bus price, validity, etc., while booking a bus ticket online on redBus.


Top Operators in Malaysia for Booking a Bus Online Ticket



redBus's bus ticket online booking process helps travellers in finding a large number of operators like Transnasional, Aerobus, KKKL Express, etc. Hence, this platform's users never fall short of options for a perfect bus travel in Malaysia and Singapore.

Transnasional buses are available on routes like Kuala Lumpur to Kuantan, Malacca to Kuala Lumpur etc. KKKL Express buses are considered as one of the best ways to reach Singapore from Kuala Lumpur. On the other hand, most of the Aerobus services run from KLIA2 and Genting Highlands. From the following list, travellers can choose one of the best bus operators for bus online ticket booking in Malaysia:


The availability of various bus companies on redBus in Malaysia has made it easy for people to book bus tickets online, and travel to any part of the country.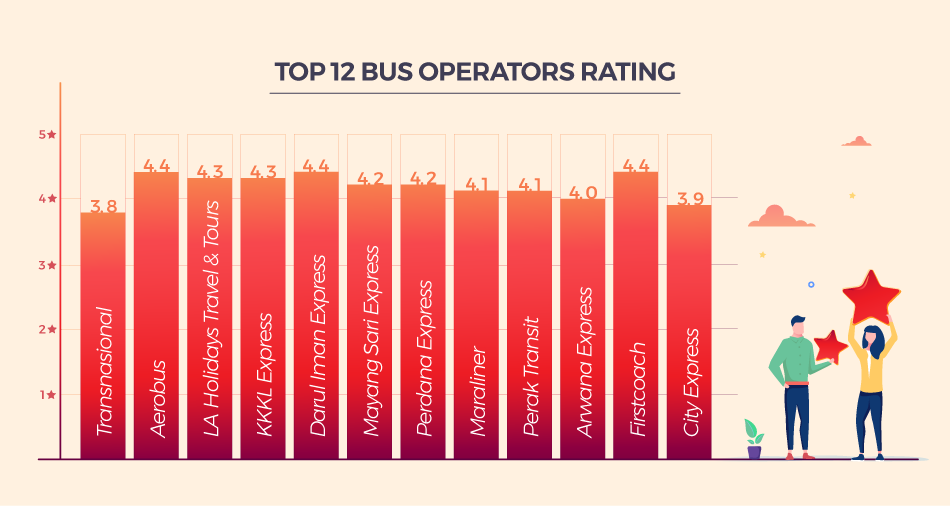 *Disclaimer: Ratings mentioned here have been generated for 3 months. Please visit the redBus website to stay updated on current ratings, fares, timings, and much more.


Once the customer completes the payment process, a confirmation message is sent on his/her's registered email ID and mobile number. They can book a bus online ticket in a couple of minutes without any hassle. redBus has devoted a lot of time and resources to develop a powerful and secure payment platform that ensures that a customer's data is protected. redBus has made travelling safer and convenient with its easy online bus tickets booking process.

Payments can be made with ease on the redBus platform as a customer can choose from a plethora of payment options such as Credit and Debit Cards, FPX (Malaysia Online Bank Transfer), and the Boost app to complete their payment. redBus ensures that every customer's payment details and data are kept safe and secure.


There are several categories of buses offered that people can choose to travel in such as Express Buses, Shuttle Buses, Coach Buses, and many more. The amenities provided on most of these buses could include:

LED TV for entertainment purposes

Snacks

Blankets and pillows

Live Tracking

Wi-Fi

AC

Charging points




During booking bus tickets online, travellers can use the filter to quickly scroll through the available options and select the required bus ticket online. redBus offers the best deals and discounts on a wide range of routes as customer satisfaction is the bus portal's top priority.

Popular Routes in Malaysia for Booking Online Bus Tickets


Some of the popular bus routes for booking bus tickets online in Malaysia include Kuala Lumpur to Singapore, Kuala Lumpur to Penang, and Klia2 to Klang. Travelers also like to take a bus from KL to Ipoh, KL to Genting Highlands, and KL to Melaka. With numerous pick-up and drop-off points available at each city in Malaysia, you can choose the best as per your convenience on the selected route. Following are some of the popular bus routes in Malaysia you will find while booking online bus tickets:


KL Sentral to Melaka - This is one of the popular routes in Malaysia for passengers looking for booking bus ticktes. It takes around 2 hours to travel from KL Sentral to Melaka.
Johor Bahru to Ipoh - Johor Bahru to Ipoh journey can be covered within 7 hours.
Kuala Lumpur to KLIA - One can travel from Kuala Lumpur to KLIA in around 45 minutes.
Penang to Ipoh - The total time taken by bus on Penang to Ipoh journey is around 2 hours.
Kuala Lumpur to Singapore - This is one of the most popular routes that takes in between 5 to 7 hours by bus. Over 32 buses ply on KL to Singapore route that travelers can choose to a bus ticket in based on the amenities they are looking on-board.

Popular Bus Terminals in Malaysia


You can get brief information about the most popular bus terminals in Malaysia on redBus while booking a bus ticket online and plan your travel accordingly. Travelers van choose the most suitable bus terminal to catch their bus from and a bus ride at their convenience. Several bus companies depart from these terminals. Some of the popular bus terminals in Malaysia that act as pick-up and drop-off points for several routes across Malaysia are:

These terminals are located in areas that are both popular and populated as they are meant to ensure that people visiting the country can move around freely. Take a look at the following infographic showcasing the most popular terminals and their locations in Malaysia: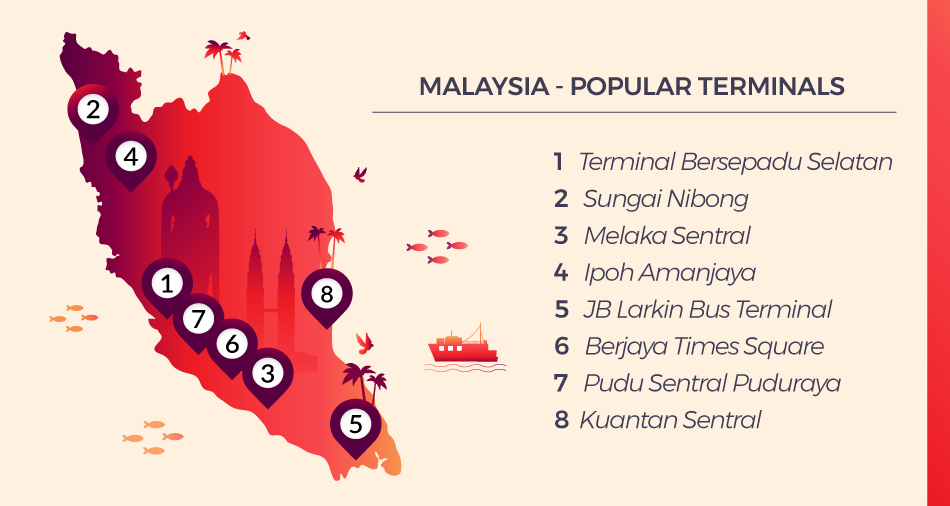 Book Express Bus Ticket Online in Malaysia


Express bus provides a reliable and secure mode of transportation in Malaysia. With an extensive coverage, Express buses in Malaysia offer seamless connectivity between cities and also connect the major cities with neighbouring countries like Singapore. When you buy express bus tickets online on redBus, you can be sure of a comfortable journey.


On redBus, one can find over 80 Express bus services serving over 800 routes in Malaysia. Express bus tickets can be easily booked online on the popular routes like KL to Singapore, Melaka, Genting Highlands, Penang, and more. These Express buses in Malaysia also serve as a mode of transportation for local commuters. Express bus operators like Transnasional, Aerobus, StarMart, and Plusliner are popular among the travelers.


With over 180 million+ trips booked on the app and website, redBus offers an online bus ticket booking experience like no other. Commanding the bus ticket industry in 6 countries (India, Singapore, Malaysia, Indonesia, Peru, and Colombia), customers have found redBus to be their one-stop online bus tickets booking solution. Whether you're looking for how to plan a bus journey to Malaysia from Singapore or looking for a night bus from Malacca to Penang, redBus is one stop for booking affordable and convenient bus tickets online.


Buy your bus ticket online today from the comfort of your home using the redBus app or website and avail exclusive bus offers and discounts!