Book Bus Tickets Online in Malaysia & Singapore
The process of bus ticketing online has made it easy to travel across Malaysia. Travellers can choose from among a vast number of bus operators. They can also use redBus to buy their bus tickets online to specific routes in neighboring nations like Indonesia, Thailand and Singapore. Travelers are spoilt for a plethora of options on redBus when it comes to choosing comfortable, punctual, and affordable buses for their journey.

Book Your Bus Ticket Online in a Few Minutes
Booking bus tickets online on redBus in Malaysia is a hassle-free and convenient process. With redBus, you can easily search for bus operators, routes, timings, and fares from the comfort of your home or office. You can also filter your search results based on your preferences such as seat type, bus type, and amenities offered. redBus offers a wide range of bus operators, including both luxury and budget options, giving you the flexibility to choose the best option for your travel needs.

Payments can be made with ease on the redBus platform as a customer can use credit cards, debit cards, FPX, Boost application and other payment channels. redBus has devoted a lot of time and resources to develop a powerful and secure payment platform that ensures that a customer's data is protected. redBus ensures that every customer's payment details and data are kept safe and secure. Once the customer completes the payment process, a confirmation message is sent on his/her's registered email ID and mobile number.
There are several categories of buses offered that people can choose to travel in such as Express Buses,, , and many more.
You can also search for terminal specific routes also such as TBS bus tickets to other popular cities in Malaysia and Singapore. With numerous pick-up and drop-off points available at each city in Malaysia, you can make the best choice as per your convenience on the selected route.


Popular Bus Terminals in Malaysia

Travelers can choose the most suitable bus terminal to catch their bus from and a bus ride at their convenience. Several bus companies depart from these terminals which are usually the boarding and drop off points for most bus routes. Apart from Terminal Bersepadu Selatan, there are several bus terminal that serve as boarding and drop off points for popular bus routes.

Some of the popular bus terminals in Malaysia that act as pick-up and drop-off points for several routes across Malaysia are: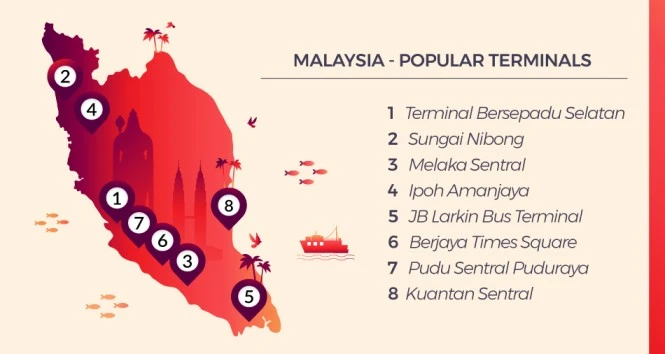 Book Express Bus Ticket Online in Malaysia

Express bus provides a reliable and secure mode of transportation in Malaysia. With an extensive coverage, Express bus Malaysia is a good option to visit nearby countries for frequent travellers. These buses offer seamless connectivity between cities and also connects the major cities with neighboring countries like. Moreover, some bus operators on certain routes also offer cancel and reschedule options subject to terms and conditions.

On redBus, over 80 Express bus services serve over 800 routes in Malaysia. Express bus tickets can be quickly booked online on popular routes like KL to, Melaka,,, and more. These Express buses in Malaysia also serve as a mode of transportation for local commuters. Express bus operators like ,, StarMart, and are popular among travelers who frequently take the Singapore to Malaysia bus route.

Whether you're looking for how to plan a bus journey to Malaysia from Singapore or looking for a night bus from , redBus is one stop destination for online bus ticket booking.

Also, with redBus Ferry now you can book ferry tickets to your favourite island destinations from Malaysia!

Get a Bus Pass
redBus offers a 'Bus Pass' facility for selected routes and bus operators. This pass allows redBus users to save up to 25% on travelling. If you travel on a route or via an operator often, you can apply for the bus pass and enjoy discounts on your online bus ticket.To get the bus pass, you have to select the bus operator, route, number of trips and pay the one time discounted fare. You can redeem the pass on the date of your journey.

The popular bus operators that offer bus service to Malaysia and and where can get a bus pass include -
The top routes for which you can find a bus pass for are , , , , . Apart from these, there are many other routes that offer a bus pass among other bus ticketing services.