Book Kuantan Sentral (kuanta Bus Terminal) Bus Tickets
Kuantan Sentral Terminal is a public bus transport terminal in Kuantan, Pahang, Malaysia. This bus terminal is located at Bandar Indera Mahkota. It started its operation on the 1st of August, 2019. Terminal Sentral Kuantan is the biggest bus terminal on the East Coast of Peninsula Malaysia.
There are two bus terminals in Kuantan, Pahang. The local stage bus is located at the new Kuantan Sentral, in Indera Mahkota and the express buses are still at the Old terminal Makmur in Jalan Stadium. The new Kuantan Sentral Terminal is located about 11 kilometers from the old bus terminal. The bus terminal is very luxurious with 40 bays for buses, 365 parking lots which differ for cars and motorbikes. There are a total of 12 platforms at this bus terminal and 2 platform levels. This place also has basement parking for passengers.
This terminal is one of the largest public terminals in Malaysia. It has frequent buses running every 15 to 20 minutes and the buses run all day from around 6:00 am to 11:00 pm.
How do you get to Kuantan Bus Terminal?
Kuantan Bus Terminal is located very near to the most accessible parts of the city. You can reach the Kuantan Bus terminal by any means of transportation services. One of the most common ways to reach the Kuantan Bus terminal is by the means of a bus, car or train. Here are few of the modes that would help you reach the Kuantan Bus terminal from Kuala Lumpur:
Buses:

Bus transportation is one of the easiest and affordable means of transportation. The journey from Kuala Lumpur to Kuantan Bus Terminal can be traveled by the means of buses.
By Train:

You can travel by means of a train from any point in the city in order to reach the Kuantan Bus terminal. You might have to book a cab service from the train station to reach the bus station.
By Car:

If you are nearby and have your personal car, you can easily reach the Kuantan Bus terminal. The Kuala Lumpur and Kuantan Bus terminal are connected by the means of Karak Highway and the new East Coast Expressway. This distance is about 250 kilometers and can be covered in 3 to 3.5 hours. You can either chose the Gambang exit or Kuantan exit. The Kuantan route is more easy to work on as you can expect lower-traffic over here.
Amenities at Kuantan Sentral Bus Terminal
Kuantan Bus terminal was initiated in 2019 and since then the bus terminal has had a number of buses operating from this bus terminal. This place was reconstructed to include some of the basic amenities that are required at a bus terminal. Kuantan Bus terminal offers a fully air-conditioned bus terminal. The bus terminal has clean and hygienic restrooms. The bus terminal also has food booths with proper seating. Instead of ticket counters, they have tickets kiosks, one of the latest technology in ticketing.
Kuantan Sentral features a lot of convenient amenities for travellers:
Surau:

The terminal has a Surau for prayers and religious celebrations that travellers are welcome to stop at.

Ticket counters:

For travellers who haven't bought their tickets yet, the counters enable reservations on board the many bus operators that stop there.

CCTV:

The entire terminal is under CCTV surveillance to ensure the safety and security of passengers travelling in and out of Kuantan.

Food stalls:

Those looking for a quick snack will find several food booths serving local cuisines.

Convenience stores

Air-conditioned waiting areas

ATMs
Popular Bus Operators at Kuantan Bus Terminal
Since the Kuantan Bus terminal started its bus operation in 2019, there has been a gradual increase in the number of buses plying on these routes. The buses serving this bus terminal are: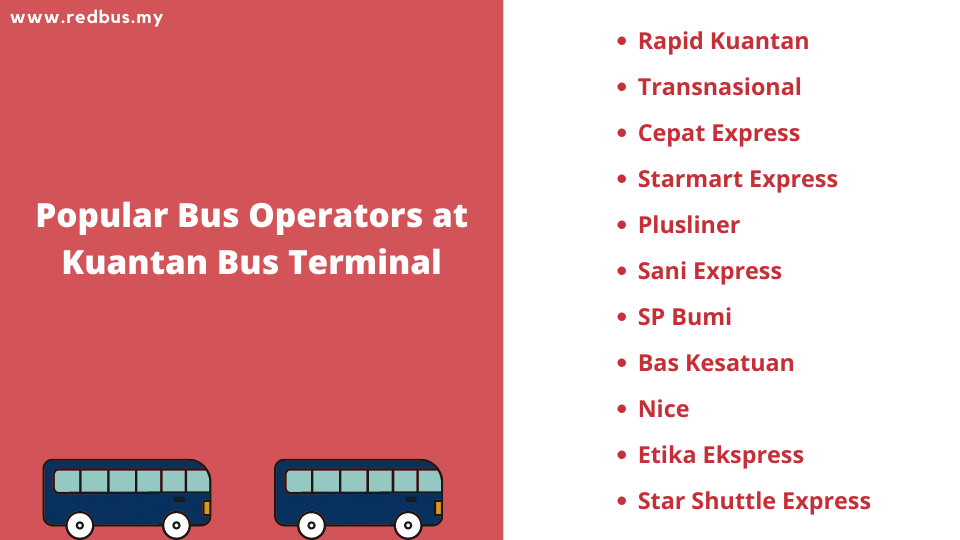 Rapid Kuantan

Bas Kesatuan

Star Shuttle express




How safe is Kuantan Sentral Terminal?
Terminal Sentral Kuantan is the main bus terminal in Kuantan (Pahang). The local bus services to various locations in Malaysia are available from this bus station. The local government is getting the terminal sanitised regularly to provide a safe travel environment to passengers. There are no cross-border services available from Kuantan Sentral Bus Station as the international travel routes are closed at present. Please visit the official government websites for the latest updates.


How to travel safely to Kuantan Terminal?
You can easily book a bus ticket online to Terminal Sentral Kuantan via the redBus mobile application or website. Booking Terminal Sentral Kuantan online ticket via redBus will help in avoiding the crowd at physical ticket booking counters. redBus is connected with reliable bus operators in Kuantan that follow various safety measures.


Passengers should also follow safety measures and government guidelines to stay protected from the coronavirus. Make sure to wear a mask and use hand sanitisers while travelling to Kuantan. You should also follow social distancing measures while travelling in Kuantan buses. People showing signs of coronavirus should restrict themselves from travelling.


Things to do in and Around Kuantan Sentral Terminal
Terminal Sentral Kuantan bus station allows both the interstate and the local buses inside, so it is convenient to travel to another part of the city after arriving here. There are 40 bus bays and a larger parking area for the other vehicles as well.


You can find all basic facilities inside the Kuantan Terminal, such as ticket kiosks, restrooms, food stalls, etc. The bus online ticket booking is available for the buses bound to this terminal Kuantan. The domestic buses passing through this terminal will help you reach popular destinations.


A few things to do around Kuantan Terminal are -
Kuantan Art Street: This art street gives life to the plain walls along the way. You can find murals of different genres and themes. Taking pictures against these murals is one of the most popular things to do in Kuantan.
Sultan Haji Ahmad Shah Agricultural Park consists of the oldest tropical rainforest. The first reserve park, fruit orchid, and recreational park are the major attractions here. It is a true paradise for nature lovers.
Laman Teruntum Kuantan is a beautiful park that lets you enjoy the evenings and mornings. There is a playground for the kids to enjoy and a trail for adventurous people. It happens to be one of the famous centres in Kuantan.
East Coast Mall is a four-storied mall with plenty of shopping options. There are all types of shops here in this mall, providing a one-stop shopping experience.
Lao Zi Temple: This is a dragon temple with the longest dragon structure in the world. The 823 m long dragon is a major attraction here. You can walk through the dragon with the entrance at the tail portion and exit through the mouth.
Benefits of Booking a Bus Ticket Online with redBus
Booking tickets from the comfort of your home has never been this easy thanks to redBus. With the help of redbus, you can easily book tickets to any location in Malaysia. redbus also gives you many discounts and offers on ticket booking.
Here's how you can book a ticket on redBus Malaysia online portal:
Open the redBus app or log in to the official website of redBus, Malaysia

Enter the departure point and arrival points under the "From" and "To" sections

Select the date of the journey

Select the buses by using the filter option that can be found on the left side of the screen

Select the bus of your choice, enter your personal and payment details, get a confirmation on your registered email ID or phone number or both

Sit back and enjoy a hassle-free journey




Disclaimer: Bus timings, routes, and fares are subject to change. Please check the redBus app or website for any last-minute changes.