Book Pudu Sentral (Puduraya) Bus Tickets
Pudu Sentral is also known as an urban transformation center in Malaysia. It is the main local bus terminal in Kuala Lumpur, Malaysia. The bus terminal was originally initiated by the Late former Prime Minister Tun Hussein Onn. This place is strategically located at Jalan Pudu, which is just next to one of the busiest places in Malaysia. It is also very near to Golden Triangle, where you can find many pubs and shopping malls. Pudu Sentral is one of the best and most luxurious bus stations in Malaysia. It serves as a hub for many bus operators and many bus routes in the city. You can access it by various modes of transportation such as buses, trains, metros, and hail apps.
How do you get to Pudu Sentral?
As Pudu Sentral is a main bus terminal in the city, it is very easily accessible. There are various means of public transport that would help you reach this bus station. Several bus operators operate their buses from various destinations to this place. In total, there are 2,000 routes to Pudu Sentral from various parts of the city. Apart from buses, you can also travel by train or metro.
From TBS to Pudu Sentral, it takes about 56 minutes to cover the journey by metro and 70 minutes by train. In total, there are 9 routes made by the metro and train to this bus terminal. Apart from the train, buses, metros, and taxis are the other most popular means of vehicular transportation to choose from. Travelers who live close to this place can also walk to reach Pudu Sentral.
Amenities at Pudu Sentral Puduraya Bus Station
Pudu Sentral started its operation in 1976 and in 2011, it was reconstructed into one of the best bus terminals in Malaysia. It has all the basic amenities required at a bus terminal. It has a vast waiting area that is spread across three floors and has a seating capacity of about 1,200 passengers. The bus terminal has been fully air-conditioned. There are ticketing counters, retail outlets, and even a food court here. The electronic arrival and departure information screens keep passengers informed about the schedule and timings. Last but not least, this place also has a taxi counter. Pudu Sentral is constructed taking into account the convenience and the comfort of passengers who enter here. Taking into account the rush of the passengers at the bus terminal, there are 22 different gates on the ground floor. This place looks more like an airport than a bus station.
Despite being a local service terminal, this bus station is still well-equipped with traveller-friendly amenities:
Luggage lockers:

Keep your luggage here for a fee if you have a few hours to walk around or go sightseeing.

Dining:

Food stalls in the terminal serve snacks to take on the go. A full-fledged food court takes care of proper meals.

Waiting area:

An air-conditioned waiting area is available for passengers to comfortably wait for their bus or their loved ones to arrive.

ATMs:

There are a few ATMs along the breadth of the terminal, in case you need some last-minute cash.
Apart form these, here is the list of the best and top amenities at Pudu Sentral:
Ticket counters

Convenience stores

Mydin (nearby)
Popular Bus Operators at Pudu Sentral
The main bus operators serving to and from Pudu Sentral are: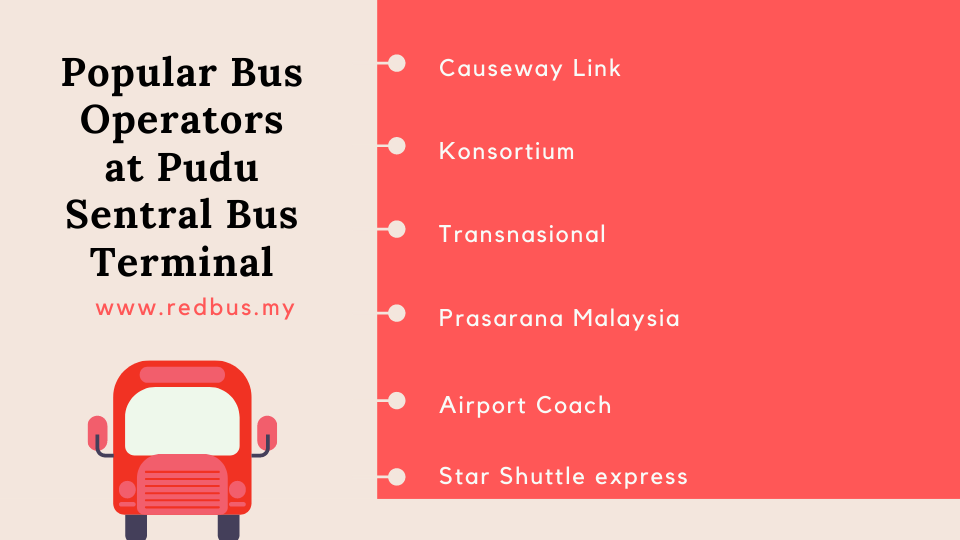 Johor Corporation

Konsortium

Prasarana Malaysia

Utamagas

Setara Jaya

Star Shuttle express
The main routes from Pudu Sentral are buses going from Kuala Lumpur to KLIA and buses from Kuala Lumpur to KLIA2. There are various buses that run on these routes.


How safe is Pudu Sentral?
Pudu Sentral bus station, the terminal for the local buses in Kuala Lumpur, a luxurious bus station with central air-conditioning, is taking extra measures for the safety of all. All the areas in this bus station are deep cleaned and sanitized regularly. The waiting areas, refreshment areas, shopping centres, information desks, and ticket counters are all maintained well.


There are several boarding gates provided at the terminal to help reduce the crowd and for a well-organized boarding process. The display board provides all the information related to the boarding and gate number for the passengers. Although Puduraya bus station operates only the local and intercity services, this is a well-maintained station.


How to travel safely to Pudu Sentral Bus Terminal?
Being the hub for local buses, Pudu Sentral is connected to all parts of the city. Travelling by bus to Pudu Sentral is the best mode of travel, and it costs the least amount of money. The other modes are either time consuming or expensive.

Airport bus, Star Shuttle bus, and other long-distance buses also pass through Pudu Sentral station. So, get your Pudu Sentral bus online ticket through the redBus website/mobile application for your next trip.


There are travel restrictions to other states and cities from Kuala Lumpur. But being a local bus hub, Pudu Sentral still functions with local buses plying throughout the day. You can book the tickets online on redBus and have an M-Ticket, which is valid for all the bus operators and bus stations due to the pandemic.


To travel safely, all the passengers must wear face masks while in public and while travelling. All the bus stations provide hand sanitisers for the passengers. Passengers must maintain the social distance to be safe.


Things to Do in and Around Pudu Sentral
Pudu Sentral, the local bus terminal in Kuala Lumpur, is the go-to place to find local transportation to most of the major attractions in and around the city. The Puduraya bus terminal serves only the northbound long-distance buses. You can book bus tickets online for the buses bound to this terminal.


If you are wondering how to go about once you have reached the Pudu Sentral bus terminal and want to know about the popular things to do, read below -
Visit Chinatown: It is a major attraction near the Pudu Sentral and one of the most vibrant places you will ever see. It is otherwise known as the bargain hunter's paradise. Chinatown is more beautiful during the night when it is at its most colourful phase.
Visit Central Market: It is a major handicraft's outlet. Traders throng here with merchandise of authentic local prints, among other things. It is a heritage site marked by the National Heritage Department.
Visit Sultan Abdul Samad Building: The former state secretariat is now a prominent tourist spot in Kuala Lumpur. This iconic building is open for the public 24 hrs on weekdays and is usually closed on Saturdays and Sundays.
Visit Court Hill Ganesh Temple: Started in an orchard, this temple is now a popular pilgrimage site in the city. It is also the only temple that performs the Shankha Puja daily. The temple was named because it is located next to the old high court building.
Visit Merdeka Square: It is a green lawn space. It used to be a cricket ground right in front of the iconic Sultan Abdul Samad building. This landmark spot is one of the most photographed spots in Malaysia, especially during the night with its lights and colours.


Benefits of Booking a Bus Ticket Online with redBus
redBus is one of the most convenient methods of booking a bus ticket online. The passengers who wish to travel can easily book tickets from the Pudu Sentral to numerous destinations that they want to travel to. People can also get various discounts and offers on booking their bus tickets online through the redBus platform.
You can follow the following steps to book a ticket online on the official website or app of redBus:
Open the redBus app or log in to the official website of redBus, Malaysia

Enter the departure point and arrival points under the "From" and "To" sections

Select the date of the journey

Select the buses by using the filter option that can be found on the left side of the screen

Select the bus of your choice, enter your personal and payment details, get a confirmation on your registered email ID or phone number or both

Enjoy a hassle-free journey




Disclaimer: Bus timings, routes, and fares are subject to change. Please check the redBus app or website for any last-minute changes.