Book JB Larkin Bus Terminal Bus Tickets
JB Larkin is a bus terminal located in Johor Bahru, Malaysia. Perched on the southern end of the Malaysian peninsula, Johor Bahru is the third-largest city in the country.
JB Larkin is also known to locals as Larkin terminal or Larkin Sentral. It's the largest of its kind in Johor Bahru, spanning three floors and hosting over 50 buses at once in its bays. It is considered to be the central boarding point for buses bound for the rest of Peninsular Malaysia and Singapore. Therefore, scores of bus operators service these terminals.
The terminal hosts the Singapore Bus Service Transit as well as Causeway Link. Apart from this, taxis and express buses also pick up and drop off passengers here.
With redBus, it's very convenient for travellers to book seats onboard buses to and from JB Larkin terminal. Travellers need not head to the station well in advance and stand in lines to book their tickets. All you need to do is log on to the redBus website, enter your relevant information including date of travel and hit "search buses."
Getting to JB Larkin Bus Terminal From Within Johor
Larkin Sentral terminal is only 5 kilometres (3.1 miles) northwest of the city centre. It is surrounded by budget and upscale hotels servicing the needs of guests and travellers.
Since the terminal is frequently populated by inter and intra city travellers, it's well-connected to the rest of the city. Travellers wishing to get there from elsewhere in the city can use a city bus, shuttle train or rent a taxi. Self-drive cars are also available for those who have appropriate licenses. The Bas Muafakat Johor Bus Service P101 connects JB Sentral to Larkin Sentral, stopping at multiple points along the way including the city centre.
The 3-floor, T-shaped terminal might be quite confusing for first-time travellers. It is advised that you check your redBus tickets for the platform you need to be on, and arrive at least half an hour before departure time.
Depending on the transport you choose to reach this bus terminal, be sure to account for traffic and other possible delays and congestions. Some bus operators allow for advance cancellations and may charge an additional fee. Travellers might not get refunds if they miss their bus, so it's best to arrive well in advance.
Travelling to and From Johor by Bus
The Malaysian peninsula is a stunning mix of natural landscapes and clustered towns and cities. To enjoy the true beauty of the environment, travellers are recommended to travel by bus. Other forms of transport might prove too costly or restricting. Travelling by bus means enjoying great views on the other side of the window while being driven by well-trained drivers.
It's also much easier for loved ones to track your travels when onboard a redBus-partnered operator. The "Track My Bus" feature puts selected buses on a live grid, allowing you or your significant others to know exactly where you are at any point. You'll also find this feature useful when arranging pickups at Larkin Sentral or a terminal at your destination.
Traveller Amenities at JB Larkin Terminal
The first floor of the JB Larkin terminal is packed with food outlets running the gamut of cuisines. You'll find popular international fast food joints as well as local food stops. These are usually open 24 hours a day to cater to travellers arriving and departing through the day and night. The same level also hosts boutiques and stores for some last-minute essentials and souvenir shopping. The second floor hosts a massive open market for more purchases.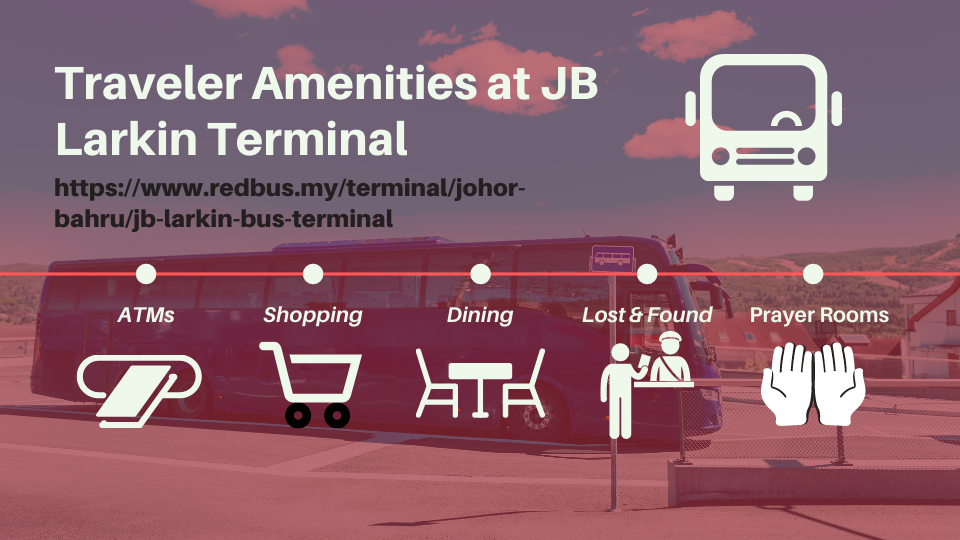 Being one of the more popular bus terminals in Malaysia, JB Larkin Bus Terminal doesn't skimp on the traveller amenities.
ATMs:

The terminal has approximately 6 ATMs spread out across the first floor.

Shopping:

The second floor of the terminal hosts an open market. The first floor has independent boutiques and convenient stores for souvenirs and essentials.

Dining:

The first and third floor of the terminal has several food outlets serving local and international cuisine. The third floor also has a bigger food court.

Lost and Found:

Lost luggage can be dropped off or located here.

Prayer rooms:

The third floor of the terminal has a mosque and prayer rooms.
An information centre is staffed with friendly concierges who are ready to help. A travel agency, a pharmacy and restrooms wrap up the list of amenities at Larkin Sentral.
People travelling between Singapore and Malaysia must note that there will be a compulsory check at an immigration checkpoint. During these checks, passengers will be expected to alight from the bus along with their baggage and undergo the customary security and customs checks. Those travelling forward on the same bus can re-board; the others can switch to another bus for the next leg of their journey.
Popular Bus Operators at JB Larkin Bus Terminal
Owing to the fact that Larkin Sentral is a centralised pick-up and drop-off point across routes, scores of bus operators enter and exit the terminals at all times of the day. Some of these service routes spanning Malaysia, while yet others cross the borders to Singapore and even Thailand.
Some of the major bus operators that travel to and from Larkin Sentral are:
Some of the most frequented routes through this terminal are to and from Kuala Lumpur. A total of 195 buses travel from Kuala Lumpur to JB Larkin terminal on a daily basis.
Other accessible destinations from Larkin Sentral include Muar, Malacca, Batu Pahat, Kuantan and Seremban.
Perks of Booking Larkin Sentral Bus Tickets on redBus
Book your tickets onboard a Larkin Sentral bus operator on the redBus website or app to forget the hassles of waiting in queues. redBus makes planning your travel easy and convenient. If you're making reservations well in advance, you'll find yourself rewarded with exclusive deals and discounts that make your travels much sweeter.


There are a number of bus coach companies available for you to choose from. To be able to pick one with the highest rating or best reviews, all you need to do is use the redBus search filters. These filters can also be customised further, to narrow operators down by amenities, departure time, price and routes. Some on-board facilities you can filter through include:
WiFi

Air-conditioning

Recliner seats

Sleeping berths

Luggage compartments

Seat arrangements




How safe is Larkin Sentral?
The JB Larkin Sentral station in Johor Bahru is a busy bus station. It is completely safe to travel to this station as it buzzes with activity from early morning to late at night. The premises are well maintained, sanitized regularly, and have plenty of shops, stores, and restaurants for refreshments. There are waiting areas, designated spots for the bus bays etc., to make it safe and comfortable from all aspects.


The bus terminal is a major hub for both local and outbound buses. It is also the main centre for the Causeway Link and other Singapore Bus Service Transit services. Situated within a 5 km radius from the city centre, there are plenty of options for an overnight layover here.


How to travel safely to Larkin Sentral?
You can travel to the JB Larkin Sentral by interstate buses, cross-border buses, local buses, taxis, or even shuttle train services. All the options are safe and secured. The Larkin Sentral online ticket is the best way to prevent COVID-19 contamination. The Johor Bahru bus online ticket is available from all major cities in Malaysia and Singapore. You can book the online bus tickets on the redBus website/mobile application.


Due to the restrictions, no buses are currently operating to this station or from Singapore.


Depending on your location, the availability of bus tickets and the number of buses differ. Currently, Johor Bahru is under the MCO, where travelling is restricted. To travel by bus, one must get prior approval. Following all the mandatory rules is highly essential to tackle the situation. Wearing masks, maintaining social distancing, using hand sanitizers, and avoiding travel with any coronavirus symptoms are the major rules.


Please check the official websites for the latest updates related to travel restrictions.
Booking a Ticket on redBus
The online payment portal is secured using top-notch security software that makes transactions safe and hassle-free. Depending on the operator you've chosen, your Larkin Sentral bus tickets might be in the form of an e-ticket in your email or an M-ticket on your mobile phone. If you haven't received your ticket in time for your travels, the redBus customer care service will be happy to help. Here is a step-by-step breakdown of the booking process:
Log on to the redBus, Malaysia, website or download the app

Enter the departure and arrival cities

Select the date of travel

Enter the return date if applicable

Filter bus operators based on your preferred choices

Continue to the payment gateway
Using redBus to book your bus while selecting your boarding or dropping point as Larkin Sentral means making comfort and convenience your top priority.


Disclaimer: Bus timings, routes, and fares are subject to change. Please check the redBus app or website for any last-minute changes.