Sri Maju Express Kangar Bus Ticket Booking
Sri Maju Bus Booking
Sri Maju Express Kangar was founded in 1978 by Dato Yeoh Kian Teik, Loh Yin Mooi, and Ng Yot Chew. It provides bus services in cities like Kuala Lumpur , Kangar, Sungai Petani, etc. Sri Maju Express Kangar started with the aim to connect multiple cities and towns throughout Malaysia and provide passengers with a safe and comfortable travel experience. They are known for their frequent bus services from source to destination. They have buses running throughout the day, even at night. You can easily make an online bus booking with Sri Maju Express Kangar using the redBus application or website.


Amenities Offered by Sri Maju Express

Sri Maju Express is highly concerned about the comfort of its passengers. There are various types of buses run by them for each section of the society. They provide a lot of amenities to their customers. The amenities depend on the bus and ticket type. The seats of Sri Maju Express Buses provide ample legroom and are spacious. The various amenities provided by them are as follows:

• Air Conditioners
• Newspapers
• Blankets
• Snacks
• Charging Point
• Reading Light
• Bathroom
• Central Television
• Fire Extinguisher


Popular Routes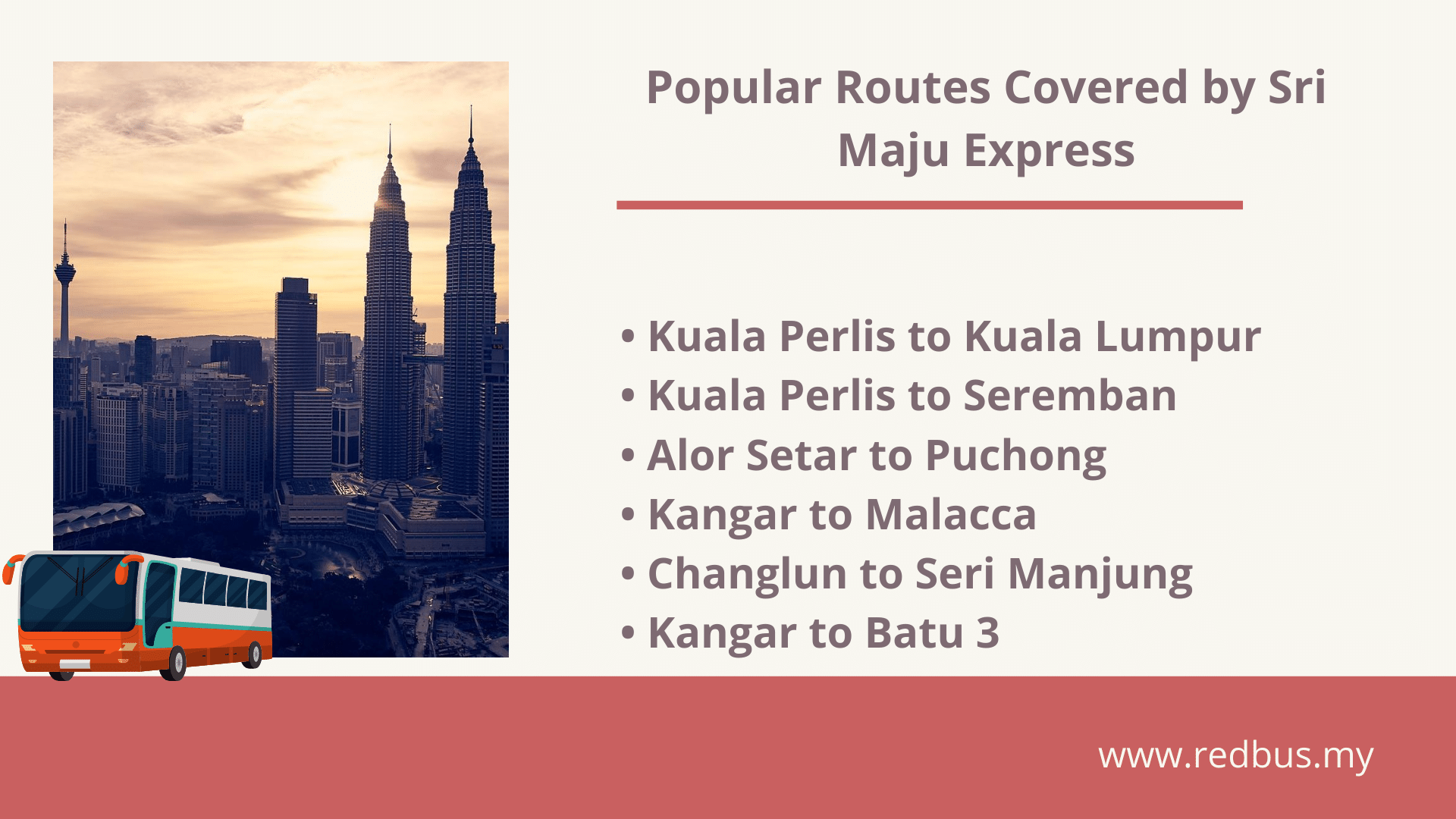 There are frequent buses on various routes provided by Sri Maju Express with an economical fare. The popular routes which are covered by Sri Maju Express buses are as follows:

Kuala Perlis to

Kuala Lumpur

Kuala Perlis to Seremban

Alor Setar to Puchong

Kangar to Malacca

Changlun to Seri Manjung

Kangar to Batu 3




Types of Buses Offered by Sri Maju Express
There are various types of buses run by Sri Maju Express that have different amenities and differ in the fare. The customers can choose the bus type according to their convenience. The various types of buses are as follows:

SVIP

Seater Buses

Economy

Standard




Popular Cities

Sri Maju Express buses go to many popular cities of Malaysia such as Kuala Lumpur, Kangar, Sungai Petani, etc. Let us see the major tourist attractions of some of the top cities covered by Sri Maju Express buses:

• Kuala Lumpur is the capital of Malaysia. It is also the largest city in Malaysia. There are a lot of tourist attractions in Kuala Lumpur such as Petronas Twin Towers, National Museum, Islamic Arts Museum, KL Bird Park, Thean Hou Temple, etc. Kuala Lumpur alone has around 66 shopping malls, and a lot of tourists visit this beautiful city.

• Kangar is also visited by a lot of people due to its park and recreational centres. The major attractions include Tasik Melati Recreational Park, Pengkalan Asam Trails Recreational Park, Snake & Reptile Farm, etc.

• Sungai Petani is another beautiful city in Malaysia famous for its historical themes, eco-parks, and water sports. It has many tourist attractions such as Clock Tower, Silver Jubilee Park, Bird Park, Gunung Jerai Mountain, The Carnival Water Park, etc.


How to Book a Sri Maju Express Bus on redBus?

One can buy tickets for a Sri Maju Express bus on a physical counter, but in the case of foreigners, it is better to book your tickets online in advance. redBus is the world's largest online bus booking platform and is trusted by many users around the globe. You can see the timing, routes, and availability of buses in just a few taps on your smartphones. Let us see the process to book a bus ticket on redBus:

• Open the redBus application on your smartphone or visit the official website .

• You will see 'From' and 'To' headings in the interface. Enter your source and destination details in these sections.

• Enter your 'Date of Journey' under the mentioned section and click 'Search'.

• You will be shown a complete list of buses available on your selected route and date. Select the bus from Sri Maju Express according to your preferred time slot and click on that bus.

• You will be traversed to the seat layout page. You can select your preferred seat. You will be notified which seats are already pre-occupied. After selecting the seat, move on to the payment section.

• The payment methods are highly secured and trusted. Apply coupon code (if any) and complete the payment process.

• After completing the payment process, your ticket booking is confirmed, and you will receive an e-ticket via Mail/WhatsApp.

Online Bus Ticket Booking of Sri Maju Express Kangar on redBus
On redbus.my, you can book your Sri Maju Express Kangar bus tickets online to your desired destination. The only thing that you have to do is log in to redbus.my and find the bus of your choice by entering your departure point, destination, and the onward date and then hit "search buses". To find Sri Maju Express Kangar buses, you can even use the filter and go through our list of operators or any other operator. Our payment portals allow you to do quick payments using credit or debit cards, and net-banking. The redBus discount offers will help you to save on your bus bookings. Enjoy a hassle-free bus journey on Sri Maju Express Kangar. Make a redBus online booking today.
redBus Safety+
redBus is launching Safety+, a new Covid-19 safety identification that helps bus operators showcase their compliance with safety measures as suggested by the government. Users can also use this sign to identify bus services that follow all guidelines and thereby ensure safer travel.
If a bus is tagged with the Safety+ sign, you can be sure that it has undergone disinfection and is run by healthy staff who wear masks and gloves throughout the journey. Hand sanitizers are installed in these buses for individual use by the passengers.
To ensure total protection, users are requested to maintain social distancing and follow all personal hygiene measures. These include using face masks, avoiding travel in case of an illness, and washing hands regularly.

Disclaimer: Bus timings, routes, and fares are subject to change. Please check locally for any last-minute changes.