Genting Highlands Bus tickets
Genting Highlands is a city with a giant rainforest nestled 50 km away from Kuala Lumpur (KL) City and a nature haven of its own. Buses to Genting from KL are booked by millions of travelers who want to soak in the hillside beauty of Malaysia. For those who want breathtaking views and some time away from the city, this million-year-old destination is a welcome treat. A popular hill station among tourists, Genting Highlands, is known for its famous strawberry farm and sightseeing and adventurous activities like rock climbing and abseiling.
It takes just 45 minutes to get to Genting from the city, and you can book a direct Genting bus ticket. Nasi Goreng and Tom Yum Soup are mouth-watering delicacies you'd hear of in this region, and Genting restaurants serve Malaysia's best delicacies, prepared fresh in-house. If you're taking an Aerobus to Genting Highlands from KL, it will take you about 2 hours to get there, and the fare ranges from MYR 10 to MYR 20.

Getting in and Around Genting Highlands via Bus
One of the easiest ways to move around Genting Highlands is to get onboard a Genting bus. The morning bus to Genting Highland starts at 7 AM from Pekeliling bus station, and various Genting bus operators are running their services from spots like the KL Sentral train station, Gombak, Puduraya bus station, and Hentian Pasar Rakyat.
If you're planning a trip during the weekend, make sure you book tickets in advance since it can get crowded. It takes about an hour to get to Skyway station from KL City, after which you can reach Genting via either a cable ride or by taking a special Genting bus that runs from KL Sentral that connects directly. The Genting bus schedule for Aerobus is between 8 AM to 10 PM, while standard Go Genting buses leave from the Awana Skyway Terminal to KL Sentral at around 7:30 AM.
Book Bus+Skyway Travel to Genting Highlands


The city of entertainment and incredible beauty, Genting Highlands is home to several peaks of 6,000 feet and lush greenery. One can soak in the beauty of Genting Highlands by booking a Go Genting bus and cable car and going on a sightseeing tour of the city.
Go Genting (Bus + Skyway) by Resorts World Genting on redBus offers the best experience of this mountain getaway at affordable prices. This excellent deal by Resort World Genting that one can easily avail on redBus includes Go Genting bus services on the following routes:
One Utama to Awana Bus Terminal
KL Sentral to Genting Highlands is one of the most popular routes that travelers take to explore a variety of Malaysian attractions. Go Genting buses and cable cars are also available on Pudu Sentral to Genting Highlands , which follows a similar route as KL Sentral.
Book Go Genting/Skyway Cable Car


The gondola-style cable car offered by Go Genting takes one through various popular tourist attractions in Genting Highlands. This 3.4 km long journey starts from Awana Station and passes through a 120-million old forest, Chin Swee Cave Temple, and SkyAvenue Shopping Mall. Passengers can also disembark their journey at Chin Swee Station and tour the surroundings before heading to the SkyAvenue Station.
This entire Bus + Skyway Package costs only MYR 20 with redBus, which includes the bus price, cable car price, and admission fee to Genting Highlands. The boarding point for this package is KL Sentral. Travelers can book this Go Genting package online and enjoy a comfortable bus journey along with great sightseeing on the way.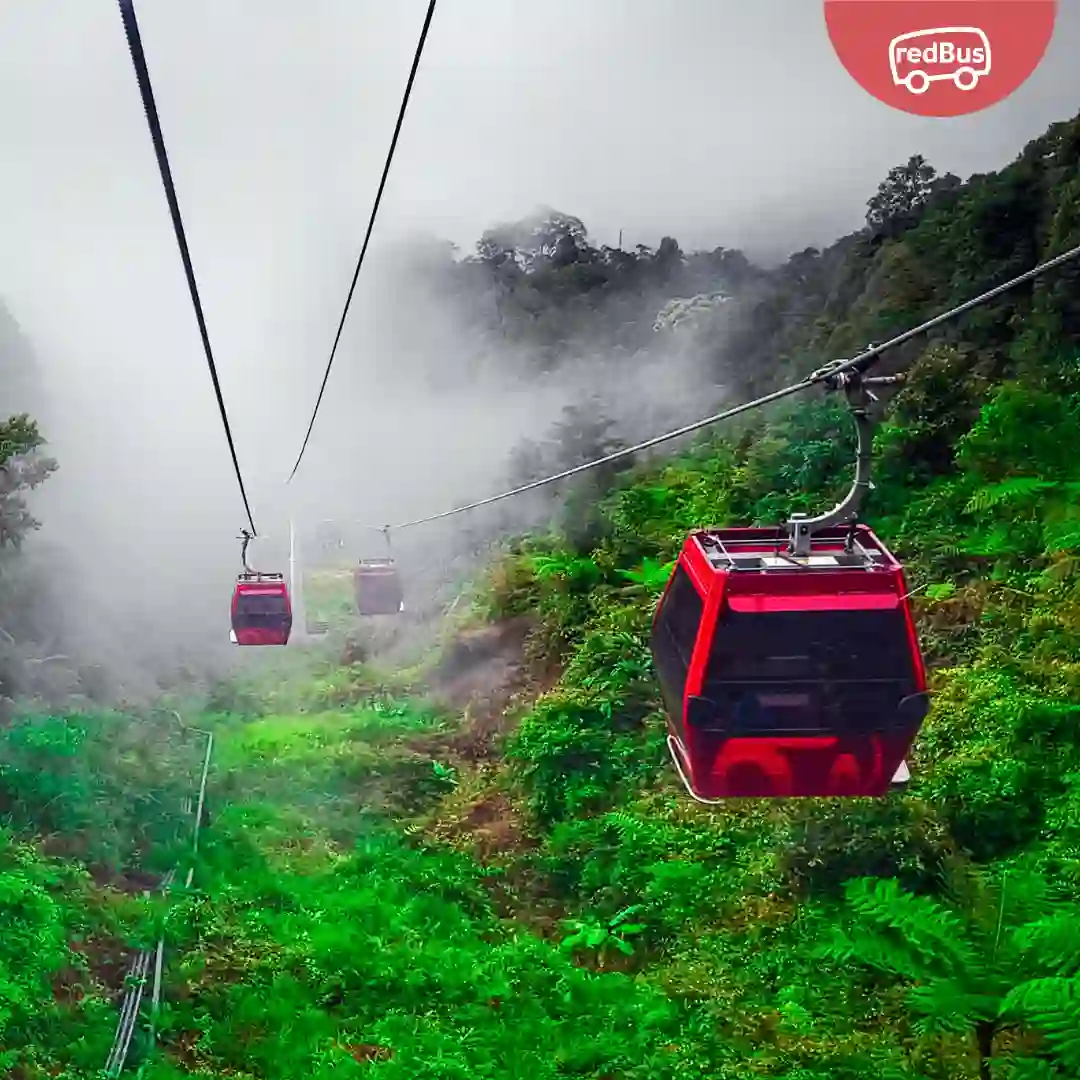 Pick-up and Drop-off Points

Most buses to Genting Highlands have the following boarding points -
Pekeliling Bus Terminal

Pudu Sentral
KL Sentral

For those arriving to Awana Skyway Terminal, different bus operators have different drop-off points. Some of the major drop off points are:
First World Hotel.

Genting Resort Hotel (Basement 5).

Awana Skyway Terminal.

Mushroom Farm Bus Terminal.
Be sure to contact your bus operator to confirm the points directly you'll be picked up or dropped off from.
Guide to Awana Bus Terminal Genting Highlands

Awana Bus Terminal is the main bus terminal that travelers are likely to stop at when they are heading towards Genting Highlands. Awana Bus Station serves as the midway stop between KL Sentral or Pudu Sentral and Genting Highlands Skyway station. Awana Bus Terminal is one of the new bus terminals built in Malaysia on the way to Genting. The terminal is also home to Awana Skyway from where travelers can take a Go Genting cable car ride to SkyAvenue in Genting Highlands.


Traveling by a bus to Genting Highlands can be the best option for travelers and booking Genting bus tickets online is extremely easy and buses can be convenient to travel on the winding roads of Genting. Besides, both KL Sentral to Genting Highlands and Pudu Sentral to Genting Highlands bus tickets are affordable.


Awana Bus Terminal has different levels such as:

Bus Ticketing Counters
Bus Boarding Platform
Bus Arrival Platform

Baggage Storage Service
Taxi Stand

Car Park

Awana SkyWay
Awana SkyWay Ticketing Counter


There are some major routes to and from Genting Highlands that go through Awana Bus Terminal:

Popular Bus Companies in Genting Highlands


The major bus operator servicing Genting Highlands are Aerobus, Go Genting when it comes to direct buses.

How safe is Genting Highlands?


Genting Highlands is one of the most visited hill stations in Southeast Asia. Situated in Malaysia's Pahang state, Genting Highlands is a high-altitude hill station. It is separated from the main city and is known for being a safe travel destination. A Genting bus is the best way to travel to this hill station safely.
Things to Do in Genting Highlands


Genting Highlands is one of the liveliest destinations in Malaysia for adventure lovers. Besides the massive cable car ride from the Sky Terminal, tourists explore the vast rainforest by riding on the Flying Fox. The center is equipped with modern amenities, while the deeper parts of the rainforest are surrounded by waterfalls, nature, and the mountainside.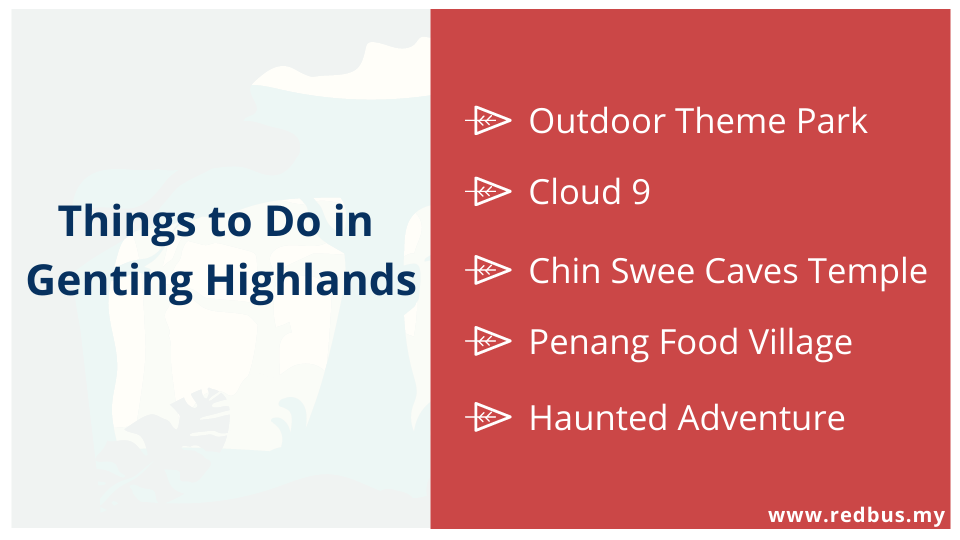 Quite simply, it is a wonderful retreat from city life. Here's a list of the top attractions tourists visit during their trip to Genting Highlands:

Outdoor Theme Park – For those who are brave and for the kids, the Outdoor Theme Park is dotted with several rides and attractions. It's an absolute jewel, and the most popular rides here are the Flying Coaster and Space Shot.

Cloud 9 – Genting is famous for its nightlife scene, and Cloud 9 is right at its center. Hip hop, R&B artists, and DJs host live music shows and events.

Chin Swee Caves Temple – Chin Swee Caves Temple houses the Great Buddha and a 9-story pagoda. There's a free shuttle bus that runs from the First World Hotel to the temple that tourists can take advantage of.

Penang Food Village – This is the culinary hub of Genting Highlands. Signature dishes like the Lor Mee and flat noodles cooked in meats and seafood are a must-try.

Haunted Adventure – It's an adventure not meant for the faint of heart. Located inside the First World Plaza, it takes tourists on a unique and scary tour.



Tourists who visit Malaysia often drop by Genting Highlands as it offers a unique blend of nature and modern thrills. You can easily opt for bus ticket online booking on redBus . If you're planning your travel itinerary with your loved ones and craving for an adventure, you simply cannot miss this place. Explore the best of Genting Highlands and take a trip with redBus today!