Sri Maju Express Kangar Ipoh
Sri Maju Express Kangar is a popular and experienced bus operator in Malaysia. The eminent bus operator has bus services to several cities and towns across Malaysia. Ipoh is one of its prominent routes; with several buses plying the routes to and from Ipoh to many destinations. The company believes in prompt and comfortable travel and has several types of coaches with well-trained staff to ensure an enjoyable bus journey.  The passengers are assured of a safe journey and excellent bus service with top-notch amenities. The Sri Maju Express Ipoh buses come with excellent air-conditioning, comfortable seats with ample legroom, and other amenities to ensure a comfortable journey. 


Boarding Points of Sri Maju Express Kangar in Ipoh
The buses going to other cities/towns from Ipoh have many boarding points keeping in mind the convenience of the passengers. The main boarding point of Sri Maju Express Kangar in Ipoh is:
Dropping Points of Sri Maju Express Kangar in Ipoh
The buses coming to Ipoh from other cities/towns have many dropping points from where the passengers can easily travel to their destination. The main dropping point of Sri Maju Express Kangar in Ipoh is:
Important Routes by Sri Maju Express Kangar  to and From Ipoh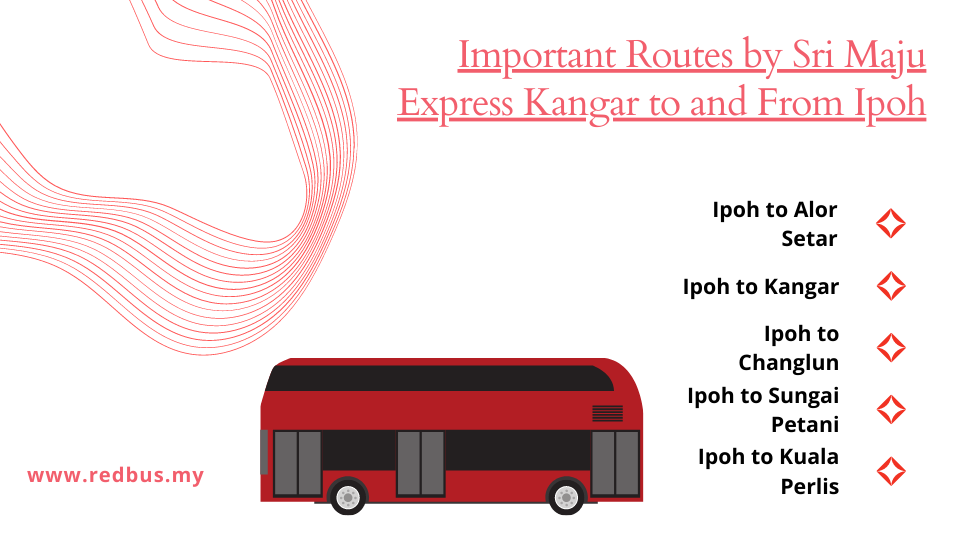 Ipoh is connected to many cities and towns in Malaysia through buses run by Sri Maju Express Kangar. Given below are the popular routes to and from Ipoh:
Ipoh to Alor Setar

Ipoh to Kangar

Ipoh to Changlun

Ipoh to Sungai Petani

Ipoh to Kuala Perlis



Important Locations to visit in Ipoh
Ipoh is the vibrant capital city of Perak in Malaysia. The city has a plethora of attractions for an enjoyable trip and is known for its history, natural beauty, museums, attractive street murals, limestone cliffs, and cave temples. Some of the popular attractions of Ipoh are:
Kek Lok Tong Cave Temple: The beautiful and ancient cave temple complex is spread across roughly 12 acres of land and is one of the most important places of Ipoh. The stunning cave temple has a beautiful altar surrounded by Buddhist and Chinese deities and its Zen garden boasts of the longest reflexology footpath in the city.
Birch Memorial Clock Tower: This beautiful black and white building from 1909 was built to pay tribute to J.W.W. birch, one of the first inhabitants of Ipoh. The tower has an architecture inspired by British architecture and has four figures depicting the four virtues of the British government. 
Long Sen Tong Temple: This famous Taoist temple located in a cave has several figures of Chinese deities and Chinese legends. The temple is adorned by stalagmites and stalactites and has several altars dotted around the cave. 
Sam Poh Tong Cave Temple: This is the most popular and one of the most unique temples in Malaysia. The temple considered to be the biggest in Malaysia has several Buddhist statues and other famous Chinese deities along with a beautiful garden with a pond and stunning pagoda. 
Other Ipoh attractions are Gaharu Tea Valley, Lost World of Tambun, Ipoh World, Memory lane, Ulu Geroh Rafflesia Trail, Perak Tong Cave, D R Sennivasagam Park, Han Chin Pet Soo Museum, Kellie's Castle, Kwan Yin Tong temple, Geological museum, and Gunung Lang Recreational Park.

Ipoh is a beautiful city for a memorable vacation. It is easy and affordable to reach the city and travel around with Sri Maju Express Ipoh buses. The Ipoh bus terminal which is the main boarding and drop point for Sri Maju Express Kangar buses is well connected to the city and nearby areas with many local transport options. One can book tickets for Ipoh from Sri Maju Express Kangar ticket counters or online via the redBus website and mobile app. The redBus site and app collates and displays all details about the city, bus routes, seat availability, bus timings, etc for the convenience of the passengers. 

Book your Ipoh bus tickets in a few easy steps on the redBus website or mobile app and avail the discounts and other offers on your booking. Enjoy a memorable Ipoh trip with redBus.