First Coach Malaysia Bus Ticket Booking
First Coach is among the best bus operators in Malaysia. It prioritizes the safety and comfort of its passengers over everything else. First Coach was established in the year 2004, with a fleet of luxurious buses that has spacious & comfy seats. The buses primarily run between Singapore and Kuala Lumpur in Malaysia. They are known for their customer-oriented and timely services. First Coach is among one of the most reliable bus operators under redBus. You can easily book a First Coach ticket online using the redBus portal.


History of First Coach
First Coach was launched in November 2004 and provided bus services from Singapore to Malaysia & vice versa. They started by providing 6-8 trips daily between Bangsar (Malaysia) & Novena Square (Singapore) and became one of the most trusted bus operators. Their terminals at Bangsar & Novena Square are convenient to reach as they are located at the periphery of the Central Business District (CBD). They provide only Executive buses equipped with many amenities like air-conditioners, personal TV, charging point, etc.
You can board a First Coach bus from different places in Singapore & Malaysia. The cities covered by them are Singapore, Kuala Lumpur, Bangsar, Subang Parade, and Bandar Utama. They have offices in all the aforementioned cities. You can leave your luggage also at the ticket counter of First Coach while traveling. They have spacious buses with ergonomic seating & ample leg space. Their staff members are quite hospitable & experienced.
You can visit the official website of First Coach for more information about First Coach. You can also enquire at contactus@firstcoach.com.my. Their office addresses & contact information is given below:
Offices:
Bandar Utama:
Lot C.02B, Concourse Level KPMG Tower,
8 First Avenue Bandar Utama,
47800 Petaling Jaya, Selangor
Tel No: +603 7725 3311
Singapore (Novena):
20 Thomson Road, #03-33
Novena Square, Singapore 307683
Tel No: +65 6822 2110
Bangsar:
No. 48, Jalan Kemuja,
59000, Kuala Lumpur
Tel No: +603 2287 3311
Subang Parade:
Outside Digital One, Ground Floor,
No. 5 Jalan, SS16/1,
47500, Subang Jaya
Tel No: +603 5621 2211
Amenities Offered by First Coach Buses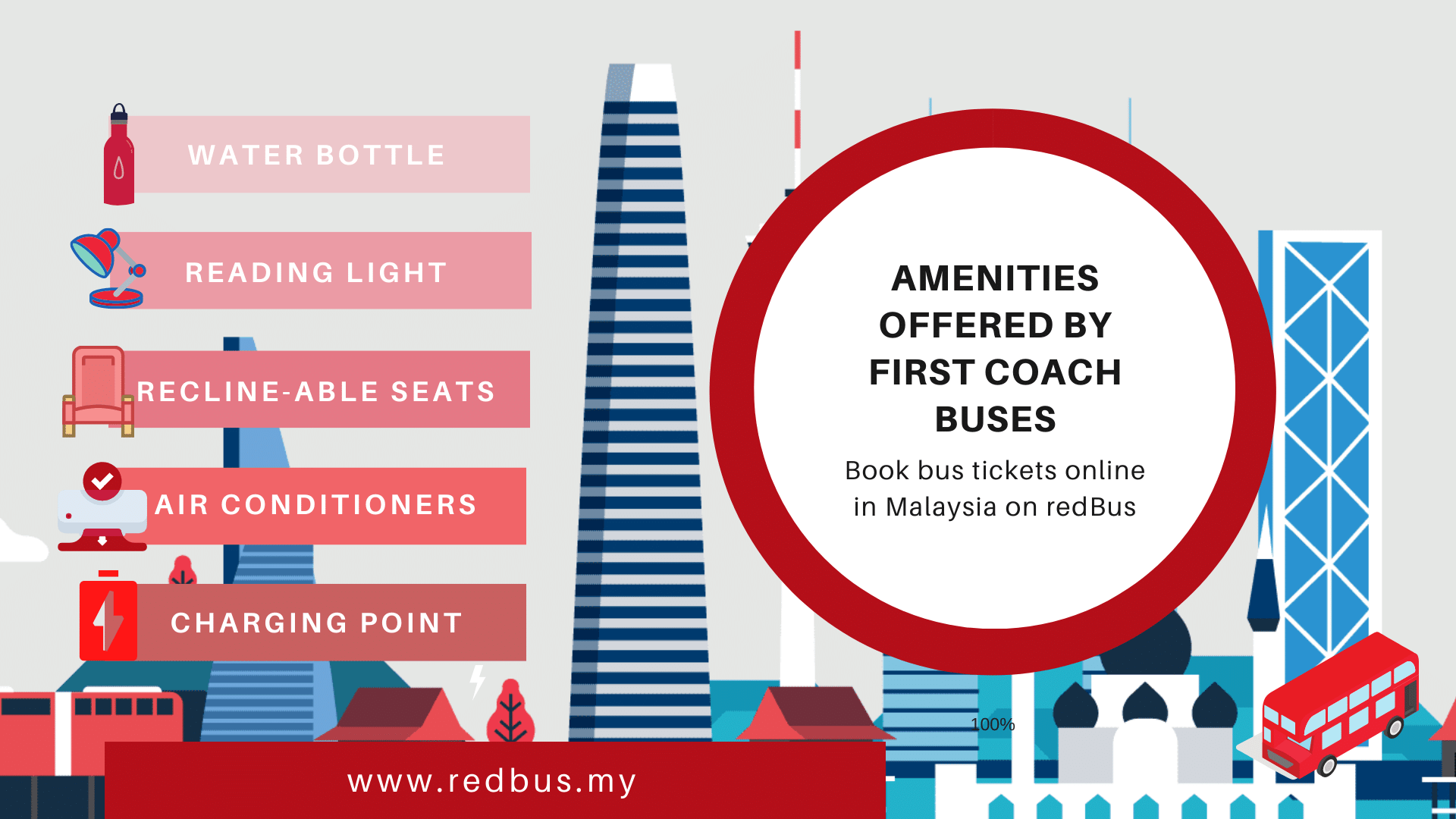 First Coach buses offer the best comforts and services. They are also known for making environment-friendly coaches and have Euro 3 compliance engines that help in keeping the air pollution under check. The seats are also luxurious & recline-able with ample leg space. The coaches also have an in-built air suspension system. The amenities provided to the customers will depend on the bus type and the type of ticket booked. All the basic amenities are provided by First Coach buses which are as follows:

Water bottle

Reading light

Recline-able seats

Air conditioners

Charging point

Wi-Fi (to be implemented soon by the First Coach buses)




Popular Routes

First Coach buses provide service between Singapore and Kuala Lumpur only. Customers who want to go near the Kuala Lumpur city centre can opt for First Coach Bangsar buses for travel. First Coach, Bandar Utama buses, can also be chosen if you have accommodation near Damansara, Petaling Jaya, etc. The major boarding and dropping points in Kuala Lumpur and Singapore where First Coach buses run are as follows:
• Bangsar to Novena
Types of Buses offered by First Coach

There are only luxury executive buses run by First Coach. They travel between the terminals in Malaysia and Singapore and complete around 6 to 8 trips per day. The buses are luxurious, but the tickets come at a very affordable price with no ticket price for children below two years and a half ticket price for children between 2 to 12 years old. The first Coach provides a safe & luxurious ride at a very affordable price.

Popular Cities Covered by First Coach Malaysia
Malaysia is a beautiful country with a lot of tourist attractions. Let us have a look at the popular cities that are covered by the First Coach buses and major attractions in those cities.

Bangsar which is located on the outskirts of Kuala Lumpur, is famous for its attractions like Little India, Buddhist Maha Vihara, Sri Kandaswamy Kovil Hindu Temple, Scrappingville Studio, etc. It is a diverse city with many religions and cultures. It is also famous for sports and recreation activities.

Novena city, which is situated in Singapore is also a major place to visit. It has many places to visit like Springleaf Nature Park, Saint Adolphus Church, Sun Yat-Sen Nanyang Memorial Hall, MacRitchie Reservoir Park, Sasanaramsi Buddhist Temple, Police Heritage Centre, etc. There are also a lot of botanical gardens in the Novena. A visit to Novena will make your Singapore tour more fun.

Bandar Utama is also a major residential township in Malaysia. People who visit Petaling Jaya do come to Bandar Utama also for recreational activities and accommodation.

How to Book a First Coach Bus on redBus?

redBus is the world's largest online bus booking platform. One can easily look for future availability of tickets/seats. It is very helpful in the case of tourists who are going to a new place and can assure their booking in advance to avoid any inconveniences. The procedure to book a First Coach online bus on redBus is as follows:

Open the redBus application on your smartphone or visit the redBus website. You can book tickets without even signing into redBus.




There would be 'FROM' and 'TO' buttons visible to you, enter your boarding point and dropping point in them and then enter your 'Date of Journey' and click on the 'Search' button.




A complete drop-down list will be shown to you of all the available buses on your selected date. Select the bus from First Coach operator, which suits your demand.




After selecting the bus, you will be shown the seat layout. You will be informed via the interface which seats are occupied and which seats are available for booking. Select your desired seat from the available seats and move to the payment section.




You can make online payment which is highly secured. Apply coupon code if any, and confirm your booking.




You will receive an e-ticket via mail, and your booking will be confirmed.




redBus Safety+
Safety+ is a feature by redBus that reinforces our attempt to ensure safer bus travel. It allows bus operators to showcase their compliance with Covid-19 measures across their staff and vehicles. While booking, users can use the Safety+ mark to identify buses that follow these measures outlined by the government of Malaysia.
Buses tagged with the Safety+ sign are disinfected regularly, are operated by staff members that wear face masks and gloves, and are installed with hand sanitizers.
As part of this move against the coronavirus, redBus requests all its users to maintain social distancing and observe personal hygiene. If you are travelling, make sure you are wearing a face mask at all times, washing your hands regularly, and not touching your face. In case you are unwell, please postpone your travel plans.

Disclaimer: Bus timings, routes, and fares are subject to change. Please check locally for any last-minute changes.