Kesatuan Express Bus Ticket Booking
About Kesatuan Express
The headquarters of Kesatuan Express is situated in Ipoh, Malaysia. They provide bus services to many cities in Malaysia, like Kuala Perlis, Kampar, Kuantan, etc. They are known to be punctual and provide a safe and comfortable journey to their passengers. They provide buses to many routes and have a large fleet of buses. They also replace their old buses with new buses from time to time.
Kesatuan Express is one of the prominent bus service providers in Malaysia, especially in the peninsular Malaysia region. Due to the large fleet of buses, they provide frequent bus services throughout the day in many different cities. They have well trained and professional staff members who ensure sound travel. They offer only one type of bus but cover a lot of routes every day. One can also see the schedule and timings of Kesatuan Express buses via redBus, which is a trusted online bus booking platform.
How to Book a Kesatuan Express Bus on redBus?
redBus is the largest online bus booking platform. It provides passengers with the option to compare all the buses on their desired route and choose the preferred one. redBus also provides a smart bus tracking system through their mobile application. Let us see the steps to book an online ticket via redBus:
• Open the redBus mobile application or visit the official website redBus.my.
• You will 'From' and 'To' sections on the interface. Enter your boarding city and destination city in those sections and then enter your 'Date of Journey.'
• After entering the aforementioned details, click on 'Search Buses.' You will find a complete list of available buses on the desired route and day. Select any bus form the Kesatuan Express operator according to your preference.
• Once you have selected the bus, you will see the seat layout of that particular bus. You will be notified about the occupied/booked seats via the interface. Select the seat according to your preference and move to the next page.
• Enter your Name, Mobile Number, etc. on the next page and move to the payment section.
• The payment process of redBus supports debit cards, credit cards, e-wallets, etc. The payment process is fully secured and trusted. You can also apply coupon codes (if any) to avail discounts on your total ticket price.
• After completing the payment process, your booking will be confirmed, and you will receive an M-ticket via SMS on your provided mobile number. You will also receive an E-ticket via mail.


History of Kesatuan Express
Kesatuan Express is one of Malaysia's prominent operators, especially in the northern & eastern part of peninsular Malaysia. They were formerly known as New Hoover Express. Currently, they are operating from offices in Pudu (Kuala Lumpur) & Ipoh. Their buses fall under the SVIP category and have 30 seats each. They have been in the conveyance sector for a long time now and are the first choice of many tourists/foreigners. They also have a large fleet of buses providing frequent bus services to different places in Malaysia. They also provide e-ticketing services to passengers.
Some of the prominent places where Kesatuan Express provides bus services are Kuala Perlis, Ipoh, Machang, Kampar, Kangar, Kuala Terengganu, Danok, Kuala Lumpur, Kemaman, Kerteh, etc. They also provide bus services from Hatyai (Thailand) to Ipoh & Kuala Lumpur. Their spacious buses with ample legroom & recline able seats will make your journey comfortable. You will also get a luggage storage facility on Kesatuan Express buses. They have well trained & experienced staff members who take care of passengers during their journey.
Kesatuan Express maintain their buses at proper intervals & replace the old buses with new ones. They provide bus services from 8 different pick-up points in Malaysia. Their buses are equipped with all the basic amenities like air-conditioners, charging points, etc. The majority of their buses are single deck buses with neat interiors.

Contact No.
+6016-5217774

Amenities Offered by Kesatuan Express Buses

Kesatuan provides all the basic and necessary amenities to its passengers. Kesatuan Express believes in customer safety and satisfaction. All the buses of Kesatuan Express are fully air-conditioned and have spacious seats with ample legroom. All the amenities offered by Kesatuan buses are as follows:
• Recliner Seats
• Extra Space for luggage storage
• Air-conditioners
• Reading lights
• Water Bottle
• Charging Point
Popular Routes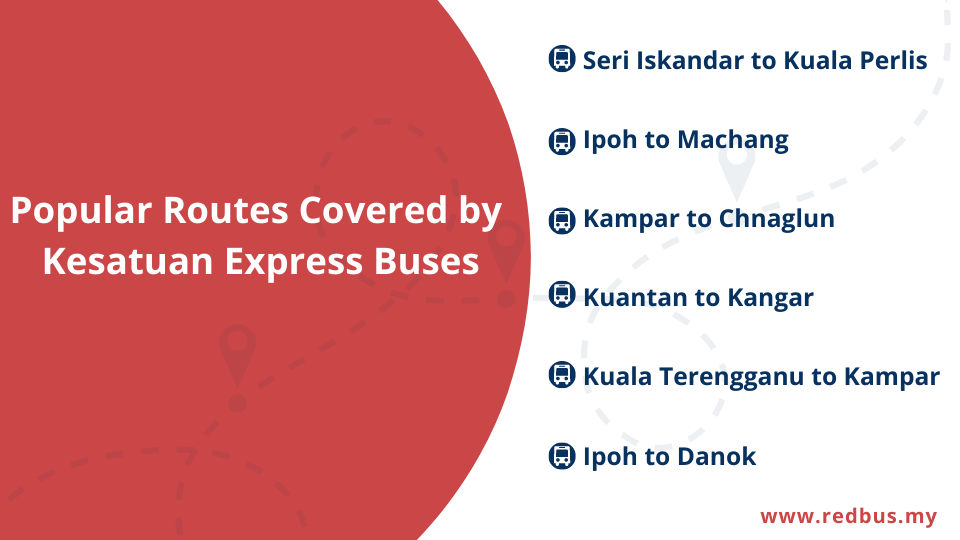 Kesatuan Express buses cover a lot of routes every day, especially in the peninsular Malaysia region. They are preferred by foreigners/pilgrimage seekers and daily commuters due to their good reviews and frequent bus services. Some popular routes covered by Kesatuan Express buses are:
• Seri Iskandar to Kuala Perlis
• Ipoh to Machang
• Kampar to Chnaglun
• Kuantan to Kangar
• Kuala Terengganu to Kampar
• Ipoh to Danok
Types of Buses Offered by Kesatuan Express
All the buses of Kesatuan Express fall under the SVIP category. The buses are cleaned/sanitized and are spacious. All the buses of Kesatuan Express are air-conditioned. There are recline able seats and extra space provided to the passengers for storing their luggage. Kesatuan Express provides luxurious bus service at a nominal price. They have been in the transport sector for a long time and are preferred by many people around the globe. They also have well trained and professional staff personals.
Popular Cities
Malaysia is a beautiful country which has a lot of historical monuments and tourist attractions. A lot of people come every year from around the globe to visit this beautiful country. Some of the popular cities covered by Kesatuan Express buses and their major tourist attractions are as follows:
• Ipoh is the capital city of Perak, Malaysia, and is a tourist hub. It has places that showcase the tradition of Malaysia. The top tourist attractions of Ipoh are Ipoh State Mosque, Birch Memorial Clock Tower, Mural Art's Lane, Perak Cave Temple, Sam Poh Tong Temple, Gua Tambun Cave Paintings, DR Seenivasagam Recreational Park, etc.
• Kuala Lumpur is the capital city of Malaysia and is visited by many pilgrimage seekers and tourists. Local people from different cities of Malaysia also come to Kuala Lumpur for shopping. The major tourist attractions of Kuala Lumpur are MinNature Malaysia, Petronas Twin Towers, Aquaria, KLCC Park, Kuala Lumpur Bird Park, Batu Caves, Islamic Arts Museum, etc.
• Kuala Perlis is another beautiful city covered by Kesatuan Express buses. It is famous for its tourist attractions like Floating Mosque, Kota Kayang Museum, Kuala Perlis Fishing Port, Perlis State Park, etc.
Visit redBus.my to know more about how to have a hassle-free and comfortable journey by booking a bus ticket online in Malaysia.
Disclaimer: Bus timings, routes, and fares are subject to change. Please check locally for any last-minute changes.