Kapit Bus Express Bus Ticket Booking
Kapit
Kapit Bus Express is a new bus company operating on the Kapit routes to Sibu and Song. The company is registered as Kapit Bus Express Sdn. Bhd. is one of the only two bus companies that operate on the newly constructed road from Sibu to Kapit. This 100 km stretch now has six daily buses from morning to evening. Buses are now the best way of travelling on this route. Kapit bus Express also serves on the Sibu to Song route and from Song to Kapit for a complete round trip. These shuttle services are all on executive buses with luxurious and convenient amenities.
The buses are comfortable enough for the long ride of 2-3 hours, with ample space for luggage storage. The buses have 23 to 31 seats for a more convenient journey. The Kapit Bus Express ticket costs anywhere between MYR 12 to MYR 22, depending on the route. The buses are available from 6.30 am to 4 pm on the Kapit to Sibu route. The other routes will have their first buses starting at 6 am or 8 am and the last bus will be at 3 pm or 5 pm.



Kapit Express Bus Services
Kapit Bus Express bus services are available on semi-luxurious buses. They are punctual and offer good customer service. The pickup points will be in the town of Kapit and Song while in Sibu, there is a designated bus terminal. You can book the Kapit Express ticket online and choose your desired seat as well. The buses have a direct route from one town to the other without any stops in between. The bus services will have a travel duration of 1 hr, 2 hr, and 3 hr 30 min on its routes. They operate 6 buses on each of its routes.
Their services are in demand as not many companies operate on their respective routes. On some routes, Kapit Bus Express is the only company operating. The online ticket availability should be appropriately used to get seats on these buses as it can be crowded on the weekends and holidays.
Amenities
Kapit Bus Express offers various amenities which are more or less the same on all their buses operating on different routes. The executive buses of Kapit Bus Express have a seating arrangement of 2+2 on most of its buses. Some buses are spacious with a 2+1 seating arrangement.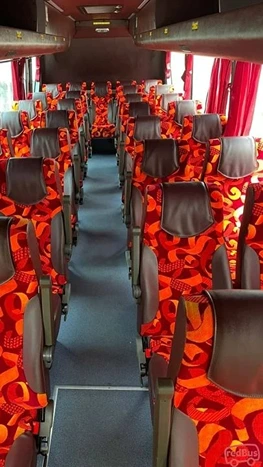 The buses have several amenities including - 
CCTV
Central TV
Charging Point
GPS tracking system
Reading Light
Reclining seat
USB port for charging
When booking bus ticket online, check the amenities available onboard.  
Popular routes
Currently, Kapit Bus Express is operational only on local routes. 
Kapit to Sibu
Sibu to Song
Song to Kapit
This bus operator in Sarawak does not have any cross-border routes.
Popular Bus terminals
Kapit Bus Express operates from the town centres in Kapit and Song as there are no designated bus terminals. Requests have been placed to build one and the process is currently underway. The only bus terminal this bus company operates to and from is Sibu.
Popular Cities
Kapit Bus Express concentrates on its operations in just three cities/towns. Their shuttle services are between the cities such as,
Office Address
Sibu Office
Kapit Bus Express 
Booth 6B,
Lorong Pahlawan 7, 
Pekan Sibu, 96000 Sibu,
Sarawak, Malaysia

Kapit Office
Pokiong Pharmacy, No 32, 
Jalan Kapitan Chua Leong Kee, 
96800 Kapit, Sarawak
Email ID - kapitbusexpress@yahoo.com