Ferry from Batam Center to Harbourfront

The Harbourfront, located along the southern coast of Singapore, is a bustling waterfront district that both the shopaholics and the beach fanatics love. While there are many ways to travel from Batam Center to Harbourfront, the easiest option is to take a ferry.

Batam Centre to Harbourfront is the most popular and sought-after ferry route by tourists and locals. Taking a ferry is the cheapest option to travel along this route. It is one of the reasons why there are many direct ferry options between these two popular destinations.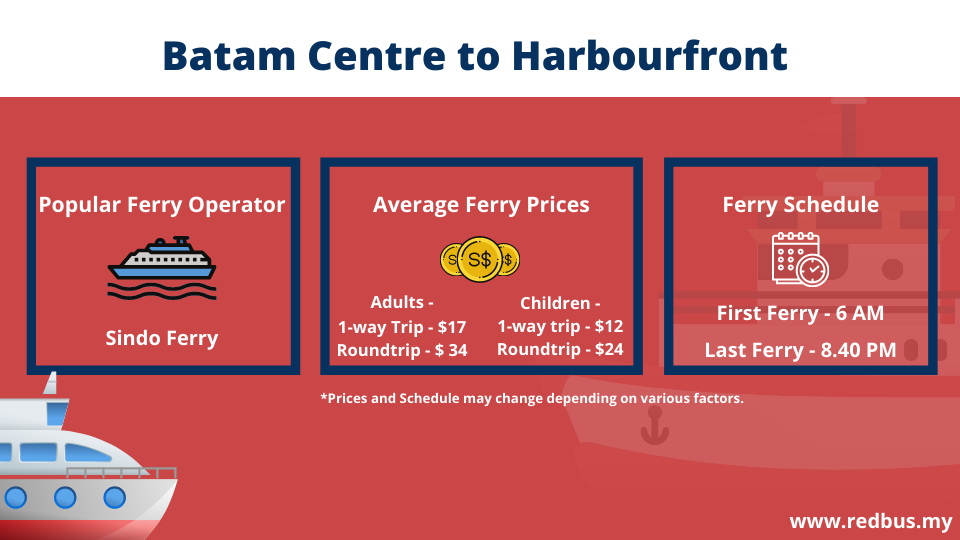 How to book a ferry on redBus from Batam Center to Harbourfront?

Many people travel via a ferry from Batam Center to Harbourfront. It is advisable to book ferry tickets online to avoid any last-minute issues. redBus is one of the most reliable websites for booking ferry tickets. It's user-friendly interface makes it easy for users to navigate through the site.

On redBus, it will take you only a few minutes to book your ferry tickets from Batam Center to Harbourfront. To book ferry tickets online, please follow the steps below -

First, download the redBus mobile application or visit the redBus website. You don't necessarily need to sign in to book your tickets on redBus.
Enter Batam Center and Harbourfront as your source and destination. Next, mention the number of passengers and choose the date of travel. Check for ferry availability by clicking on 'Search'.
You will get a list of ferries available for your desired route and date. You can filter ferries from the options based on various factors such as operators, amenities offered, timings, etc.
Choose your seats, provide passenger details and make the payment online to confirm the booking. You can choose to apply a coupon code (if available) in this section. redBus has multiple online payment options, such as debit/credit cards, net banking, mobile wallets, etc. You can choose your preferred mode of payment to confirm your Batam Center to Harbourfront ferry seat.


Once the booking is confirmed, you will receive an e-ticket and m-ticket on your email ID and mobile phone.

Batam Centre to Harbourfront Ferry Operator

When you are booking your Batam Centre to Harbourfront Ferry tickets, it is important to look for an operator that provides tickets at economical rates while being the best in the field. Sindo Ferry is one of the best operators in Singapore and Batam that offers not only affordable tickets but also provides world-class services to all their passengers. With some of the best fleets in the industry, they provide the most comfortable services and have become the favourite among tourists and locals. Sindo Ferry has over 20 years of experience in the field and is known for being a reliable and trustworthy operator. It is very easy to book a seat on Sindo Ferry online on the redBus mobile application or website.

Batam Center to Harbourfront Average Ferry Prices

Since there is not much distance between Batam Center and Harbourfront, the ferry prices are less. A 1-way ticket to Harbourfront from Batam Centre costs $17 approximately for adults. For children below the age of 12, the ticket price is only around $12. If you are booking a return ticket as well, then the 2-way ticket would cost approximately $34 for adults and $24 for children. All ticket fares mentioned above are in Singapore Dollars. You can check and compare ferry ticket prices online on the redBus platform.

Batam Center to Harbourfront Ferry Schedule

The Batam to Harbourfront ferry route is one of the busiest in the area, which is why there are many ferries between these two cities at various intervals. The first ferry starts from Batam Center at around 6:00 am, and ferries from here depart almost every hour. The last ferry to Harbourfront leaves Batam Center at around 8:40 pm. Timings may change so when you are planning to travel to Harbourfront from Batam Center, check the Batam Centre to Harbourfront schedule at least a day before and book your tickets accordingly. You can quickly check the schedule online on the redBus mobile application.

Things to do in Harbourfront

Harbourfront, with its combination of different world cultures, is a place tourists must visit during their time in Singapore. When you have reached the Harbourfront Ferry Terminal, be sure to check out these places and activities:

Sentosa has a list of beaches that are among some of the popular tourist attractions. The most famous one, Palawan Beach, is only around 130 minutes away from the Harbourfront Centre Ferry Terminal. These beaches are known for sea sports and various other activities that will help you experience the best of Singapore.

While you are at the Harbourfront Centre, be sure to take a walk by the Sentosa Boardwalk. It is the best place to soak in the beautiful views of the sea. During the weekends, you will be able to find flea markets where you can get many souvenirs at affordable rates. There are also many restaurants and shops in this area.

Vivo City is one of the most popular and largest malls in Singapore, and it acts as a connection between the Harbourfront MRT and the Skytrain to Sentosa. Vivo City has several shops, restaurants, and a playground where people can relax and have fun. Therefore, while you are at the Harbourfront Centre, be sure to visit this attraction. Moreover, Vivo City also hosts various exhibitions during the different seasons, so do not miss out on it.

If you are looking to experience the best activities in Singapore, then head to the SkyPark. Here, you will be able to find some of the best adventure activities in the city. From mini bowling, bumper-car rides to thrilling carnival games, there are many entertainment options.