Batam Fast Ferry Booking
The Batam Fast ferry started back in 1985 with just two passenger ferries. These ferries operated between Pulau Batam and Singapore and can accommodate around 60 to 70 passengers in a single ride. Today, Batam Fast is a well-known transport option for many. The operator now has 26 ferries that operate on multiple routes. The Singapore to Batam Ferry is still very popular, but you can also book ferries to Malaysia and on local routes around Indonesia. The ferry Batam Fast operates daily and is used by people traveling for work and by tourists who enjoy new experiences.

You can also choose the Batam Fast ferry for travel to nearby locations in Indonesia or Singapore. Batam to Tanah Merah ferry route is a widely searched one. Batam Centre ferry terminal also has routes that run throughout the year, except when it rains heavily in the monsoons.
Batam Fast Ferry Services
The ferry Batam Fast is known for its luxurious ferries on both local and cross-border routes. The passenger ferries from Batam Fast are high-speed and are available several times during the day. The ferry operator is also popular among locals and tourists for the seating capacities on each of the ferries. A Batam Fast ferry can carry between 140 to 338 passengers at once. The actual number depends on the ferry boat you book. If you look at the Batam Fast ferry schedule, you will find that ferries from Batam Centre are available in the morning. The first ferry leaves at 6:00 a.m. Batam Fast ferries from other terminals like Nongsapura and Tanah Merah leave later in the day. Ferries are available on various routes in Indonesia, Singapore and Malaysia throughout the day.
These are high-speed ferries to and from Tanah Merah, Harbour Bay, HarbourFront, Desaru and Nongsapura and take only about 40 to 50 minutes. On some routes, a Batam Fast ferry may take over an hour. The ticket price depends on the route, but Batam Fast ferry tickets are affordable.
Batam Fast Schedule

Batam Fast ferry timing varies for each ferry terminal. Check the Batam Fast schedule before ferry online booking .
There are 4 sailings from Tanah Merah to Batam Centre at 10:20, 12:30, 14:30, 16:20.
From Tanah Merah to Nongsapura, the Batam Fast ferry schedule shows sailings at 8:00, 12:00, 14:20.
From HarbourFront to Batam Centre, there is a Batam Fast ferry sailing almost every 1-2 hours. The first ferry operates at 7:40 am and the last ferry leaves the ferry terminal at 21:40.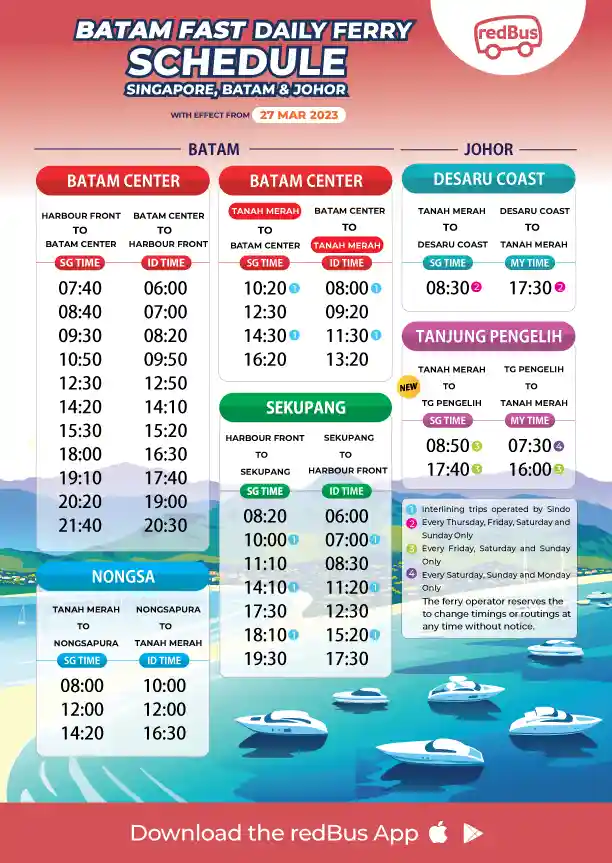 Ferry to Batam Check-in Time
To catch the ferry as per this schedule, you must reach the ferry terminal 1 hour prior to check-in.
Amenities Onboard Batam Fast Ferry
The Batam Fast ferry has many amenities to make the ride convenient for all passengers. These amenities are included in your Batam Fast ferry booking. You can travel comfortably from one location to another on this ferry.
If you're looking for a luxurious ferry ride, Batam Fast will offer air-conditioned interiors for a pleasant trip. There are also plush seats available for every passenger. You can opt for economy class seats or more comfortable seats for your journey. While traveling, you will not feel bored for even a moment as Batam Fast offers an in-house video to keep you entertained!
The Batam Fast ferries are equipped with modern facilities that allow them to move smoothly on water and ensure a relaxing trip. There is a central navigation control in each ferry boat. If you want to enjoy a luxurious and private trip, you can opt for the VIP room on the ferry. The Batam Fast ferry will also have a well-stocked bar counter. If you have any queries about the amenities or want to get some special assistance, you can use the Batam Fast ferry contact to talk to the support staff.

Popular Routes Served by Batam Fast
The Batam Fast ferry is available on various routes. It is a popular choice of transport between Indonesia, Singapore, and Malaysia. You can book Singapore to Batam ferry if you want to travel to Indonesia. The ferry is available on cross-border routes almost every day.
Take a look at the following list to find the best routes to book a ferry ticket online for:
Sekupang to Tanah Merah
Sekupang to HarbourFront
Harbour Bay to Tanah Merah
Harbour Bay to HarbourFront
Nongsapura to Tanah Merah
Batam Centre to Harbour Bay
Nongsapura to Batam Centre
Popular Ferry Terminals
There are several ferry terminals where the Batam Fast ferry stops. These include:
Nongsapura Ferry Terminal
Tanah Merah Ferry Terminal
Sekupang Ferry Terminal
Harbour Bay Ferry Terminal
HarbourFront Ferry Terminal
The ferry to each of these terminals carries locals and tourists who wish to visit the area and explore the surroundings.
The Batam Centre Ferry Terminal is a busy port that serves as a gateway to Malaysia and Singapore. When you get down here, you can visit the Barelang Bridge, Pantai Nongsa or the Nongsa Beach, Pantai Viovio or the Viovio Beach, which is mainly known for its water sports facilities, and the Ocarina Park. The Batam Botanical Gardens and the Bale-Bale beach will be close to the Nongsapura Ferry Terminal.
If you are taking the Batam Fast ferry tickets to Tanah Merah Ferry Terminal, you can visit Changi Beach Park or explore the Katong Antique House. To explore major tourist destinations in Singapore, the HarbourFront Ferry Terminal is also a good place to get down at.
The ferry terminals that the Batam Fast ferry serves are hubs for tourism and attract people from various locations. You can check the Batam Fast schedule for Batam to Tanah Merah ferry and book a ticket at your convenience from either the terminal or opt for online ferry ticket booking platforms.
Batam Travel Requirements

Basic Requirements to enter Batam islands include -
A valid passport (with at least 6 months of validity)
Individuals must be fully vaccinated as per government guidelines. For more information, check Indonesia COVID19 Vaccination Guidelines
Register on the PeduliLindungi app and complete the Traveler Health Quarantine Application Form before your arrival at the Batam ferry terminal
One-Way or return ticket for onward journey to any other country
Travel insurance with a minimum of S$30K COVID-19 coverage
Check-in baggage of up to 20kg each is allowed. Enquire at counter for more information about baggage drop
Travellers must carry a valid ferry ticket for travel including infants
Batam Travel Visa Requirements

Visa Free Travel is allowed for
Travellers from Brunei Darussalam, Cambodia, Laos, Malaysia, Myanmar, Philippines, Singapore, Thailand, and Vietnam are not required to apply for a Visa to enter Batam Islands
It is applicable for a maximum of 30 days and is non-extendable
VISA On Arrival (VOA) Travel
VISA on Arrival is available at the Batam ferry terminal for travellers from about 86 countries. To know more, you can check Indonesia VISA Information Portal
Travellers can avail Visa On Arrival at at cost of IDR 500.000/person for maximum 30 days stay
Beyond 30 days, IDR 500.000/person is required for visa extension. Check more on the above site.