Sindo Ferry Online Ticket Booking
Sindo Ferry, one of South-East Asia's best ferry operators, started its operations in 2011. Since then, it has been making constant efforts towards providing comfortable, fuel-efficient, and faster ferry services to travelers in the region. You get the option to choose from 16 well-maintained ferries when you book Sindo ferry ticket online.


You can buy Sindo ferry tickets online on the redBus mobile application. redBus will provide you with detailed information on the ferry schedule and allow you to book ferry tickets to Batam Centre, Sekupang Ferry Terminal, Waterfront City, Tanjung Balai (Karimun) and Tanjung Pinang (Bintan Island). You can also check out popular ferry routes on which this ferry operator operates and the respective ferry prices so that you never run out of choice while choosing a perfect ferry ride.


Sindo Ferry Services


Most of the fleet offered by Sindo Ferry operates between Singapore and Indonesia on an everyday basis. However, you may also find ferries that operate only on weekdays while a few operate only on weekends and public holidays. redBus makes it easy for the travelers to choose the right ferry ride by displaying the list of ferries that are available only on their selected date of journey.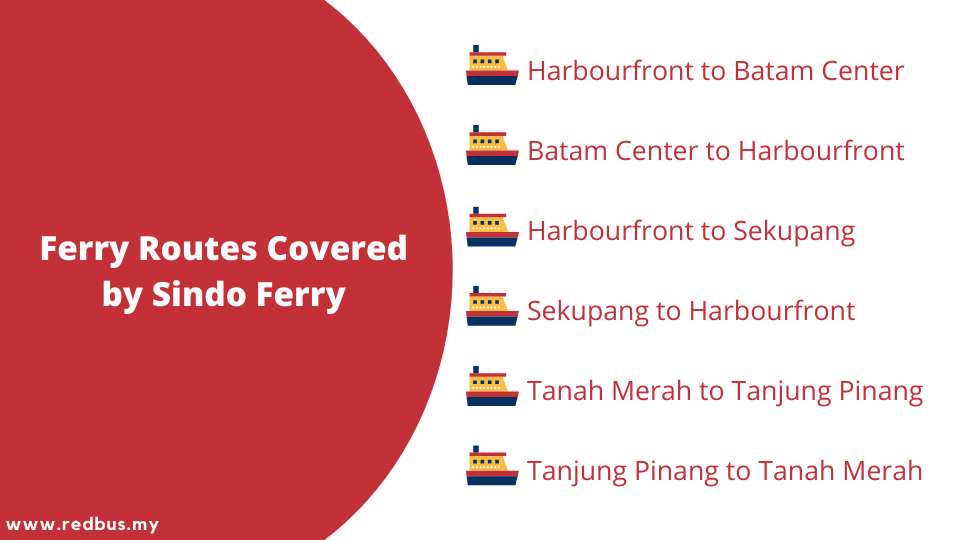 Sindo Ferry Ticket Prices

One way ticket prices for Singapore to Batam - SGD 28 for an Adult
One way ticket prices for Singapore to Bintan - SGD 43 for an Adult

Terminal Fee
Travellers must pay a nominal terminal fee over and above the ferry ticket prices to the ferry terminals in Indonesia and Singapore. The terminal fee varies by country and must be paid to the terminal operator at the ferry terminal.
While there are also surcharges and peak prices, the terminal fee has to be paid at the terminal unless stated otherwise, as included in the ferry tickets. It is advised that you check the ticket inclusions when making the ferry ticket booking online.

Singapore Passenger Departure Fee (SPDF)
For all ferry trips departing from Harbourfront Centre or Tanah Merah Ferry Terminal in Singapore as the source, a Singapore Passenger Departure Fee of SGD10 per person is applicable.

Terminal Fee For Ferry Trips From Batam
For ferry trips departing from Batam Centre, Sekupang and Waterfront - Batam Terminal Fee of Rp65,000 or SGD7 is levied per person.

Terminal Fee For Return Ferry Trips from Tanjung Pinang* and Tanjung Balai*
Before departure, you must pay in cash in Indonesian Rupiah at Tanjung Pinang Ferry Terminal. (Applicable to passengers departing from Tanjung Pinang and Tanjung Balai ONLY)
Tanjung Balai Terminal Fee -
Indonesian citizens have to pay Rp50,000 per person
Foreign passengers have to pay Rp75,000 per person
Tanjung Pinang Terminal Fee -
Indonesian citizens have to pay Rp40,000 per person
Foreign passengers have to pay Rp60,000 per person

*Terminal fee is subject to change

Sindo Ferry Travel Time
Sindo Ferry operates on different routes and the travel time varies as per the weather conditions. The standard travel time on different routes is as follows -
Singapore to/from Batam Centre : 55-65 minutes
Singapore to Sekupang : 40-50 minutes
Singapore to/from Tanjung Pinang : 1hr 45 minutes
Singapore to/from Tanjung Balai : 1hr 30 minutes
Sindo Ferry Check In Time
The Sindo Ferry check-in counter closes 20 minutes before departure time. The departure gates close 15 minutes before departure. It is best to reach the ferry terminal 1 hour prior to departure to save the hassle.


Sindo Ferry Amenities


Sindo Ferry is known for its state-of-the-art facilities and efforts to improve passenger comfort. No matter which route you choose between Singapore and Indonesia, you're sure to enjoy sailing by their ferries. Around 150 to 300 passengers can travel on this ferry at a time. Comfortable seating, modern ferry technology, and prompt service are some of the highlights of this operator. You will also find its skillful staff always ready to help the passengers.

Sindo Ferry Schedule
Sindo Ferry services are available on most routes throughout the week. For example, if you are traveling to and from Batam Centre, the first ferry will depart from HarbourFront Ferry Terminal at 8:00 a.m. The ferry on the return route is available even earlier, at 6:00 a.m. Sindo ferries on this route are available throughout the day. The Sindo Ferry to and from Tanah Merah Ferry Terminal is available during the day, while ferries operating between Harbour Front Centre Ferry Terminal are available only on weekends.
The Sindo Ferry schedule is updated constantly. The service is prompt and there are usually no delays.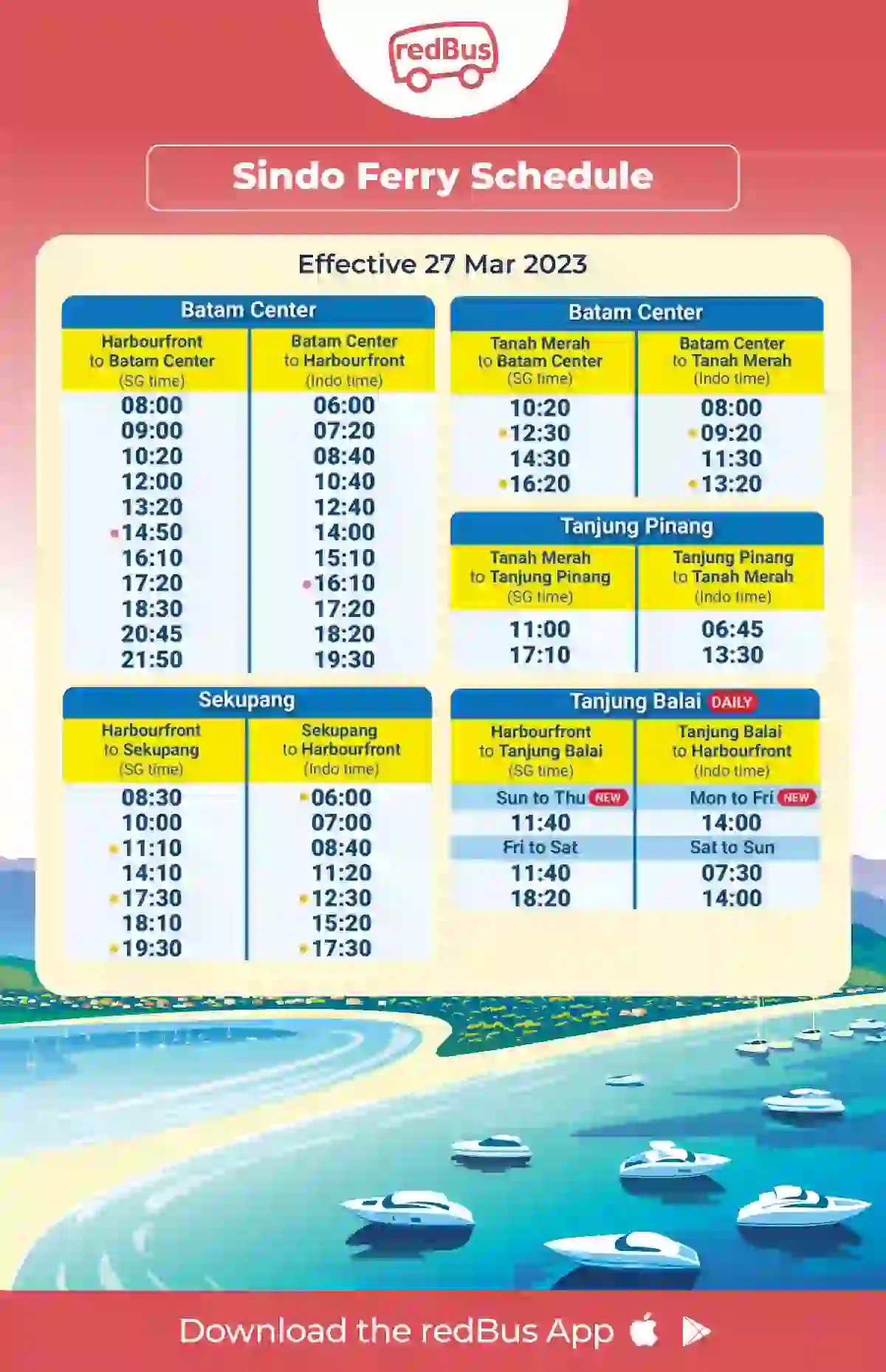 Sindo Ferry Online Booking on redBus


You can use the redBus Malaysia website/app to buy Sindo Ferry ferry online ticket booking from Singapore to Indonesia and vice-versa. All you need to do is to follow these steps:

Open redBus Ferry on your mobile or check ferries on redBus mobile app.

Type your source and destination and click 'search' to find the ferries on this route.

You will see a list of available ferries with their schedule, ferry price, and boarding details.

Use the filter option to see all available ferries.

Choose the most suitable ferry based on your preference and head to the payment gateway.




After this, one will require to pay the ferry ticket price via debit card, credit card, or net banking methods. With redBus, one can also avail wonderful offers and grab the deals on various occasions while booking Sindo ferry tickets online.