Online Bus Booking
redBus is the world's best and one of the largest platforms for online bus ticketing as it offers an easy-to-follow online bus booking process and opens a wide variety of buses to choose from. On this platform, bus tickets can be obtained by simply visiting the website or downloading the app, entering source and destination information, and selecting the most suitable bus available out of an extensive list. Passengers can also filter the buses based on their amenities, bus type, and bus company. Buses in Malaysia and Singapore have great passenger capacity and are relatively safer modes of transportation. With a large number of bus operators associated with redBus, booking a bus online ticket is never a tough task for travelers in Southeast Asia.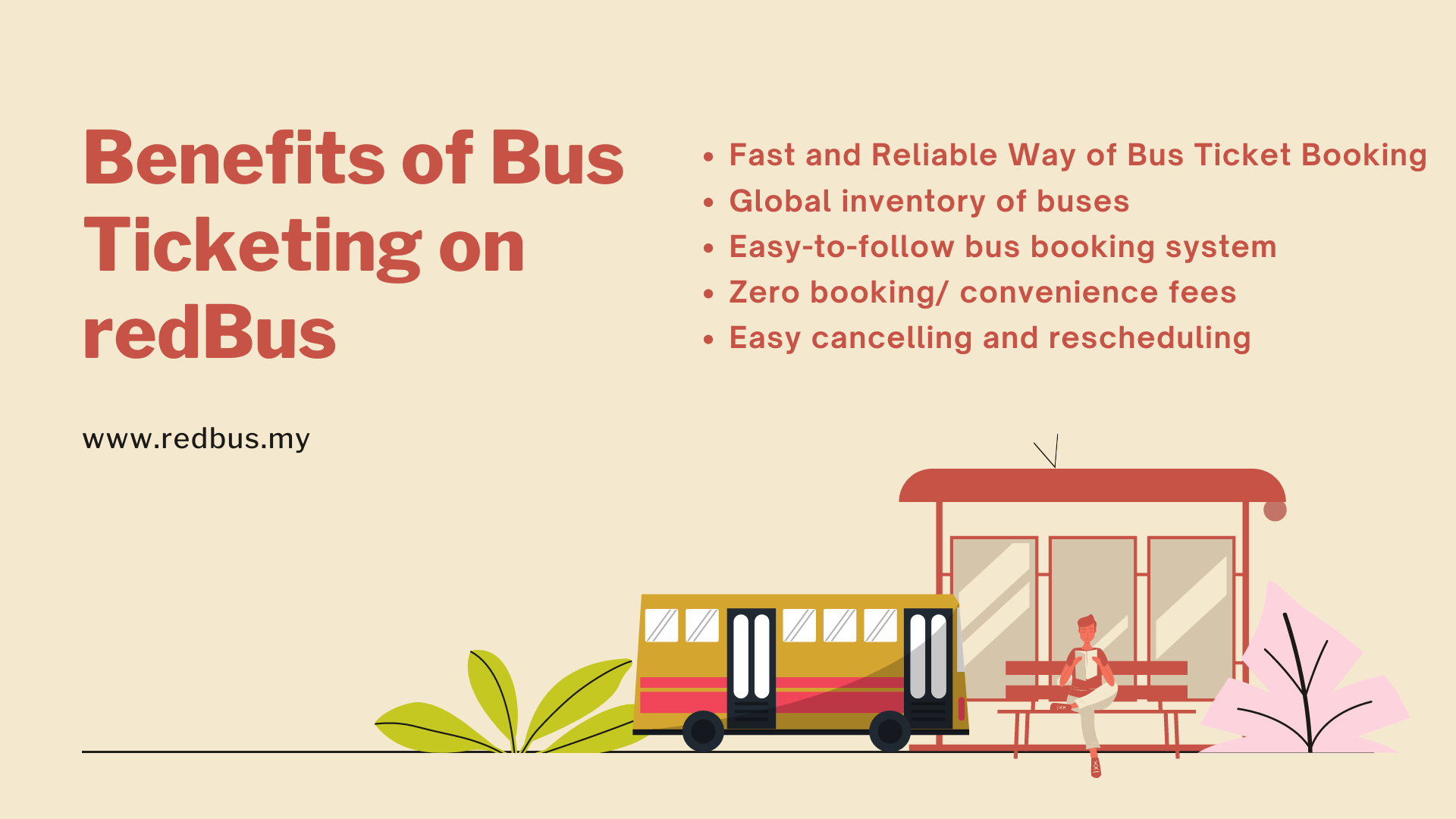 Top Bus Tickets from Malaysia
While one can find almost all the routes where buses operate in Malaysia, some of the bus routes are more popular than others. Most of the Malaysia buses depart from its capital city Kuala Lumpur and connect it with places like Malacca, Penang, Singapore, Cameron Highlands, etc. KL to Singapore is the most popular route for bus ticketing in Malaysia, which can be covered within just 3 to 4 hours, depending on the bus operator. Given below is the list of popular routes from Malaysia that are booked on redBus:
Top Bus Tickets from Singapore
redBus also offers a large selection of buses operating from Singapore to Malaysia. Thousands of people travel between Singapore and Kuala Lumpur on an everyday basis, making it one of the busiest routes in Southeast Asia. The Johor-Singapore Causeway is also often busy with passengers. From business class coaches to super-affordable economy class, all are available from Singapore for people looking for online bus ticket booking on redBus. Here is a list of some of the popular bus tickets that are booked from Singapore:
Booking Express Bus Online Tickets in Malaysia and Singapore

There are over 100 bus providers in Malaysia and Singapore that provide express services. Being the capital of Malaysia, Kuala Lumpur is the hub and most popular starting point for these express buses. While earlier Pudu Sentral used to be the major terminal for express buses in Malaysia, TBS Bus Terminal has taken over it, and passengers looking for express bus service from Malaysia to Singapore can easily buy bus tickets online. Transnasional is one of the most popular bus services serving major bus routes between Singapore and Malaysia. Bus companies like KKKL Express, Konsortium, Causeway Link, Sri Maju, Grassland, and Golden Coach also provide good coverage for express bus tickets across the two countries.

Booking Malaysia and Singapore Bus Tickets Online Quickly
redBus has made the process of bus online ticket booking from Malaysia or Singapore extremely convenient. Both countries have huge bus terminals, and a large number of bus companies serve these. It can be confusing for passengers to choose a suitable bus ticket that can perfectly match their schedule, requirement, and budget. With the redBus online booking system, bus ticketing can be done within a few minutes by following these simple steps:

Enter departure and arrival points under the 'From' and 'To' tabs, mention the date of their journey, and click the 'Search' button.
Next, a consolidated list of bus operators offering their bus services on the selected route would appear on the screen.
The users can see a 'filter' option to filter the buses based on their preferred choice of bus.
One can also filter the buses by clicking any of the tabs available next to the 'Sort By' option.
Once users select a suitable bus, they can head to the payment section and pay for their bus online ticket by using redBus' online payment system.
You can book bus tickets online for Chinese New Year 2023 celebrations with promo code ONGBUS and save more. New users can enjoy 28.88% instant discount up to RM6 & 28.88% cashback up to RM10 upon date of travel. Existing users can book bus tickets with promo code and enjoy 18.88% instant discount up to RM2 & 18.88% cashback up to RM10 upon date of travel.*
*terms and conditions apply