Billion Stars Express Bus Ticket Booking
Billion Star Express was known as Lion Stars in its Initial phase of functioning which later got changed to its current name. This bus company provides numerous routes covering the whole of Peninsular Malaysia. The company is known to have a wonderful staff that keeps all the Billion Star Express buses in running and orderly condition.

Tourists all across the world prefer Billion Star Express buses during their number of trips to Malaysia. It's A-One, and prompt services have won the hearts of many passengers all across the world. Billion Star Express aims to provide the worth for every penny spent on it by the passengers.

How to book a Billion Star Express bus on redBus?

Gone are the days of standing in long queues and wait for hours to buy a ticket. Nowadays, booking a ticket online has been made easy and possible for everyone through the redBus Application. redBus provides a user-friendly interface which can be used by anyone having even basic knowledge. The users are required to follow these simple steps while booking an online ticket with redBus app:

Open the redBus app or the website of redBus. Sign in to your redBus account.

Mention the locations in the space provided for 'FROM' and 'TO'.

Fill in the date of travel.

After running the search, you will find all the buses available for the route entered.

The search can be filtered by filling in the preferred 'type of bus'.

Users can also search for Billion Star Express buses specifically.

After going through all the buses, you can book a suitable Billion Star Express bus.

After making the booking, online payment has to be made using Debit and Credit Cards.




History of Billion Star Express
Billion Star Express is among the most reputed bus operators in Malaysia. It provides bus services in Malaysia & neighboring countries like Singapore & Thailand. Previously, Billion Star Express operated under the name Lion Stars. Billion Stars Express operates single deck & double deck buses with different seating capacities and amenities. Billion Star Express bus services have been customer-oriented, and it has satisfied many passengers over the years with its on-time & frequent bus services.
Billion Star Express operates buses with seating arrangements ranging from 24-seater to 45-seater. It boasts a multinational presence and serves many cities of Malaysia & neighboring countries. The popular cities where this popular operator provides bus services are Sungai Nibong, Ipoh, Kuala Lumpur, Selangor, Johor Bahru, Kuala Besut, Singapore, Hatyai (Thailand). Billion Star Express buses are equipped with many basic & luxurious amenities like CCTV, personal TV, WIFI, etc.
Billion Star Express is continuously trying to stretch its services beyond peninsular Malaysia. The drivers of Billion Star Express are well trained & the buses are in good condition. You will not be provided with any meals on Billion Star Express buses, so make sure you pack your food before boarding the bus. You will get a luggage storage facility in spacious buses of Billion Star Express.


Amenities on Billion Star Express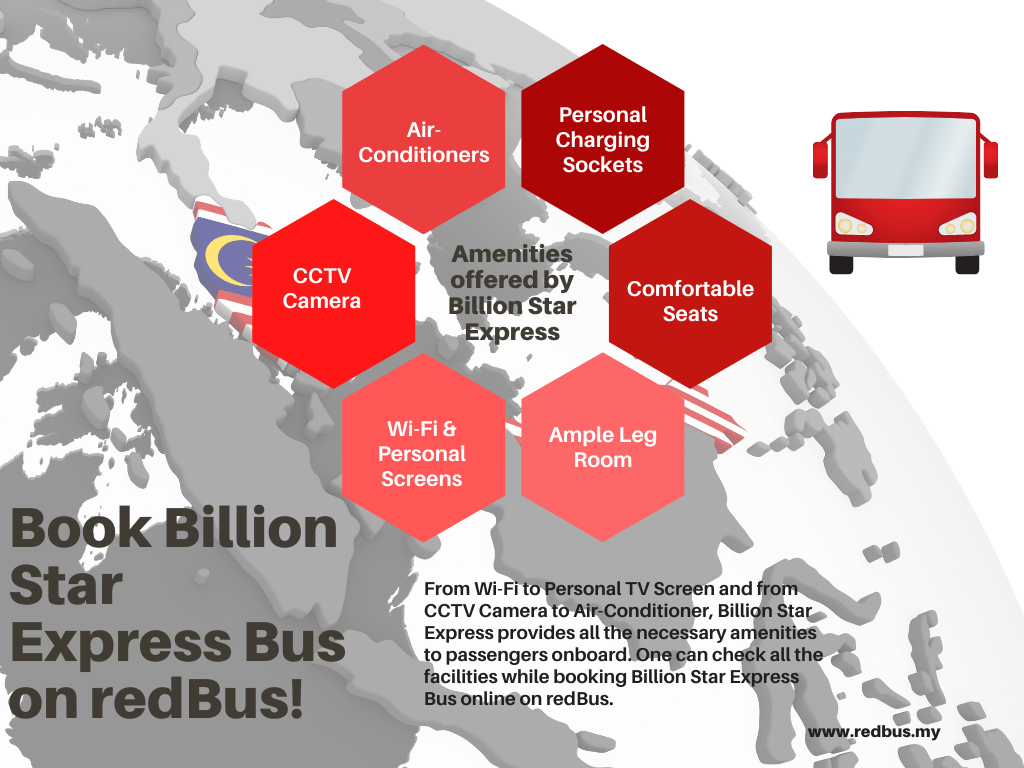 Billion Star Express gives a tough competition to all its competitors in the Travel Market by providing amazing amenities inside its buses. It aims to provide an unparalleled travel experience to its customers. Some of the most commonly found amenities in a Billion Star Express Bus are:

CCTV Camera

Air-Conditioners

Personal Charging Sockets

Comfortable Seats

Ample Leg Room

Wi-Fi

Personal Screens

First-Aid

GPS Tracking




All these amenities can be checked on the redBus application, and tickets can be booked accordingly for different types of Billion Star Express buses.


The safety of passengers is the main concern of Billion Star Express. All the precautionary measures have been taken by the bus company to keep the whole staff and the passengers safe from the Global Pandemic.



Popular Travel Routes


For sustainable growth, Billion Star Express has captured a huge market for its operations. Almost every small and big city or town are interconnected through the buses of Billion Star Express. Passengers prefer some specific routes more frequently as compared to other routes. Some of the most popular travel routes covered by a Billion Star Bus are listed below:

Singapore to Kuala Lumpur

Penang to Kuala Lumpur

Penang to Shah Alam

Penang to Seremban

Butterworth to Changloon




Passengers may find these routes on redBus application or website.


Types of Billion Star Express Buses


Billion Star Express service providers know that every passenger has different expectations from the travel. Based on this, Billion Star has different types in its fleet suiting different needs of the customers. The main 4 types are:

Single Deck 24- Seater

Single Deck 30- Seater

Single Deck 44- Seater

Double Deck 45- Seater




All these buses have almost the same amenities inside them. They vary based on the seating arrangement and the routes they follow. Details of all the above-mentioned types can be seen on the redBus application. All the buses of Billion Star Express are registered with redBus.


Popular Cities Covered

Billion Star Express with its amazing fleet has encapsulated almost all the cities of the country under its coverage. This has enabled numerous people to experience luxurious and comfortable journeys daily. There are some of the popular cities which are travelled by most of the passengers through the buses of Billion Star Express. Some of them are:
Apart from these cities, Billion Star Express has some routes to and from Singapore. This has made it easy for the people of Singapore and Malaysia to travel to various cities in both locations.


Popular Pilgrimage Destinations with Billion Star Express

Billion Star Express understands the importance of sentiments of the passengers travelling on its buses. Because of this, Billion Star Express has some special routes through some of the famous Pilgrimages in the country. Along with this, these routes are also designed for the Tourists visiting Malaysia for the first time. Following are some of the most visited Pilgrimages through the buses of Billion Star Express:
Buddhist Maha Vihara

Sri Mahamariamman Temple




Covid-19 Precautions To Take while Traveling by Billion Star Express
As a result of the COVID-19 virus, travelling has become a difficult process. There are a large number of guidelines put down by the Malaysian government to make travelling safer. There are also a large number of personal precautions that travellers can take to prevent the contraction of coronavirus. Some of these are -
Wearing a mask at all times, especially while using public transport, is among the mandatory precautions for travellers in Malaysia.
People must also adhere to the 1-metre social distancing guideline.
Billion Star Express passengers and travellers are advised to carry a sanitiser to sanitise their hands as often as possible.
Travellers are also advised not to touch their eyes, nose and mouth with their hands unless they are sanitised.
Billion Star bus tickets can be availed using online bus booking platforms like redBus. Booking bus tickets online will help you in avoiding the crowds at bus ticket counters.
Local Routes Served By Billion Star Express
Billion Star Express is among the topmost reputed bus operators in Malaysia. The operator is responsible for servicing a vast network of routes across Malaysia, making travel more efficient. Among the popular local routes serviced by Billion Star Express buses are:
Penang to Kuala Lumpur
Penang to Shah Alam
Penang to Seremban
Butterworth to Changlun
You can check the Billion Star Express review and feedback on the redBus website and mobile application. redBus provides customers with a plethora of bus booking options making bus ticket booking a hassle-free procedure.
Cross-border Routes Served By Billion Star Express
Billion Star Express covers routes outside of the Malaysian peninsula and provides its services within neighbouring countries like Singapore and Thailand. Among the top cross-border routes are:
Singapore to Kuala Lumpur
Disclaimer: Bus timings, routes, and fares are subject to change. Please check locally for any last-minute changes.