MCO Malaysia Guidelines
Earlier in 2020, the Government of Malaysia announced Movement Control Orders (MCO) in the light of Covid-19 outbreak across all states that started from 18th March 2020. The Movement Control Order (MCO) or Perintah Kawalan Pergerakan Malaysia (PKP) 2020, was effective until 31st December 2020, and the CMCO ended on 6th December.


The CMCO was lifted and was replaced by the recovery MCO across Malaysia on 10th June 2020, as per an announcement made by the prime minister. However, the CMCO was again implemented due to a drastic increase in COVID-19 cases.


As per the new update on 5 May 2021, six districts of Selangor, namely Petaling, Hulu Langat, Klang, Gombak, Sepang, and Kuala Langat, were placed under MCO until May 17, 2021. MCO was also in effect in Gali and Tras in Pahang and Kelantan until May 17, 2021.


The areas under Conditional Movement Control Order (CMCO) were Penang, Kuala Lumpur, Johor, Sabah, and Sarawak. Kuala Selangor, Hulu Selangor and Sabak Bernam in Selangor and Raub in Pahang also came under CMCO until May 17, 2021. Recovery Movement Control Order (RMCO) was implemented in Melaka, Negeri Sembilan, Kedah, Perak, Perlis, Terengganu, Putrajaya, Labuan and Pahang (except Gali, Tras, and Raub) until May 17, 2021.


On 10th May, 2021, the government announced a nationwide Movement Control Order or MCO 3.0, starting from 12 May, 2021 to 7 June, 2021. This was done due to a spike in the number of covid-19 cases in the country.

On 28 May 2021, due to a further increase in covid-19 cases, the Malaysian government announced a total lockdown in the country from 1 June to 14 June 2021.

On 30 May 2021, it was announced that 17 sectors would be allowed to operate during the lockdown period. Businesses can be open only from 8 am until 8 pm. An exception has been made for certain markets and petrol pumps.

Shopping malls and most of the factories will not operate. Supermarkets, petrol pumps, pharmacies, opticians, hardware stores, vehicle workshops, banking and financial services, food and beverage outlets (only delivery and takeaway), critical construction work, etc., will be allowed to operate. Hotels can be open, but only for quarantine purposes. Farming and fishing activities are permitted.

People can travel within a radius of up to 10 km from their homes. Until 8 pm, people can engage in individual exercises such as jogging. Only two people from one household can go to purchase essentials. Social gatherings and household visits are not allowed.

Fresh markets can run from 7 am to 12 pm, permanent farmers markets from 6 am to 4 pm, wholesale markets from 12 am to 6 am, and 11 am to 4 pm. Petrol stations can be open from 6 am to 8 pm (except ones allowed to run 24x7).

The sectors that are allowed to operate can only run with 60% of the total workforce.


Public Transport guidelines -

Public transport by land, air or sea is allowed to carry only the number of passengers mentioned in the guidelines issued by the Director General. Interstate and inter-district travel is not allowed during this period. All the existing travel permits will expire on 31 May, 2021.


Buses in Malaysia are following some special norms and guidelines under MCO rules to ensure passengers' safety while travelling locally. These are as follows: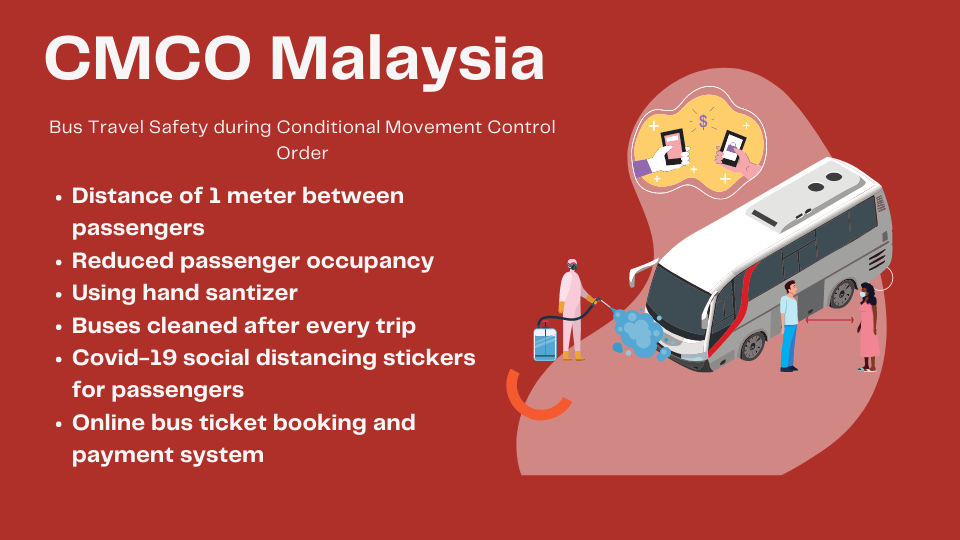 Social distancing is implemented in all bus transport, and individuals on the bus are required to maintain a distance of 1 meter.
During the CMCO, bus capacity will be reduced. The bus driver would manage the control of passenger volume.
All bus operators need to provide stickers for the purpose of social distancing.
If there are two or three seats in a row on the bus, then one seat has to be empty and marked with social distancing stickers.
In the standing room, social distancing stickers with a distance of 1 meter need to be pasted.
There would be the cleaning of buses and facilities after each trip and at the depot after operation hours.
All buses will be asked to provide hand sanitizer in the bus and passengers must use hand sanitizer every time they board and deboard the bus.


In addition to this, it is also mandatory for passengers to follow certain guidelines, such as:
All passengers are required to wear a face mask every time they travel by bus.
All passengers must comply with all instructions from the bus driver.
Passengers with Covid symptoms are not allowed to use bus service.
Using an online payment system for booking bus tickets online is encouraged.


redBus has also brought a list of Covid-19 helpline numbers for passengers in states across Malaysia. If someone is planning for inter district or local travel, they can call on the numbers provided below and confirm the status of CMCO.


For more information on Malaysia MCO , please refer to: