YOYO Express Bus Tickets Online
Yoyo Bus is one of the popular bus services in Malaysia. Owned and operated by A-Bus Express SDN. BHD, Yoyo buses have been running on the roads since 2004. Mr Kindy Huang Chien Chih opened the company 'Yoyo Worldwide Sdn. Bhd.', which is now known as A-Bus Express SDN. BHD. It was established in 2004, and after nearly 18 years, Yoyo Bus is preferred by both locals and tourists travelling across different cities. These buses are available to and from various locations in Malaysia, including important cities like Kuala Lumpur, Johor Bahru, Ipoh, and Yong Peng.
Yoyo Bus started with a small fleet, but today it has numerous buses on multiple routes. This is why you will find frequent buses on a popular local route in Malaysia. The Yoyo Bus fleet has executive buses with (2+1) seating. These buses are equipped with all modern facilities and ensure the utmost safety of all passengers. You can choose Yoyo bus online booking through redBus and find bus tickets at the best discounts.
Yoyo Bus is an Ipoh based Travel Company serving Malaysia and for over ten years now. It is one of Malaysia's most reliable bus operators, connecting multiple cities of Peninsular Malaysia and to the Kuala Lumpur International Airport to facilitate the passengers.The operator has bagged several awards and recognitions for its excellent bus services over the years. It got the Outstanding Business Award on the 6th of July, 2018. It also received an Outstanding Branding Award that signifies its popularity. Yoyo Express is also recognised for its environment-friendly steps while providing bus transportation services in the country.
With an experience of around 17 years, Yoyo buses have become an everyday partner of the Malaysian people. It provides nonstop bus departures to/from KLIA and helps many passengers to catch their flight on time. People in Malaysia prefer VIP 30-seater buses offered by this operator, built according to the latest safety standards. The VIP buses provide several amenities onboard to passengers like adjustable seats, charging sockets, GPS tracking, CCTV, and luggage compartment.
Yoyo Express Bus Services
Yoyo Bus is known for affordable and reliable bus services in Malaysia. You can take a look at the Yoyo bus timetable and find buses on various routes throughout the day. There are also several early morning and evening buses on popular routes. Yoyo Bus offers buses at affordable ticket prices, and are therefore ideal transport options for all travellers in Malaysia. These buses are also quite safe. You can use the Yoyo Bus contact number for any enquiries or emergencies. If you book through the redBus website or app, you can also rely on the redBus' customer service when travelling on a Yoyo bus.
Amenities
Before, Yoyo bus ticket online booking, you can check the amenities available on each bus. Every Yoyo bus has the best amenities which ensure a comfortable journey. Some of these include:
Wi-Fi
Air conditioning
Reclining seats
Luggage space
Charging ports
Reading lights
CCTV surveillance
Safety belt
First aid box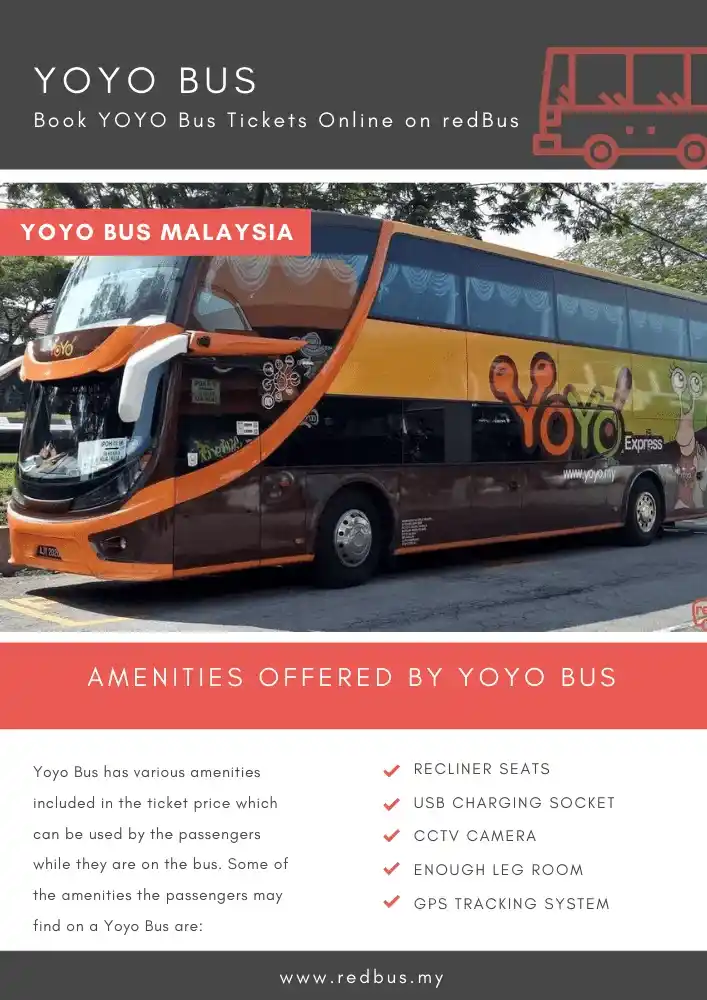 Apart from this, the operator has efficient and cordial staff members who maintain quality standards. The operator has taken various safety measures to prevent the spread of covid-19. Proper cleaning of the buses is done inside out after every trip. Passengers are required to wear masks while travelling, and seating is done accordingly so that a minimum distance is maintained between the people sitting in the shuttles.
Popular Routes Covered by Yoyo Bus
Connecting all the major cities of Malaysia and Singapore to Kuala Lumpur International Airport, Yoyo Express creates a network through its buses across the country. Passengers can check the details of all the routes covered by the operator on redBus. Some of the most popular routes served by the bus company are -
KLIA 1 to JB Larkin Bus Terminal
Johor Bahru to KLIA
Yong peng to KLIA
Popular Bus Terminals
Larkin Sentral
Terminal Amanjaya
Popular Cities Covered
Yoyo Express buses travel on the same routes throughout the day covering different cities of Malaysia. Some of the major cities that these buses cover are:
Passengers can make use of the redBus app/website to book their bus tickets online. For a hassle-free and comfortable journey opt for bus ticket online booking in Malaysia.
Disclaimer: Bus timings, routes, and fares are subject to change. Please check the redBus app or website for any last-minute changes.