About Sani Express
Established in 2006, Sani Express Sdn Bhd is a reputable bus service offering comfortable and efficient travel across Malaysia. With an excellent fleet of buses and experienced drivers, Sani Express ensures a safe and hassle-free journey for its passengers.
The Klang-based company started with seven single-deck buses on the Kuala Terengganu to Kuala Lumpur route and later added six buses for Kota Bharu to Kuala Lumpur. Going forward, Sani Express plans to extend their coverage to the Southern region of Malaysia.

Advantages of Booking Sani Express Buses
Amenities on Sani Express Buses
Sani Express buses are equipped with comfortable seats, air conditioning, and other essential amenities. Whether you're travelling for business or pleasure, Sani Express buses offer a convenient and reliable way to get to your destination.
Sani Express bus services are available in executive buses in either single-deck or double-deck models. Their seating arrangement is spacious with 2+1 in every row allowing more space between the seats. The single-deck buses have 30 seats and double-decker buses are 48 seats.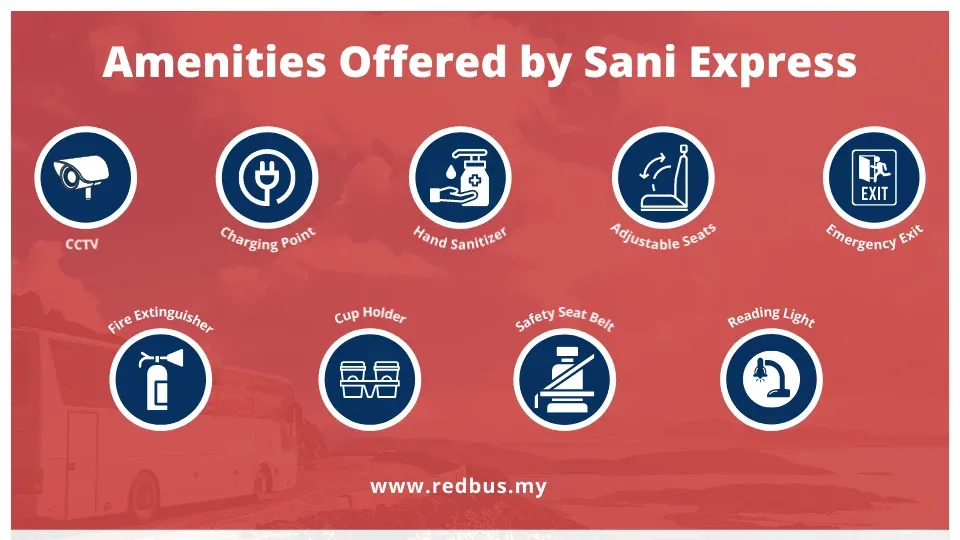 Popular Sani Express Bus Routes
There are many routes covered by Sani Express buses every day. One can check the bus frequency on any route via the redBus mobile application/website. Some of the prominent routes covered by this operator's buses are mentioned below.

Local routes
Popular Bus Terminals Served by Sani Express Buses
Popular Cities Covered by Sani Express
Book Your Sani Express Bus Ticket Now
Booking a Sani Express bus ticket is easy and convenient. You can make a reservation online or visit any Sani Express counter nationwide. By booking in advance, you can secure your seat and avoid any last-minute rush.

Disclaimer: Bus timings, routes, and fares are subject to change. Please check the redBus app or website for any last-minute changes.