Kuantan Sentral Terminal Bus Tickets
Kuantan Terminal Sentral Kuantan is the biggest bus terminal on the East Coast of Peninsula Malaysia. Kuantan, the capital of the largest state in Malaysia- Pahang, has an extensive public transportation hub to ease travel woes. It has been functional since 2013 and is located at Bandar Indera Mahkota, around 11 km from the old bus terminal. Besides being a busy city with constant visitors, Kuantan is also a connection point for the north and south-bound buses. Direct buses from other cities of Malaysia and Singapore connect to Pahang by the Kuantan bus station. This newly improved bus station also helps connect to the East Coast Expressway (LPT). Kuantan bus terminal functions for the local buses and long-distance express buses and you can book bus tickets online or from the terminal. The local buses operate from this terminal to the Hentian Bas Bandar Kuantan terminal in the city via Rapid Kuantan.

How do you get to Kuantan Bus Terminal?
Kuantan Bus Terminal is located very near to the most accessible parts of the city. You can reach the Kuantan Bus terminal by any means of transportation services. One of the most common ways to reach the Kuantan Bus terminal is by means of a bus, car or train. Here are few of the modes that would help you reach the Kuantan Bus terminal from Kuala Lumpur:
Taxis are expensive but provide privacy and more comfort, especially if you have little kids. Taxis are available from all parts of the city.
Kuantan bus terminal allows local buses inside so you can easily find one from the city and reach here with minimal price. Therefore, buses are cost-effective and are a popular mode of transportation in Kuantan.
Train services are available close to the bus station but there still would be some distance you need to travel. You will need to take a cab to reach the bus station. Trains connect the various parts of the city and travel faster as well.
Kuantan bus terminal has a parking lot for more than 300 vehicles. You can get in your car and park here. The parking facility is open for four-wheelers and motorcycles.

Amenities at Kuantan Sentral Bus Terminal
Kuantan Sentral bus terminal compensates for being far from the city's facilities. The entire bus station looks modern and sleek, with plenty of seats for the passengers to wait for their buses. The other amenities here are -
AC- The waiting area inside the bus terminal is fully air-conditioned for comfortable waiting. It is similar to that of an airport.
ATM counters are available inside the terminal if you need instant cash.
CCTV cameras are installed inside for safety and surveillance.
Convenience stores are available at the Kuantan bus station for essential items.
Food stalls: If you are looking for some quick snacks, you have these food stalls around you. You can find all types of local cuisines here.
Restrooms
Surau or prayer rooms are provided inside for timely prayers. This will be handy, especially during religious celebrations.
Ticket counters: If you have not booked your tickets, use the various ticket counters to buy the tickets at the last minute. Many bus operators have their counters here.
Ticket Kiosks are also available for self-service. You can pay for the tickets and get them out of these kiosks installed at strategic locations.

Popular Routes
Kuantan Sentral to Hentian Bas Ekspres Kemaman
Kuantan Sentral to Kemaman
Kuantan Sentral to Kerteh
Kuantan Sentral to KLIA
Kuantan Sentral to Kuala Lumpur
Kuantan Sentral to Paka
Kuantan Sentral to Putrajaya
Kuantan Sentral to Temerloh

Popular Bus Operators at Kuantan Bus Terminal
The popular bus companies serving this bus terminal are: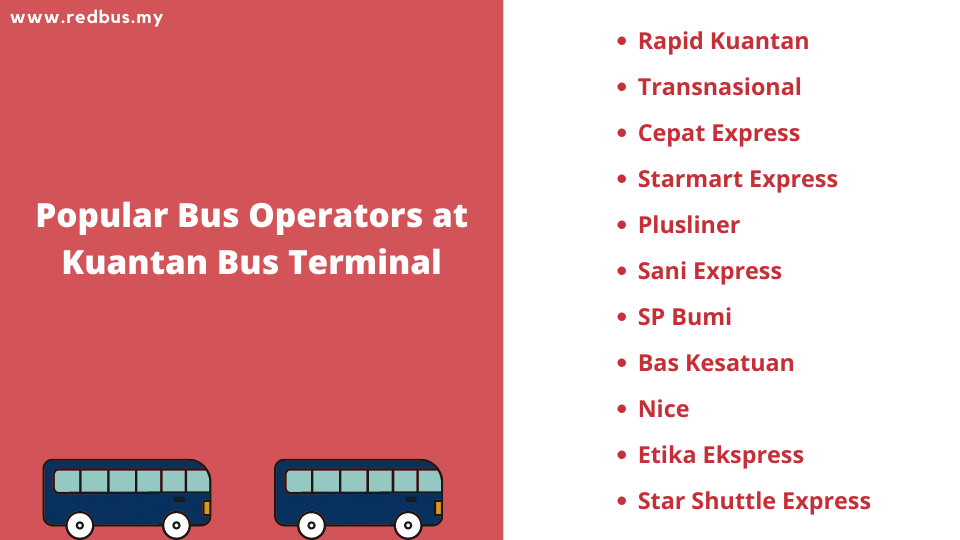 Rapid Kuantan

Bas Kesatuan

Star Shuttle express

Nice
Rapid Kuantan


Things to do in and Around Kuantan Sentral Terminal
Panorama Hill stands up to its name because it gives a stunning view of the rainforest and the valleys. It takes a 45 mins hike to reach here but the efforts are well worth it. The morning sun peeking through the clouds or the setting sun in the evening are both spectacular.
Rainbow Waterfall, is another drive and hike destination that shows a beautiful rainbow at the waterfall. The pool here has clear water you cannot resist taking a dip in.
Berkelah Falls has cascading water through 7 tiers to end up in a pool at the bottom. You must drive and then hike through the trail to reach the waterfall. This is a picnic and camping spot.
Kuantan Street art: The city has its plain wall painted with incredible artwork. The murals fall into different themes and types. They form a popular backdrop for Instagramworthy pictures.
Perak Sultan Haji Ahmad Shah Jubilee Agricultural Park consists of plants, herbs, and permaculture units on the premises. It is truly a paradise for nature lovers with a reserve park, recreational park, and an orchard.
Taman Esplanade Kuantan is a beautiful riverside walkway that you can enjoy at any time of the day. This is one kilometer-long path, lined with palm trees and lamp posts. It is one of the popular places to visit in Kuantan.
East Coast Mall is a popular shopping destination in Kuantan. This four-storied mall has plenty of options with various types of shops. There are bus connections from the Kuantan bus terminal and other parts of the city.
Lao Zi Temple is known for the longest dragon and is thus known as a dragon temple. The dragon is 823 m long, and you can walk through it to the other end. You will enter the tail portion and exit through its mouth portion.

Disclaimer: Bus timings, routes, and fares are subject to change. Please check the redBus app or website for any last-minute changes.