Book Ipoh Amanjaya Bus Tickets
Ipoh Amanjaya is the bus terminal located in Ipoh, Perak. Situated by the Kinta River, Ipoh is one of the popular tourist destinations in the region.The Amanjaya bus terminal is huge with plenty of buses plying to and fro everyday.Terminal Amanjaya of Ipoh is located a short distance from the city centre. It serves the city and is also a major transport hub in the state of Perak.
The Amanjaya Bus Terminal receives buses from various parts of the country. Buses on different routes depart from the terminal, as well. This is why locals and tourists across Ipoh come to the Amanjaya Terminal to board a bus. It is a well-equipped terminal that ensures the convenience and safety of its visitors. While you can book tickets offline from the ticket counter at the bus station, it is best to avoid the queues and book online. Bus tickets to and from the Amanjaya Bus Terminal are available on the redBus website or mobile app and you can book your bus tickets online in advance from different parts of the country.
How do you get to Ipoh Amanjaya?
The Amanjaya Bus Terminal is about 15 kilometres from the Ipoh city centre. You can opt for various modes of transport to reach the terminal. Once you have booked a bus online ticket from redBus, you need to get to the Ipoh Amanjaya Terminal on time to catch the bus. You can choose to travel by cab, take a public bus, or even drive your vehicle.
If you are visiting Ipoh and have a considerable number of bags, it is best to take a cab to the bus station. You can pre-book a cab so that you can arrive at Terminal Ipoh Amanjaya on time. If you are staying at a nearby hotel, you can ask the front desk to book a cab for you. It is also a great option if you are travelling with friends and family. You will be able to travel together, and that will not only be cost-effective but also quite fun.
The Ipoh Amanjaya Bus Terminal is connected to different parts of Ipoh by public bus. Bus service to this transportation hub is quite frequent. You can board a bus from any nearby terminal and arrive at the terminal. If you are travelling alone and don't have any luggage to haul around, it is best to take a bus. Buses are also cheaper than cabs, so this is a good option when you are on a tight budget.
If you live in Ipoh or know people there, you can arrive at the bus station in a personal vehicle. There is a parking lot at the Amanjaya Bus Terminal and it is quite safe. Your friends or family can drop you off or you can see off someone at the terminal. There isn't too much traffic on the roads and so you'll be able to reach the terminal on time if you are driving. You can also rent a car to travel to Terminal Amanjaya.

Amenities at Ipoh Amanjaya Bus Station
The Ipoh Amanjaya bus station is equipped with modern facilities. You will be able to wait comfortably, seek assistance, and even grab a bite to eat before boarding the bus.
Here are all the amenities available at Terminal Amanjaya.
Wheelchair-accessible areas
Basement parking lot
Clean washroom
ATM
Food court
Prayer rooms
Baby care rooms
Luggage storage
Elevators and escalators to reach the top floors
Massage chair services
Comfortable waiting areas



Popular Bus Operators at Ipoh Amanjaya
Several bus companies serve buses on routes connecting Terminal Amanjaya. If you book a Terminal Amanjaya online ticket from redBus, you can choose from a list of available bus operators. Some of the best bus companies are:
Mayang Sari Express
Cepat Express
Plusliner Nice
Supernice Grassland
KPB Ekspress
Kesatuan Express
Naik Selalu Ekspres
CS Travel and Tours

The different cities and regions from where these buses board from include the likes of Kuala Lumpur, Malacca, Johor, Kedah, Pahang, Penang and many more of the bigger cities and towns in the region.

Popular Bus Routes
Since Ipoh Amanjaya Bus Terminal is a major transportation hub, it is connected to many cities across Peninsular Malaysia. You can book bus tickets on various routes to and from Terminal Amanjaya.
Some of the popular routes from this bus station include:
Amanjaya Bus Terminal to Terminal Bersepadu Selatan
Amanjaya Bus Terminal to Penang
Amanjaya Bus Terminal to Hentian Duta
Amanjaya Bus Terminal to Batu Pahat
Amanjaya Bus Terminal to Kuantan Sentral
Amanjaya Bus Terminal to Cameron Highlands
If you are travelling to Ipoh, then you can book a bus online ticket to Ipoh Terminal Amanjaya on any of the following routes:
Kuala Lumpur to Amanjaya Bus Terminal
Penang to Amanjaya Bus Terminal
Hentian Duta to Amanjaya Bus Terminal
Johor Bahru to Amanjaya Bus Terminal
Batu Pahat to Amanjaya Bus Terminal
Shah Alam to Amanjaya Bus Terminal

Things to Do in and Around Ipoh and Ipoh Amanjaya Terminal
Terminal Amanjaya is the bus station in Ipoh, the most multicultural city in Malaysia. Even on the way to Amanjaya Terminal, you can see architectural monuments, street art, hawker markets, etc. Ipoh is known to project some retro vibe to make you feel nostalgic and at the same time comfortable.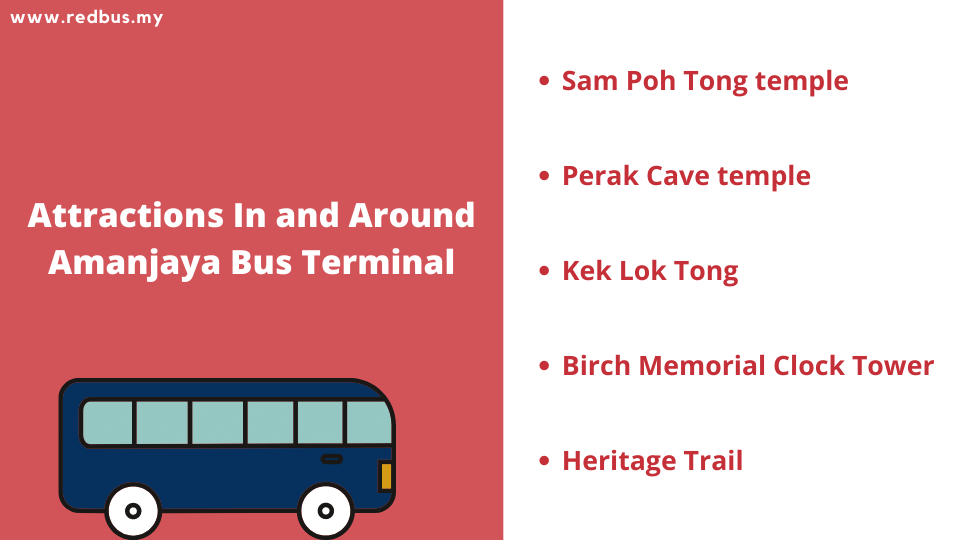 Terminal Amanjaya is close to several tourist attractions. So if you are arriving at the terminal, or have a few hours before you board the bus, you can enjoy a bit of sightseeing and some other fun things to spend the time.
Spend a few hours at the Lost World of Tambun with friends and family.
Explore the gothic architecture of Kellie's Castle before travelling to the Amanjaya bus station.
Buy snacks for the road or enjoy some local delicacies at the food court in the bus station.
Visit the Kek Lok Tong Cave Temple which is just half an hour from Amanjaya Bus Terminal and see its beautiful gardens.
Relax on one of the massage chairs at the terminal for some time before your bus arrives.
Visit the Birch Memorial Clock Tower, an important landmark in Ipoh.


redBus also offers a plethora of cashback options and discount offers when you book a bus ticket online. Make sure you visit the website or download the official app today.


Disclaimer: Bus timings, routes, and fares are subject to change. Please check the redBus app or website for any last-minute changes.