Express Buses in Malaysia
Express buses in Malaysia not only offer seamless connectivity between cities within the country, but it has also emerged as the chosen mode of transportation for tourists traveling back and forth from nearby countries like Singapore and Thailand.


There were times when using the public transportation system meant going through an uncomfortable and time-consuming journey. The mere thought of using public transportation and people would get a repulsive feeling. However, express buses have completely changed this perception for Malaysians. Fast, safe, and comfortable, these buses have made even long-distance travel feel like a breeze. Today, these buses have become the preferred means of transport for commuters in the country. Not only do these buses cater to the requirements of a large section of the population, but these are also economical and safe too.
Express buses save time and are affordable for commuters. For tourists, in particular, these buses have come up as the preferable option to take due to a variety of reasons. From safety, security, and convenience, there is no other mode of transportation that beats the express bus service. Furthermore, the frequency of these buses ensures that you can travel at any time of the day without having to wait.
Why have Express Buses gained popularity amongst commuters in Malaysia?
One feature that has made express buses popular in Malaysia amongst locals and tourists alike is that these buses stick to their timetable and offer a higher level of comfort to every passenger. Also, you need not book the tickets physically from the departure location. Instead, the online bus ticket booking facility of the official redBus website or the app offers great relief. You can plan your journey, book the ticket and even select your preferred seat on the bus, all from the comfort of your home or hotel room. You will find several discounts on bus online ticket bookings in terms of cashback and coupon codes.
These buses follow the highest level of security procedures. Therefore, opting for express buses for your travel means assurance for you and your family of a safe journey. Talking of amenities, many of the coaches have entertainment systems, onboard Wi-Fi, and work desks. There might be a personal LCD entertainment system in the back of the seat that's in front of you where you can watch your movies. Snacks, meals, and drinks are also served on board on most buses. Therefore, when compared to any other mode of transportation, these express buses get a thumbs up.
The express buses are furnished with state-of-the-art features ensuring maximum convenience and safety for every passenger. The pushback seats with extra legroom let you stretch your body and relax. The seating space is such that the passengers do not get jammed for space.
Popular Express Bus Operators
Presently nearly 80 coach companies are operating in more than 800 routes in Malaysia as well as Singapore. In Kuala Lumpur, the two major bus terminals are Puduraya Central offering bus service to the northern locations and the second terminal is called Terminal Bersepadu Selatan (TBS) for southbound buses. Both the terminals are top-class when it comes to the amenities served to passengers. One can even compare these terminals to any airport. Shopping plazas, food courts, washrooms, and many other facilities are available on these terminals.
Several bus operators have won the hearts of passengers with their flawless service. The prominent ones are:
Over the years, these bus operators have earned the trust of the commuters and created an impressive reputation for themselves in the industry. The popular routes for express buses in Malaysia are: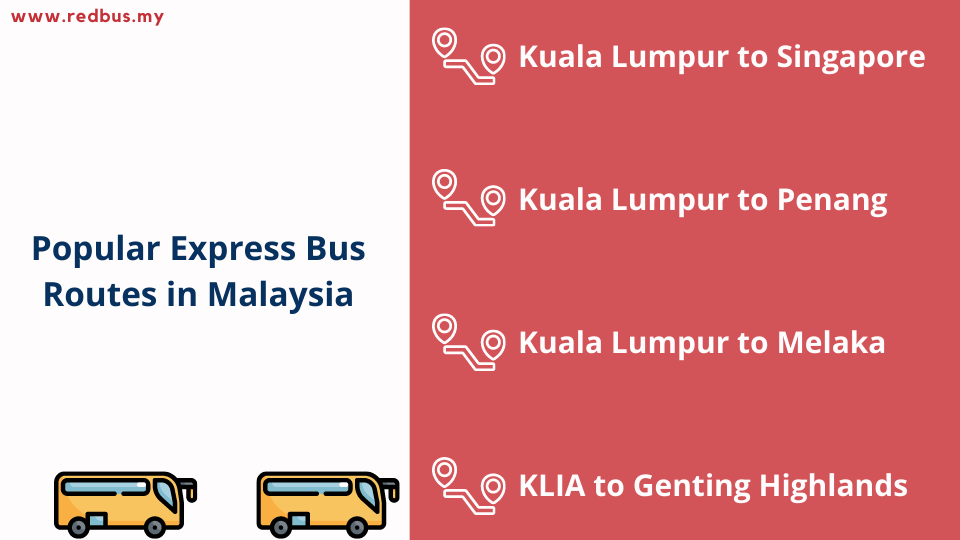 Transnasional has been providing transport facilities to passengers for the last 30 years and is known for its safe and comfortable travel experience. StarMart started operations in 1989 and offers coach buses on an hourly basis between Kuala Lumpur and Singapore. Presently, they have 280 buses plying daily. While AeroBus began in 2007, it is currently known as one of the biggest bus networks in Malaysia, and Plusliner offers express buses in 41 and 69 seat formats with double-decker buses also plying on various routes. You can book online bus tickets for all the top express bus operators and routes easily on redBus.